Odgers & Simmonds + Kent's Live: Offenburg Spiltakeller 5th May 2000
Odgers & Simmonds' Folk at The Fortress
Liberty Cage's Sleep of the Just
On the bulletin board in my office at Green Man is this note from Swill, of The Men They Couldn't Hang fame:
'Hi Cat – At long last here are the CDs as promised. Due to limited numbers of Liberty Cage albums, I have made you a copy. The other two are only available as CD-Rs anyway. If you want to give us a plug we have a selection of merchandise for sale at www.tmtch.net at prices ranging from £3.50 to £11.00. Currently all money generated is going into the budget for the latest TMTCH album – due out March/April in Europe from TWAH! Records. Cheers for now, Swill'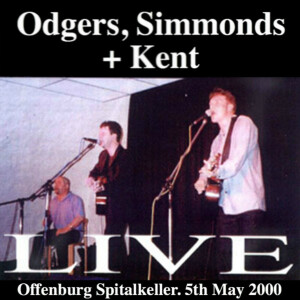 The note was, bless Swill, in a package with three CD-Rs that I've been hunting down for years now. It took him a couple of years to send them, but I will not complain because they are absolutely superb.
Now you may well be wondering just who Odgers and Simmonds are … Well, I'll quote part of my review of their album, Baby Fishlips: 'Did you know that the Pogues were originally going to be called The Men They Couldn't Hang? (And their very weird movie Straight to Hell suggested their idea of what the American West was really like!) Well, history was slightly different, and The Men They Couldn't Hang were instead the band formed in 1983 by former buskers – is there really such an animal? – Phil 'Swill' Odgers, Jon Odgers, Stephan Cush, Paul Simmonds, and – surprisingly – a woman named Shanne Hasler who is, if the photo in The Night of A Thousand Candles CD is any indication, a dead ringer for Caitlin O'Riordan of the Pogues. (Caitlin O'Riordan would later marry Elvis Costello who signed TMTCH to his Imp label. Schroedinger's kittens were very busy back in the early Eighties!) Originally, they were considered part of the punk scene with the Pogues – and Hasler – my, this gets very weird – was a member of the Nipple Erectors that Shane MacGowan founded before the Pogues. My take is that The Men They Couldn't Hang very quickly developed a style of rockish folk heavy on socialist/working class themes and drawing heavily from a romanticized version of the American West.'
Now understand that the sound of Odgers and Simmonds is not the full-tilt, in your face sound of The Men They Couldn't Hang, which is very much a wall of sound of a roguish variety. As Chuck Lipsig noted in his review of some of their many, many albums, TMTCH have 'a very Pogue-like feel with hard-driving versions of traditional tunes, hard-edged punk voice, and a hard-left political angle.' Odgers and Simmonds are a lot less rowdy, more reflective than TMTCH, as this is, for the most part, but two blokes – one singing, one playing a guitar. Boring you say? Not at all. It's fully recognizable as being a smaller unit of TMTCH, but it actually sounds better for some reason. If had to single out one reason why this is so, I'd say it's because I can really, really appreciate the vocals. A superb example of this can be found on Live: Offenburg Spiltakeller 5th May 2000 where, like on Baby Fishlips, they do 'Barrett's Privateers', which was penned by Canadian musician Stan Rogers. It's a great version with one of the lads – I'm not sure which one – doing a solo vocal on it without any instrumental backing at all! The refrain 'God damn it all' of the last of 'Barrett's Privateers' certainly rings true.
If Live: Offenburg Spiltakeller 5th May 2000 is any indication, these blokes are great live. According to the liner notes, the three of them drove '1000 KM across eastern Germany to the French border' to get to the gig where this was recorded. The club provided them with two bottles of Bushmills, which made them very happy. As Swill says, 'I've done some gigs in my time. I've played in an old lunatic asylum, some say I should have stayed there!!! I've blown my horn in a converted public Bogs, but the buzz we felt down in the depths of the leper's Mortuary in Offenberg took a lot of beating. A truly cracking host, one hell of a fab audience, amazing pizza just around the corner made it a memorable Saturday night …' (Food is always something a band remembers. I promoted Moebius, an English piping group, here a few years ago. What they all remarked on afterward was the great Thai food across the street from where they played!) Regarding sound quality, this is about equal to that of the live cuts on Brian McNeill & Iain MacKintosh Live and Kicking CD which was also, at least in part, based on German concerts. The vocals can be a bit muddy, the instrumentals less than clear, but there's too much heart, grit, and enthusiasm not to like it.
Ahhh, but the matter of sound gets dealt a much different hand on Folk at The Fortress. Like Baby Fishlips, this is just Odgers & Simmonds on a stage featuring, as the front of the liner notes says, 'a selection of 11 acoustic versions of songs from The Men They Couldn't Hang. Including 5 tracks from the next Album.' Now that album doesn't exist (at this writing) but this lovely CD does. Apart from the TMTCH classic 'A Night to Remember', which has an added guitar solo, all tracks are as they were recorded over a single 45 minute session at Fortress Studios. Sweet Mab, it's so sweet sounding that it spoils me in terms of listening to other so-called live CDs; what we get here are talented musicians, acoustic conditions bordering on perfection, and some of the deftest production you'll ever hope to witness. Even the patter from the blokes just adds to the charm of the CD. Swill appears to be the singer if I read the somewhat sparse liner notes correctly, as he notes that Cush might sing some of the songs on the forthcoming album. Swill notes that everything was left in – Dave Kent even sings for the first time ever! And their version of 'Hush Little Baby' as done on Folk at The Fortress is possibly the best they've done. Next round of drinks is on me, Cush and Swill; you've earned it!
Now I come to the matter of the Liberty Cage Sleep of the Just CD, which also came as CD-R; it's now rather scarce according to Swill. Liberty Cage is, surprise, 'just' Cush and Swill. Nothing wrong with that, is there? Except that I get the feeling that there's more than the two of them here as this MP3 sample of 'Mercy of the Guards' will show you. I remember the CD-R that a fellow TMTCH fan sent me some years ago of a rather lively Liberty Cage concert – though the sound quality sucked, I could tell that Liberty Cage sounds a hell of a lot like The Men They Couldn't Hang! Certainly this version of 'Mercy Of The Guards' is a lot rowdier than the version on Live: Offenburg Spiltakeller 5th May 2000.
Now I grant you that the two of them claim that they're the only members of Liberty Cage, as they note on their Web site: 'Liberty Cage have all the power and purpose of a band treading the boards for the first time – but their name hides a rich pedigree – intrinsically they are the heart and soul of The Men They Couldn't Hang. The band who play at The Pirate in Falmouth on Monday, contain the two chief songwriters from the much-lamented 1980s cult band. Liberty Cage were formed in the spring 1991 by Paul Simmonds and Phil "Swill" Odgers after the break up of The Men, who themselves played in Falmouth when they headlined the memorable one-day festival at Pendennis Castle in 1988.' Whoever's on it, it's a great CD – truly as good as anything TMTCH did. They released the album just in time for a joint tour with another great folk rock group, Aussies Weddings, Parties, Anything.
Over the years, I've collected some twenty TMTCH CDs, both full-length and EPs, in their full-band mode and in the form of these side projects. All are great, all are worth the considerable hassle it would take to acquire them these days. But all three of these particular CDs can be had from their Web site for a rather modest price. Just say hello to Swill for me, and tell him to get that damn album finished!
(Liberty Cage, 1994)
[Update: Music from TMTCH can now be found at their Bandcamp, and the side projects at Swill's Bandcamp site.]