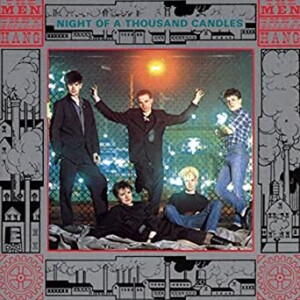 Chuck Lipsig wrote this review.
In some alternate branch of history, there is a very successful Irish punk-folk band that was founded and fronted by Shane MacGowan, called The Men They Couldn't Hang. However, Shanne Hasler, fellow member of a band called the Nips, beat him to the punch and MacGowan went on to fame with The Pogues. Hasler, joined by Stefan Cush, Phil "Swill" Odgers, Paul Simmonds, and John Odgers, were the original Men They Couldn't Hang.
The Men They Couldn't Hang debuted in 1985 with Night of a Thousand Candles. It is not unfair to say they had a very Pogue-like feel with hard-driving versions of traditional tunes, hard-edged punk voice, and a hard-left political angle, epitomized by their first track, "Ironmasters," an angry recounting of the losing fight of unions against industry. However, the comparison to the Pogues may be overly reinforced by their solid version of Eric Bogle's "Green Fields of France" being reminiscent in style of the Pogues's version of "And the Band Played Waltzing Matilda," another Eric Bogle song, also set in World War One.
There was a very American flavor to The Men They Couldn't Hang, not present in the Pogues (and I'll stop mentioning them here). The tune of "Walkin' Talkin' " is very close to "Charlie on the M.T.A.," and this is not a complaint. "Johnny Come Home" has a '50s rock 'n' roll feel. And it doesn't get much more American than "Rawhide," especially with a passage borrowed from "Ghost Riders in the Sky."
There is some solid instrumental playing, such as some fine Spanish guitar by guest Graham Sharpe opening "Hush Little Baby." A sweet tin whistle solo by Swill opens the haunting "Scarlet Ribbons" (which, by the way, is not the same one sung by Harry Belafonte, The Kingston Trio, etc.) They also perform a very high-spirited version of "Donald Where's Your Troosers."
Much, although not all, of the punk feel of The Men They Couldn't Hang had been distilled out by 1989's Silvertown. Certainly, the opening song, "Rosettes" was quite similar thematically to "Ironmasters" and has somewhat of a rough, punkish edge. There are some really nice details in that track, such as the addition of crowd noise in "Rosettes" emphasizing that the song is about rally- turned-riot. "Rain, Steam & Speed" also deals with the hazards in industry, but there's a certain sense of inevitability that the bridges and tunnels have to be built.
"A Place in the Sun" has much more of the feel of this album. The tale of two losers trying to find their fortune on the French Riviera is wonderfully upbeat – you know these fellows are going to lose, but you don'want them to. There's also a more optimistic feel to "Blackfriars Bridge" and "Down All the Days" that those in the ghettos will overcome this hardship. There's a certain wistfulness for small-town homes in this album. "Homefires" celebrates the cycle of life in a rural town. "Company Town" laments the takeover of one's home town by a corporation.
"El Vaquero" is their western homage, basically a western story without words in two-and-half minutes. There's some very pretty Mexican-sounding music in there. The one song that does not work on Silvertown is "Lobotomy Gets 'em Home," a biographical song about Frances Farmer that is forced and clunky.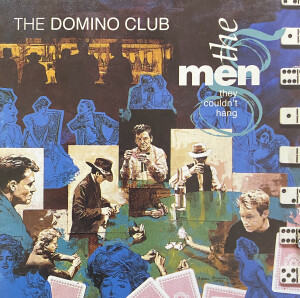 The next year (1990), The Men They Couldn't Hang released The Domino Club. While by no means a poor outing, something was missing compared to Silvertown. "The Lion & The Unicorn" is a clever enough catalog of ills done as the dark side of guided tours. But there's a lack of closeness to this song. "Great Expectations" may be intended as a sequel to "A Place in the Sun." Certainly it's another song of a pair of losers – one in jail this time – who exchange letters with their plans for the future. It's good, but just doesn't measure up to "A Place in The Sun."
One of the stronger songs is "Kingdom of the Blind," an intensely personal ballad about the collapse of a marriage for a "no strings attached" relationship. "Industrial Town" is an interesting song, lamenting the collapse of a factory community, but this is rather the same sort of town that was so disliked in "Company Town" on Silvertown.
Then there's "Grave-Robbing in Gig-Harbor" that starts out with a Pythonic (Monty) American-style radio news broadcast. Then it just gets bizarre. "Billy Morgan" seems to cover The Men They Couldn't Hang's western proclivity fairly well , except it takes place in Europe. It still feels western, so I'll count it. The Domino Club ends with "On the Razzle," a fun little song about getting drunk at a favorite pub.
These three albums do not comprise the entire oeuvre of The Men They Couldn't Hang. What they do show is a band that changed in five years from a punk-folk to a more traditional rock 'n' roll style. All three are solid productions, with Silvertown standing out as the best of this bunch.
(Demon Records, 1985)
(Silvertone, 1989)
(Silvertone, 1990)