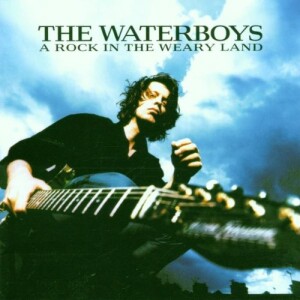 No'am Newman wrote this review.
Oh No'am, I know you're disappointed with this disc; I know that you were expecting The Waterboys of Whole Of The Moon and Fisherman's Blues and instead you got something else. But it's not my fault: I just receive the discs and hand them out. I realize that it's not much of a consolation, but you've got a "white label CD" — an advance release — so advance that you can't even find out anything about it on the record company's Web site. Hell, it's not even listed as an upcoming release! In years to come, you'll be able to sell it for a small fortune — if it's successful. But I don't think it will be. What a pity: you can't even do your usual number, carping about the amount of thank-yous on the sleeve — 'cause there ain't no sleeve. You also don't know who to blame, only know the song titles.
So what have you got? Mainly distorted vocals over a heavy rock beat. The opening "Let It Happen" adds a ghostly whistle to a gloomy chord sequence, and it's easy to picture a graveyard in the middle of the night. God knows whether that is what's intended by the lyrics, because there aren't any printed lyrics and Mike Scott's screech isn't too easy to decipher. The following song, "The Charlatan's Lament" offers a little respite, but it's in the same vein, and makes you wish that you had cloth ears. The whole disc lasts just over an hour, and with fourteen songs on it, it's obvious that some are going to be long. Both opening songs clock in at over six minutes, but that's not even the longest: title track "My Love Is The Rock In The Weary Land" lasts an interminable eight minutes, and there's also a seven minute track.
"Is She Conscious?" is comparatively relaxed, meaning that it's still pretty heavy, but the drummer isn't working so hard at thrashing every thing in sight as fast as possible. But "We Are Jonah" is a return to crash-dem-chords-out mode and would be a good candidate for a stadium rock anthem.
If I were you, No'am, I'd skip straight to the seventh song "Lucky Day/Bad Advice," which at least has an acoustic guitar and normal sounding vocals, declaiming such lyrics as "Don't put that song on the album, you don't need no sax in the background / Get yourself a pedal steel player, there's money in the cabaret business / You can't spend all your life sitting on a cloud and playing a twelve string" and "Wake up, gotta make a change, gotta dress like one of the Levellers." Obviously Mike is talking to himself, and while it's obvious he didn't take his own advice, you'll find it difficult to understand why he set his course in the opposite direction.
Let's agree that The Waterboys had a distinctive sound, and whilst it may not have sold, it was certainly better than the direction taken on this disk, which isn't really worth the plastic it's printed on. You know what I think you should do? Donate this disk to the local pub, and hope that at least someone will get some benefit from it. It's clear you're not keeping it.
PS: After ferreting around on the Internet, my search engine found this page, which gives an interview with Mike Scott about the album, as well as song lyrics. None of what I read there changes my opinion of the disk, which still is not listed at Razor & Tie.
(Razor & Tie, 2001)
A Rock in the Weary Land was included in this omnibus review of The Waterboys and Mike Scott, by GMR's Stephen Hunt. Stephen also reviewed some later releases by The Waterboys as well.