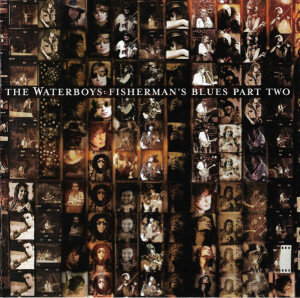 Originally, the function of songs was devotional. Then in the balladeering centuries, songs became a vehicle for the spreading of information, stories and opinions. Now in the 20th century, they have become a way of making money and achieving fame. I think that the other two purposes were better. Mike Scott – 1985
My previous Waterboys review covered all of The Waterboys and Mike Scott studio albums in chronological order. The three CDs reviewed here are all albums of previously unavailable material, released retrospectively. It's not an unusual practice for record labels to dredge up a collection of outtakes and "B sides" to keep the punters happy in between proper releases, or for bands to knock out live albums as an easy way to fulfill contractual obligations. Away with all cynics and skeptics, Mike Scott is not a man to lightly dismiss his own legacy, or to insult the intelligence of his audience with sub-standard Waterboys music. Consequently, these albums are much more than mere "fillers." Let's start with the most recent release, Fisherman's Blues Part Two.
In a recent British TV interview (for Planet Rock Profiles), Scott spoke at length about the period 1986 – 1987 where the band was changing faster than we could record it. They made a valiant attempt, however, recording almost seventy tracks before reaching the inevitable conclusion that assembling a single, coherent album out of the miles of tape would be impossible. When Fisherman's Blues did eventually emerge (in 1988) it was a compromise between selecting tracks from the preceding mammoth sessions and recording new songs that reflected how the band sounded there and then. The rest, however, has remained The Grail to Waterboys fans, who have had to content themselves with occasional, tantalizing glimpses in live performance, on singles, and on poor quality bootleg tapes that get copied, passed on and copied again and again. This is a CD that the fans have waited fifteen years to hear. Is it worth the wait?
Big smiles from the very first track, "On my Way to Heaven," a version of a 1920s gospel song which opened the band's live set for a couple of years. It's a simple, joyful, call-and-response type song with a driving, country blues rhythm. The first word uttered by Scott is the traditional, Irish pub session monosyllable which indicates that the craic's starting – hup! Three women from the London Community Gospel Choir add power and authenticity to the vocals, and Vinnie Kilduff gets in there with a solo on the Uilleann pipes. If this all sounds too unlikely for words, then you'll appreciate Scott's dilemma. Does it work? You betcha! All aboard the train!
The next three tracks are thematically linked, and offer an intriguing insight into the mind of a songwriter constantly expanding and refining his lyrical ideas, and experimenting with different musical styles, rhythms and melodies. All three are gems in their own right.
"Higher in Time" comes first and features some superb interplay between Scott's electric piano, Wickham's fiddle and Thistlethwaite's sax over the majestic drumming of Peter McKinney. The influence of W.B. Yeats on Mike Scott is well known, but here we catch sight of Yeat's contemporary George Russell, who as A.E. wrote "The Candle of Vision," which includes the following lines:
My kinsmen are they, beauty, wisdom, love;
But without me are none may dare to climb
To the Ancestral light that glows above
Its mirrored lights in time.
At the end of the song Scott repeatedly whispers the line "Further up, further in," the rallying cry from The Last Battle, C.S. Lewis' final book in The Chronicles of Narnia. (The line itself later became a song on the Room to Roam album, with Scott simultaneously at both his most playful and hermetic.)
"The Ladder" comes next, an idea that first surfaced in The Whole of the Moon, where it was but one image among many. Here it's given the time and room to invite closer contemplation from the listener. Once in my lifetime I intend to see the ladder ascending in front of me. Musically it's a sparse, reverential performance whose atmosphere is charged by gypsy violin and mandolin. It's obviously an early relative of "Higher in Time." This song includes the line, "I need my cup refilled," while its predecessor has "if you need your cup refilled, fill it out of mine." This isn't rock 'n' roll, pop, blues, country or folk. It's Western Mystery Traditional Music!
"Too Close to Heaven" is the album's centre piece, and it's a towering piece of work, built around a stately 6/8 rhythm. Melodically, it reminds the listener of the enormous influence of Prince at the time, particularly "Nothing Compares 2U." (The No. 1 UK hit version of that particular song was taken from the I do not want what I haven't got album by Sinead O'Connor, a record that featured an enormous contribution by one Steve Wickham.) This song was recorded live in the early hours by a drummer who'd never heard the song before, a singer who'd just finished the lyric and musicians who improvised and developed all their parts on the spot, without knowing where the song was going. If empathy is something audible, then you can hear it on this track. The intimacy is so palpable that listening to it makes you afraid to speak, lest the spell be broken. The magic lasts for twelve minutes – a full four minutes longer than the similarly titled "Stairway to Heaven"! – but this is a very different proposition from the Led Zeppelin epic. There are no bustles in hedgerows here, but a performance full of genuine, human emotion. "I know this hurt that you're feeling, I've felt the same things too. I've got spaces way down deep inside of me that are just the same as you. You want to wrap your arms around your head, turn off the light and roll yourself into a ball. You got too close to heaven – that's all."
"Good Man Gone" describes Scott's feelings of confusion, isolation and weariness after a relationship break-up. Not the most cheerful of topics, but a fine song nonetheless, with a musical feel similar to those "Ray Charles goes to Nashville" type of albums – the structure and straightforward melodic feel of country music with some soul music organ. "Blues for your Baby" was partly written as a tribute to saxophone player Anthony Thistlethwaite, who responds by delivering a stunning performance, as does drummer Jim Keltner.
"Custer's Blues" is another live in the studio performance which provides more evidence of the fabled versatility of this Waterboys line-up. It's spontaneously constructed around a jazz groove that builds into an improvised musical re-enactment of the general's last stand. It's the kind of thing that looks terrible on paper, but actually works when you've got the musicians with the chops to carry it off. The brass section comes courtesy of the Little Big Horns. "A Home in the Meadow" is a song sourced from the unlikeliest of places, the film How the West Was Won. The tune is the familiar "Greensleeves," and features Vinnie Kilduff on tin whistle. Just when you think it's all over, there's a fragment of diddley-eye mayhem with Wickham lilting in best pub character style and Keltner thumping gleefully away at his kit.
"Tenderfootin' " revolves around a twelve-bar blues pattern and is remarkable for being completely improvised on the spot. Scott notes that suddenly it was a song from nowhere. The way you hear "Tenderfootin' " is exactly as it happened that night with everybody making up their parts as they played. It's worth speculating on how much more of a blues album Fisherman's Blues would have been if some of these songs had made the final cut. As it turned out, Scott and Wickham followed the siren call of Irish traditional music and Thistlethwaite (with a host of ex-Waterboys) finally made his blues album (Aesop Wrote a Fable) in 1993.
"Lonesome Old Wind" was originally recorded in California with producer Bob Johnston (Bob Dylan, Johnny Cash, etc.). Johnston is credited with driving the band musically higher and wilder, and imbuing them with the self-belief to try anything and everything. Scott ditched this recording from the final Fisherman's Blues selection as he was unhappy with his lyrics and vocal performance. In 2001 he edited the tape (from its original twenty minutes) and recorded a new vocal. Everything else on the track is from the original performance in 1986, including the extraordinary improvised instrumental sections at the end of the track. It's a very fine song indeed, right up among Scott's best.
The bonus CD (only available with the U.S. version – boo!) contains five tracks. "Ain't Leaving, I'm Gone" is a bouncy pastiche of vintage R&B. "Lost and Lonesome" is as country as its title suggests and wouldn't sound out of place on Nashville Skyline or New Morning (hands up all of you who were wondering how long it would take me to make a Bob Dylan reference). The other tracks (which I don't have on this promo version – boo! again) are "Higher in Time" (piano version), "The Good Ship Sirius" (The Greenpeace vessel from which the band gave a legendary Irish performance) and "Too Close to Heaven" (live 2001 version.)
There you go then, that's Fisherman's Blues Part Two. If reading this review felt like a long time to you, content yourself with the thought that I had to wait fifteen years to even hear this music!
The Live Adventures of The Waterboys is a double CD set of the 1986 Waterboys doing their stuff on the stages of Dublin, London, Glasgow, Holland and Glastonbury. Wonderful stuff it is too, displaying the band in their full majesty, and perfectly capturing that period in The Waterboys development between the big music and the raggle-taggle sound. How long ago it all seems; Mrs Thatcher's Conservative government was still in power, there were Greenpeace benefits at the Royal Albert Hall and the Glastonbury Festival still meant something more than a big, expensive outdoor show. There was a lot of anger and indignation in the land, but also a new sense of a growing spiritual and ecological consciousness, combined with a bit of a revival of the old peace and love.
The Waterboys (fiery, passionate, articulate, unpredictable, and uplifting) fit this mood perfectly. A uniquely powerful band of brothers with acoustic instruments, they were, in a word, righteous. They were also remarkably stable as a line-up during this period, and so (with one or two additions), the band for these CDs is Mike Scott, Anthony Thistlethwaite, Steve Wickham, Trevor Hutchinson and Dave Ruffy.
CD 1 begins with Bob Dylan's "Death is Not the End," followed by a solo Scott reading of "The Earth Only Endures." This short song (a Native American death chant) serves as an introduction and anticipation builder for the maelstrom unleashed on "Medicine Bow," which leaps out of the speakers — heaven only knows what effect it had on the audience! Phenomenal stuff. "Fisherman's Blues" gets an early airing, followed by a magisterial "This is the Sea."
"Meet Me at the Station" is, like "On my Way to Heaven," a vintage, good-time gospel number that Scott picked up on his numerous trawls through the more obscure sections of London's second-hand and specialist record emporia. "We Will Not Be Lovers" (dedicated to a cast of several including The Joker, The Blue Meanies and Mrs Thatcher) gives the band plenty of opportunity to flex its musical muscles and clocks in at a shade under ten minutes.
A bit of fresh country air is provided courtesy of "The Wayward Wind" (a 1963 UK #1 for Frank Ifield, later covered by Neil Young, trivia fans!) before the band revisit their own history with "A Girl Called Johnny." The CD ends with an unforgettable cover version of "Purple Rain." If Prince didn't actually write the song with fiddle and piano in mind, then you'd never guess from listening to this. Scott notes of the performance, "I think it was a cheekiness. Prince was the king at the time. We were having such a good time we thought oh, we'll take on Prince, we'll cover his song – he's not too big for us!"
CD 2 was recorded by the BBC at the 1986 Glastonbury Festival, a performance often cited as a watershed by Waterboys devotees. Mike Scott was certainly suitably attuned for this one. Eschewing all of the standard issue rock star distractions on the day of the gig, he instead took himself on a mini pilgrimage from his hotel to Glastonbury Tor, where he gathered his thoughts and energies. He then headed for the festival site at Pilton, confident in his determination to deliver the greatest performance of his life. The rest of The Waterboys must have been equally committed to their task, as the results are simply breathtaking. An enormous audience grew around the main stage as The Waterboys' faithful following were joined by thousands more, drawn in by the power and passion of the music reaching out across Worthy Farm: "Be My Enemy," "Old England," "The Thrill is Gone/And the Healing has Begun" (the latter by Van Morrison) and "The Pan Within" (with a segue into Patti Smith's "Because the Night"). The best known song, "The Whole of the Moon," is followed by an extended version of "Spirit" and a monumental "Savage Earth Heart." The performance (and the album) concludes with "Saints and Angels," a blessing and benediction for the assembled congregation that was now, irrefutably, The Waterboys audience.
If all of my writing about this music (with its occasional lapses into hyperbole) puts you in the mind to dip your toe in the water (boys), then I'd recommend starting with this album. Sure, there are a couple of compilations – The Best of The Waterboys '81 – '90 and The Whole of The Moon (which contains more tracks and covers the albums up to 1997), but you'll quickly find yourself duplicating tracks as you inevitably buy the original albums. Buy The Live Adventures of The Waterboys. That way you'll get two CDs for the price of one, own a collection of Mike Scott's finest songs performed by a band at the peak of its powers, and hear some unique cover versions into the bargain. It may even inspire you to go out and purchase a concert ticket, at which point your own Waterboys adventures will really begin!
The Secret Life of The Waterboys 81-85 is a collection of previously unreleased studio recordings, radio sessions, live tracks and lost B sides from the years 1981 – 1985.
A 1985 BBC radio version of "Medicine Bow" opens proceedings with an extra verse and extended instrumental section to differentiate it from the familiar This is the Sea album recording. "That Was the River" is a wildly different, fast version of that album's title track, with Television's Tom Verlaine (no less) supplying some typically inventive, jagged lead guitar.
"A Pagan Place" is a remix of the original master tape and consequently doesn't provide any real surprises. "Billy Sparks" is described by Scott as a raggle-taggle folk rock romp from the Pagan Place sessions presaging the Fisherman's Blues sound by about five years. While there's some validity in that claim (he wrote it after all, so should know what he's talking about!), the song is a slighter thing than any of the tracks on Fisherman's Blues. Rhythmically it's got more in common with the early '80s Ska revival than Irish or British folk music, and the tune is in the same vein as Katrina and the Waves' "Walking on Sunshine." It's equally toe-tapping however, and is the kind of thing that you find yourself humming round the house in spite of yourself. "Savage Earth Heart" has, as Scott notes, been played in hundreds of different versions. This one was recorded on The Waterboys ' first U.S. tour (in 1984) and features some stupendous drumming from Chris Whitten. The following version of "Don't Bang the Drum" is definitely something special. Here's the booklet notes: "This rearrangement was recorded live in one take for a radio session at the BBC's Golders Green studio, a converted and very atmospheric old theatre. Roddy Lorimer (trumpet) and Anthony Thistlethwaite (saxophone) played in two theatre boxes, high above Mike Scott (piano, vocals) and Steve Wickham (violin.) The lights were turned way down low and this is what happened." It's every bit as magical as you might hope.
"The Ways of Men" is a fine big music Waterboys song, written too late for A Pagan Place and just too early for This Is the Sea. Thistlethwaite blows up the proverbial storm through this one. "Rags" (Second Amendment) is an earlier version with a different, bleaker lyric. "The Earth Only Endures" is a traditional Sioux lyric set to music and sung by Scott, to the accompaniment of an acoustic guitar and a thunderstorm.
"Somebody Might Wave Back" is the original solo demo of the song, recorded by Scott with his acoustic guitar in 1982. Interestingly (for me) this was the first Waterboys song that I heard performed by a busker (who I remember only as Peter). He'd learnt the song from the full band, album version, but unknowingly nailed the song's original form right on the head!
"Going to Paris" is the oldest song on this collection, and it shows. Its interest lies mainly in being an example of the writer's early efforts, in the same way as some of The Beatles Anthology 1. "The Three Day Man" is a storming rocker from another BBC session featuring guest drummer Preston Hayman, who was working with Kate Bush at the time.
"Bury My Heart" was written in an all night burst after reading Dee Brown's book Bury My Heart at Wounded Knee in late 1981. Having completed the song, Scott recorded the whole thing himself (vocals, guitars, piano, and drums), then inexplicably didn't include it on the first Waterboys album. "Out of Control" is an absolute treasure. The track is credited to Another Pretty Face, Scott's main band before using the name The Waterboys. This recording was played on a BBC radio show by John Peel (legendary and much-loved champion of obscure music and undiscovered talent). Nigel Grainge (of Ensign records) heard this on his car radio and vowed to sign the unknown musicians responsible. Three months later he did.
The closing song "Love That Kills" was recorded in 1983 under the influence of the writings of W.B. Yeats and Dion Fortune. The vocal performance finds Scott occasionally over-reaching himself (this was recorded during a mammoth session), but is nonetheless a lost Waterboys classic, and provides an insight into just where Scott's muse was already leading him.
Overall, The Secret Adventures of The Waterboys is a fascinating and rewarding record, though its immediate appeal will be greater for the established devotee than the newly converted.
All this unearthing of buried treasure inevitably leads one to wonder, "What else is there?" Personally speaking, I'm hoping against hope that there's a Room to Roam Part Two waiting to be born sometime in the near future. There's a 1998 Glastonbury performance (with Sharon Shannon in the ranks), and countless collaborations with Seamus Begley & Stephen Cooney, Mary Custy, Frankie Gavin, various Saw Doctors and Hothouse Flowers… surely some of this music ended up on tape! We only had to wait ten years or so for The Secret Adventures and fifteen for Fisherman's Blues Part Two, so perhaps something may emerge in the next few years. I can wait; it'll be worth it.
(Razor & Tie 2002)
(New Millennium Communications 1998)
(Ensign 1994)