If there was any justice in this universe, The Men They Couldn't Hang would be as well known as The Pogues; in some senses they are their English counterpart. Indeed, Demos & Rarities, Vol. 1 shows that this group, even on recorded material that didn't make the final cut, is damn good. But before we look at this recording, some background on the group would be useful. For that commentary, let's turn to Chuck Lipsig, who reviewed three of their recordings for us:
In some alternate branch of history, there is a very successful Irish punk-folk band that was founded and fronted by Shane MacGowan, called The Men They Couldn't Hang. However, Shanne Hasler, fellow member of a band called the Nips, beat him to the punch and MacGowan went on to fame with The Pogues. Hasler, joined by Stefan Cush, Phil 'Swill' Odgers, Paul Simmonds, and John Odgers, were the original Men They Couldn't Hang.

The Men They Couldn't Hang debuted in 1985 with Night of a Thousand Candles. It is not unfair to say they had a very Pogue-like feel with hard-driving versions of traditional tunes, hard-edged punk voice, and a hard-left political angle, epitomized by their first track, 'Ironmasters,' an angry recounting of the losing fight of unions against industry. However, the comparison to the Pogues may be overly reinforced by their solid version of Eric Bogle's 'Green Fields of France' being reminiscent in style of the Pogues's version of 'And the Band Played Waltzing Matilda,' another Eric Bogle song, also set in World War One.

There was a very American flavor to The Men They Couldn't Hang, not present in the Pogues (and I'll stop mentioning them here). The tune of 'Walkin' Talkin" is very close to 'Charlie on the M.T.A.', and this is not a complaint. 'Johnny Come Home' has a '50s rock 'n' roll feel. And it doesn't get much more American than 'Rawhide', especially with a passage borrowed from 'Ghost Riders in the Sky.'
Got that? If I had to pick out one difference between the Pogues (whom I dearly love) and The Men They Couldn't Hang, it is that the latter did not fall to the excesses of drink and other substances that the former did, to their considerable ruin. Like the Oysterband, they are one of those rare bands that one wishes there were more of – quite decent blokes who can write great music, play their instruments without too much ego, and make lovely recordings.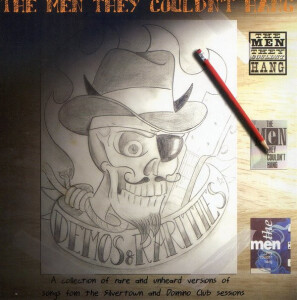 Demos & Rarities, Vol. 1 represents some 'outtakes' that the band has done over the years, though I think outtakes is a bit of a stretch.
The album itself is a teaser for the first new TMTCH album in a few year now, as The Men They Couldn't Hang are once again returning to the studio this coming August to record a new album. This will be produced by Pat Collier, who produced The Domino Club. To help fund this recording, TMTCH are releasing this album of demos and rarities from the 80's including early versions of 'Rosettes', 'Billy Morgan', 'Australia the Family Way' and nine other tracks never before available – most from the Domino Club and Silvertown eras. Demos & Rarities, Vol. 1 will only be available through the The Men They Couldn't Hang Web site.
So why should you want it? Because it's a fine introduction to the band at its very, very best. Silvertown was the first TMTCH recording I heard and the one that gets the most play still. Just take 'Rosettes', which is the demo for the Silvertown track of the same name concerning English football hooligans at loose somewhere in Europe. Here Swill takes the lead vocal whereas Cush sings lead on the Silvertown version. Overall, I think Swill's version is a little rawer, more fitting for the material than when Cush sings. Sometimes the changes aren't as pronounced as a different lead vocal, i.e., the demo of 'Blackfriars Bridge' (released version on the Silvertown recording) has a mandolin break, and 'Australia' (released version on the The Domino Club recording) has this lyric 'Does the beer taste so good there/Do the girls smell as sweet'. What you get here is a very good introduction to a band that has put out a remarkably large number of well-crafted recordings for over twenty years now.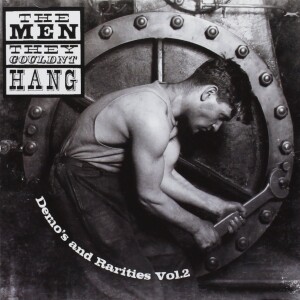 Demos & Rarities, Vol. 2, and Devil on the Wind are also aimed at those of us obsessive to have everything that a group has recorded. I may not have some of the more rare EPs and I don't collect vinyl at all, but I do have some twenty recordings from them, covering everything from their earliest material all the way to their latest, Devil on the Wind. Now I must say that the two Demos & Rarities are interesting only as alternate takes of the 'official' versions but the Devil on the Wind EP has one track that every folk music fan should hear. 'The Girl From The North Country' is an exclusive to this EP and has not been released anywhere else. Up 'til now, my favorite version was the one done by Peter Townshend, but this one is infinitely better both in terms of the vocals and just as a piece of well-crafted music.
I have no idea where you get the Devil on the Wind EP and you can't have my autographed by Swill copy! I suggest you go to The Men They Couldn't Hang website and see if they still have copies.
(Vinyl Star Records, 2007)
(Vinyl Star Records, 2009)
(Irregular Records, 2009)
[Update: You can find all three of these albums on the TMTCH Bandcamp page.]