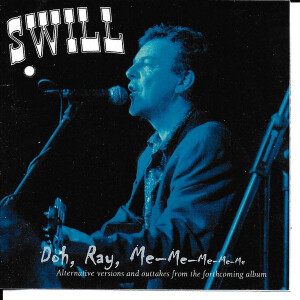 I eagerly look forward to seeing what certain artists will do next. Swill, one of the founders of The Men They Couldn't Hang, is one of those artists. Nothing Swill has done has ever been less than superb, and Doh, Ray, Me-Me-Me-Me-Me is certainly no exception! My only complaint is that it is a mere seven cuts long, as it's the EP of an album still to be released! Damn!
In my review of Phil 'Swill' Odgers and Paul Simmonds' Baby Fishlips I said, 'Did you know that the Pogues were originally going to be called The Men They Couldn't Hang? (And their very weird movie Straight to Hell suggested their idea of what the American West was really like!) Well, history was slightly different, and The Men They Couldn't Hang were instead the band formed in 1983 by former buskers — is there really such an animal? — Phil 'Swill' Odgers, Jon Odgers, Stephan Cush, Paul Simmonds, and — surprisingly — a woman named Shanne Hasler who, if the photo in The Night of A Thousand Candles CD is any indication, is a dead ringer for Caitlin O'Riordan of the Pogues. (Caitlin O'Riordan would later marry Elvis Costello, who signed TMTCH to his Imp label. Schroedinger's kittens were very busy back in the early Eighties!) Originally, they were considered part of the punk scene with the Pogues — and Hasler — my, this gets very weird — was a member of the Nipple Erectors that Shane MacGowan founded before the Pogues. My take is that The Men They Couldn't Hang very quickly developed a style of rockish folk, heavy on socialist and working class themes, and drawing heavily from a romanticized version of the American West.'
The primary difference between the recordings done by The Men They Couldn't Hang and the various projects undertaken by Swill is a kinder, gentler sound. The usual TMTCH recording, and I've heard every one of them, is FHL (faster harder louder) from beginning to end. In these other projects, Swill puts more emphasis on voice as the primary instrument and less on the instruments combining to create an amazingly dense wall of sound. Again I'll quote from the Baby Fishlips review in which I noted that 'My wife says it sounds sparser and a bit cleaner. Philip Odgers and Paul Simmonds are the principle players here with Mick Thomas being credited (guest vocalist) on "The Trigger" track. It's amazingly full given that there's only Odgers and Simmonds. It's some of the finest ballsy harmonizing I've ever had the pleasure to hear — they must be truly awesome live!' I've since seen two concert DVDs of them — both were indeed awesome!
There are, as I noted above, but seven cuts here: 'Elvis Lives Here', 'Drag You Down', 'Lusty Glaze', 'Just A Dialtone Away', 'World Of Discontent', 'Shed Fire, 'and 'Sam Hall'. Rob Johnson wrote the lyrics for 'Elvis Lives Here', Attila the Stockbroker did the same for 'Shed Fire', and 'Sam Hall' is listed as trad. here but was actually written by English comic minstrel C.W. Ross in the 1850s. In an email conversation with me, Swill said, "Interesting, my version is much closer to 'Jack Hall'. The definition of trad. is also interesting – it might be different in the US but I would tend to go with the following from the Traditional Music Library website:
DEFINITION: Traditional music consists of songs and tunes which have been performed, by custom, over a long period (usually several generations). They are most often folk songs, country dance or similar types of folk music but they can also be pieces from known early composers and may have been the "pop music " of their time. Traditional music (or public domain) is also used as a copyright status covering music which is out of copyright. In Europe (EEC) music copyright does not expire till 70 years after the death of the composer."
Swill does all the music and arrangements on this recording — something that he does very, very well. The 'stripped down' sound here allows everything to be heard perfectly — every word of the lyrics, the flawless playing of instruments by the musicians, and the considerable vocal talents of Swill, which make for one of the best listening experiences I've had in a long, long time. How good? Let's just say that Doh, Ray, Me-Me-Me-Me-Me got played three times in a row when it arrived in the post on a cold, rainy afternoon.
I would be very remiss not to acknowledge the other musicians who helped created this terrific recording. Besides Swill on acoustic guitar, we have Tom Spencer on acoustic guitar, banjo, and mandolin and Bobby Valentinio on fiddle and mandolin, while Stephen Pasicznyk added a touch of accordion here and there, and Ashley Halloween did a bit of picking on acoustic guitar. The whole affair vas recorded over a mere two nights! Amazing!
As a teaser for the full album, it's quite admirable in giving both die-hard fans and newcomers to the music of Swill & Co. something to very much look forward to. Any who loved Baby Fishlips will find this recording to be just as fantastic. Now I must go listen to 'Sam Hall' again!
You can purchase this lovely recording along with other goodies at the official TMTCH website! [Update: This recording appears to be out of print, but you can listen to it at Apple Music and perhaps other streaming services. You'll find a lot of TMTCH and Swill at Bandcamp. Happy hunting!]
(Hanwell Records, 2006)