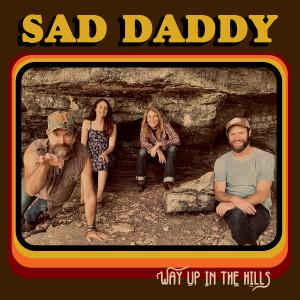 Sad Daddy is a wonderfully diverse and versatile band. The music they make is broadly acoustic country music, loosely falling into the now so broad as to be nearly meaningless category of Americana. But all four members are top-notch songwriters, lead and harmony singers, and players of multiple instruments. And all are deeply grounded in the various roots and branches of acoustic Americana: early country, blues, ragtime and jazz like Jimmie Rodgers, Carter Family, and Leadbelly, revivalist crooners like Leon Redbone, freak folkies like the Rounders and Michael Hurley, and old time and bluegrass.
I'm guessing that the group's name is a nod to member Melissa "Daddy" Carper, the stomping, singing, songwriting double bass player whose solo album Daddy's Country Gold was one of my favorite Americana releases of 2021. (It was on a lot of people's favorite lists, actually, including NPR.) Sad Daddy has been making music together off and on since 2010, in between solo efforts. The others are Brian Martin, Joe Sundell, and Rebecca Patek (who appeared on the aforementioned Daddy's Country Gold). When the pandemic sidelined them with some spare time, as it did with so many musicians in 2020, they got togther at Martin's cabin in Greers Ferry to record this, their third.
Recorded way up in the hills of Greers Ferry, Arkansas, Way Up in the Hills is certainly as much fun to listen to as it was to make. They workshopped a bunch of brand-new songs, realized they all fit in a relaxed, down-home, "back to the country" theme, and then sat in a circle to record 14 of them with engineer Jordan Trotter and his equipment. And a stomping good time they seem to have had. They incorporated ambient sounds like birdsong, cicadas, and frying bacon, created their own percussion with footstomps and hamboning, and augmented their prodigious instrumental talents with the likes of kazoos and mouth sounds that mimic, say, a trumpet or a didgeridoo (or "didgerijoe" as it says in the credits).
These four all have distinctive voices and their songwriting and playing come from slightly different facets of the broad American vernacular music experience. The album wisely leads off with four tracks with lead vocals sung by each of the four, starting with Carper's hoedown-style "Arkansas Bound," followed by Sundell's "Bacon," a heartfelt tribute to the sensual pleasures of fried salted pork product (with echoes of Guy Clark's "Homegrown Tomatoes"); Martin's Jimmie Rodgers influenced "Big River," and then Patek's old-timey "Live Real Lean."
Some of these songs were written individually, others are credited to two, three or all four of Sad Daddy's members. It sounds like just such a collaborative project, too, with everyone contributing bits that hold up the song and make it better. There are lots of moments that make me smile: Carper's and Martin's duet vocals on the choruses of "Big River"; the a capella four part singing on "Hangin' Them Clothes On The Line" on which they all four sing lead on successive verses; Sundell's raspy vocals accompanied only by Patek's old time fiddle on "Poor Man's Son"; and Patek's chilling fiddle scratches on the spooky title song "Up In The Hills," which leads off with a building cacophony of radio reports from the early, dire days of the pandemic. Oh, and Carper's steady, resonant bass playing everywhere it appears – just marvelous!
A lot of those moments come in just one song, "Cold Rain," one of the whole band co-writes. There's some beautiful call and response of fiddle and harmonica lines in the intro, four-part harmonies on the choruses, a spine-tingling fiddle-banjo break in the middle, stomp-clap percussion by everybody, and most of all Martin's impassioned vocals. Probably my favorite on a disc full of very good songs.
You'll find yourself singing and stomping and clapping along on uptempo fare like "Charlie Pickle," "Make It Roll," and "Back In Arkansas." And if you're like me, you'll be putting the whole album Way Up In The Hills on repeat.
(Catfish, 2022)