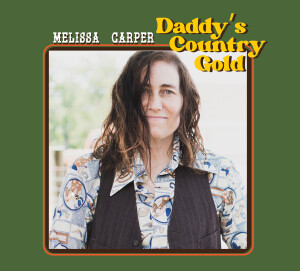 Melissa Carper grew up listening to classic country music – Hank, Patsy, Johnny, Kitty, Loretta and the like – and the past few years she's been making various kinds of Americana music herself. She and her girlfriend, fiddler Rebecca Patek, formed the country folk duo Buffalo Gals in Austin; then in Eureka Springs, Arkansas, they started a jug band called Sad Daddy. Now from Nashville she makes her recording debut under her own name with the release of Daddy's Country Gold.
Carper, whose nickname is the titular "Daddy" in the album title, plays upright bass (although not on every track here), and sings her songs in a slightly quavery soprano that rides the line between Dolly Parton and Loretta Lynn. The 12 songs here recall the softer side of Western swing music. In terms of style, the slow two-step shuffle predominates, while in subject matter, the honky-tonk weeper is most common. Her band is made up largely of Nashville regulars including fellow bassist Dennis Crouch, Billy Contreras on fiddle, Chris Scruggs on guitar and steel guitar, Jeff Taylor on keyboards, and Matty Meyer on drums and percussion. Some top-notch guests also appear, most notably pedal steel master Lloyd Green. Patek also plays some fiddle and handles the string arrangements, and several singers contribute backing and chorus vocals, most notably the delightful Sierra Ferrell.
But the focus here is Carper and her songs, and they're memorable indeed. Like the opener and first single "Makin' Memories," a mid-tempo shuffle with Crouch on walking bass, smooth steel guitar throughout, and lounge-worthy piano and organ. The straightforward lyrics hide a sly sense of humor, as Carper pokes a bit of fun at her younger self. "I Almost Forgot About You" approaches jazz territory – not surprising for one whose childhood listening also included lots of Billie Holiday, Ella Fitzgerald, Frank Sinatra, and Nat "King" Cole." For most of the first verse the song about a tenacious memory of a lost love is a simple trio of bass, brushed snare and Carper's voice. The arrangement eventually is filled out with tinkling piano, vamping guitar and occasional violins. It's a perfect song for the last dance before last call. "You're Still My Love" is a beautiful classic country song on a classic theme, still caring for the one who's gone, with lovely harmonies by Ferrell and one of Green's two appearances on pedal steel.
It's not all sad songs about lost love, though. "Old Fashioned Gal" is an upbeat shuffling love song to a girlfriend in Appalachia who prefers the simple life to the big city. Contreras and Scruggs play a couple of hot solos on fiddle and pedal steel, respectively, in addition to colorful vamping throughout. The last song on the album's first side and the second side opener are both humorous but in different ways. The former, "Would You Like To Get Some Goats," is a double entendre laden love song that hits lots of lesbian clichés, all in a quick shuffle that you could swing dance to. And in "My Old Chevy Van" Carper trots out lots of country song clichés again. This time it's a honky-tonk cheating song, except she feels like she's cheating on her beloved old road warrior when she buys a nice new car.  Here's a casual live version with Patek on fiddle and Ferrell on guitar and harmony vocals and what appears to be the titular van!
This is finely honed Americana music. Musically and lyrically, Carper hits the bullseye on every song, but neither she nor any of her band ever overplay their parts. Sonically these songs come right out of some Western lounge circa 1960, but the lyrics subtly reflect more modern realities while remaining true to their genre. If your taste runs to acoustic classic country music, give Melissa Carper a try. Daddy has definitely dug up some country gold.
(Americana Highways, 2021)