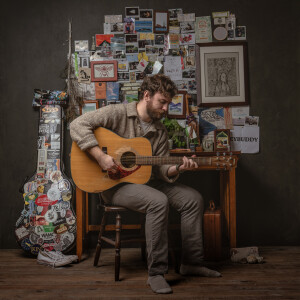 Matthew Fowler's The Grief We Gave Our Mother is a lesson in how arrangement and production can turn a collection of good songs into something more. Along the way a collection of confessional songs that started out as bare-bones acoustic numbers became an album of sparkling, enlivening and enlightening indie folk songs.
The songs came out of a long period of traveling the world after the release of Fowler's first album, which was followed by a settled period working at a music venue in Gainesville, Florida. While there he wrote a bunch of new songs, then spent 18 months honing them on tour with friends and collaborators Tana and Addy Prado on harmony vocals and horns, opening for the likes of Richard Thompson, Damien Jurado, Angel Olsen, and The Weepies.
They eventually took these songs into a studio in Orlando, recording them quickly with just the three of them and a bass player, intending to release an album that way. But somehow (and there's probably another story here) multi-instrumentalist and producer Shane Leonard heard and liked the recordings and invited Fowler to flesh them out at a studio in Eau Claire, Wisc., with additional guitars, drums, and keyboards. To stay true to the simple nature of the original recordings, all those overdubs were recorded by the small group of musicians live together in the studio. The result is magical.
There's something going on in the realm of folk music up there in Eau Claire, and it seems to revolve around producer and multi-instrumentalist Shane Leonard, but it also includes musicians like Pat Keen and Ben Lester. Keen, who plays bass here, released Cells Remain, one of my favorite indie folk records of 2020, and Lester, who plays keyboards here, added pedal steel guitar to the beautiful and lyrically compelling Pharmakon album from Humbird in 2019.
Leonard has a real feel for how to use dynamics in a folk setting. The two songs that form the album's emotional center for me are good examples. "Leaving Home, Looking Back" is an acoustic ballad about the mixed emotions about the past that come with maturity. In addition to Fowler's understated vocals, its soughing organ chords and the wordless cooing of the sisters all highlight the song's sense of ambivalence:
"The idea of leaving home has always been one of mixed feelings for me," Fowler says. "There's the excitement of adventuring out into the unknown, but as I get older, there's the accompanying sadness of leaving folks behind. I was overwhelmed with the dichotomy of the two worlds: leaving home and being home. I wrote this while envisioning how different stages of life come around and hopefully recognizing what I need to do in order to find a center."
The other central song is "I'm Still Trying," a gently rocking shuffle that has more of that ambivalence that comes with trying to come up with a new way of relating to family and old friends once you've grown up into your adult self.
There's a lot more to the album, of course. It opens with "Marianne," a "Beeswing"-like ballad of holding on to the memory of a free spirited friend, titled in honor of Leonard Cohen's muse. That one's followed by the fast shuffle of "Been A Lover," the most upbeat and uptempo number on the record with Fowler's percussively strummed acoustic guitar, a slapping snare and lots of colors from other instruments including electric piano, Addy's trumpet, and a Prophet brand analog synthesizer.
Some might call this whole album "chamber folk," but one track that definitely fits that category is "I Fall Away," with the Prado sisters playing clarinet and oboe and Doug Mathews' lovely droning bass clarinet adding additional color. The sisters again sigh wordlessly between the verses of the downcast "Going Nowhere," a gently swaying ballad about a love affair that ended because of religious differences. "Cassie" is a sad ode to a woman who helped him during a hard time and who sounds like she needs some help herself. The album wraps with a song Fowler wrote many years ago and that appeared on his first album but is updated for this album with lots of lovely touches including strong three-part harmonies and a sweet clarinet solo. It ends with a coda from "La Vie En Rose," an homage to Fowler's mother who grew up on the Francophone island of Mauritius.
This album comes out as we enter the final stretch of 2021, and is just what I needed to carry me out of summer into fall's shorter days and cooler nights. If you enjoy creative independent folk music at all, you owe it to yourself to check out The Grief We Gave Our Mother.
(Signature Sounds, 2021)