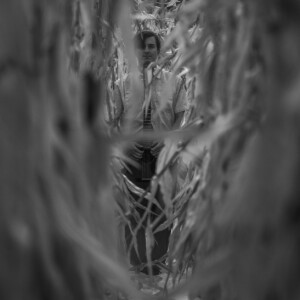 Pat Keen has unleashed one of the most enigmatically enjoyable albums of 2020. Or perhaps it's the most enjoyably enigmatic. Probably both. Cells Remain is a puzzle wrapped in a conundrum, or whatever that saying is. On the surface it's a sort of singer-songwriter album, featuring Keen singing his songs with baritone-to-falsetto facility, accompanying himself on six- and twelve-string guitars with equal or perhaps surpassing facility. But the songs are layered with complexities both lyrical and musical, full of poetic twists and turns and dead ends, alternately plodding, swimming and soaring in a soundscape of drones, whooshes, clatters, swishes and found sounds.
Pat Keen is best known as a bass player, both acoustic and electric, with musical acts that range from folk to jazz and experimental. He "cut his teeth" so to speak, as a bassist and improviser at New England Conservatory, and the Eau Claire, Wisconsin native is now based in Minneapolis. But he has a growing presence as a songwriter and singer, which fully blossoms on this, his third solo release.
When listening to the sound of Cells Remain I am reminded of the bedroom poetics of Nick Drake and the experimental indie-folk of Sam Amidon. There's lots of intricate fingerpicking and hushed vocals sung in Keen's comforting style. And he incorporates a lot of sophisticated elements into his songs, from jazz, art song, and the more experimental side of things.
In addition to his guitars (which include acoustic and an occasional electric) Keen plays bass, keyboards and Mellotron. His main collaborator is Adelyn Strei, who contributes 12-string guitar as well as clarinet, piano and a compact synthesizer known as a MicroKORG, and sings a lot, sometimes harmonies, sometimes in duet. Shane Leonard, who co-produced with Keen, brings a lot of subtle percussion touches to the record as well as a little bit of banjo, and John McCowen adds mysterious, luscious vibes with a contrabass clarinet, an instrument you won't see or hear very often.
The presence of that contrabass clarinet is emblematic of this album, which is chock-full of unexpected elements. Uncommon melodic lines, surprising harmonies and chord progressions, and changing time signatures abound.
The opening track and first single "Cell Song" is one of the loveliest songs to come out this year, Keen's deep, laconic vocals matched by the low fingerpicked guitar line and gently loping percussion on the main verses, and Strei's blue-tinged vocals on the alternating choruses, which are introduced by lightly chiming electric guitar arpeggios.
"Lost and Found" is just as engaging, with subtle electronics and samples highlighting the gentle tension in this song about the struggles of intimacy. Those touches get more pronounced on "Screens," and Strei's backing vocals intriguingly weave around Keen's lead – this one's over way too soon, a lovely and captivating little song.
Lyrically these songs are something else. Densely poetic and quite impressionistic, they often veer off in unexpected directions, rather like the chord structures and production. "Cell Song" for instance starts out seeming like a typical folk love song: "There is gold in everyone, how we roll around under the sun, and every hand is warm sometimes." Then it shifts in the third verse with "Cells remain inside my bones. They refrain from any kind of change, bleeding in and out, leading this charge regally, but illusions lie beneath the plot …" "Lost and Found" is a more typical relationship song, with lines like "You're not having fun. I'm not having fun," though it ends on a slightly hopeful note.
That contrabass clarinet finally appears on the fourth track "Rot," and stays through the end. On that song the Mellotron plays a long flute chord, a sea bird calls at random intervals, the low clarinet rumbles just at the edge of hearing, and the piano chimes in with struck chords in what seems to be a different time signature. "Torch" may be my favorite track, the way it juxtaposes the deep clarinet and a high guitar line, both galloping along with the six-beat rhythm while Keen sings in the middle of his range. The vocals aren't exactly buried in the mix but neither are they out front, so that this and really the whole album seems to be more about painting with sound than telling stories with words.
Really, what to make of lyrics like those of the languid "Farmer"? "I'm a farmer of waves and numbers. Stay here longer so I can ponder the brain in all entities…" Or the deliciously dissonant closer "Hot Face" with its sound collage arrangement and the refrain of "The air, the wind, at blowing, I win."
In case you can't tell, I'm a little bit at a loss to adequately describe the music on Cells Remain. What I can say clearly is that it grabbed me from the first bar and didn't let go until the final fade-out. What I wouldn't give to see this music performed live.
(Birdwatcher Records, 2020)