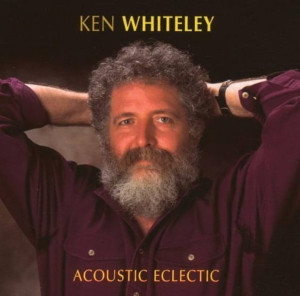 Ken Whiteley is a multi-talented musician. He has played behind such people as Tom Paxton and Leon Redbone; he was part of the Original Sloth Band; he and his brother Chris (not to be confused with American slide guitarist Chris Whitley) have recorded separately and as a duet; and Ken forms part of the Scarlett/Washington/Whiteley trio. Ken's solo recordings are filled with his excellent guitar and mandolin picking, his pleasant tenor voice, and a selection of songs from the great 20th Century songbook, combined with traditional tunes and his own originals. Acoustic Electric is an older album but it falls well within this definition. Released originally in 1995, it was part of a triptych. Three albums, one each by Mose Scarlett, Jackie Washington and Whiteley. They were available individually, or together in a box. I obtained my copies one at a time. This was the first one I got, when I found it in a used record store for $3.
There are 11 self-written songs here, composed between 1986 and 1995. These are fleshed out with an Appalachian folk song ("Bright Morning Star"), a gospel number (Hold On To God's Unchanging Hand"), a Louis Jordan jump tune ("Don't Burn the Candle at Both Ends") and Hoagy Carmichael's chestnut "Stardust." It sounds almost perfect. Great picking on mandolin and guitar; support from George Koller on bass, brother Chris on trumpet, partners Scarlett and Washington on vocals and the great Jerry Douglas on Dobro among many others.
Why then is it such a disappointment? The arrangements just don't provide the excitement that we've grown accustomed to on Whiteley releases. I'm not talking about exciting performances, but invigorating and creative ways of presenting the songs. It's a fairly bland recording well worth the $3 I paid for my copy, but definitely the weakest of the three albums in the set – and the weakest of Whiteley's albums ever released. Get Listening or the new Scarlett/Washington/Whiteley album first … but give this one a pass.
Borealis has a commitment to releasing Canadian folk music, and this month they issued a new CD by a Quebec foursome called Le Vent du Nord. Translated this means The North Wind, and the music sweeps out of the speakers fresh and cool. Vocal harmonies backed by traditional acoustic instruments play a set of traditional songs from France, mixed with story songs about life in early Canada, drinking songs, jigs and reels – it's a history of Canada in music. Well, at least a history of French Canada, and, to be fair, that's where we all started anyway. French, Scottish and Irish melodies mix just like their blood mixed in those early days.
Nicolas Boulerice plays piano and hurdy-gurdy; Benoit Bourque adds accordion, bones and spoons, guitar, mandolin and dances; Bernard Simard plays guitar while Oliver Demers plays fiddle and guitar. They all sing, and beautifully.
Maudite Moisson! means "damn good harvest," and this is a damned good one, indeed. The musicians blend well, ably supported by guests Regent Archambault on bass, Michel Bourdeleau on snare drum, and Jeanne de Chantal Marcil on cello, on a couple of tunes. But most of the music here is provided by Le Vent du Nord. They are sympathetic, gifted players all. And Maudite Moisson! makes a stunning next chapter to the history of French-Canadian music box set we looked at a few months ago.
(Borealis, 1995)
(Borealis, 2003)