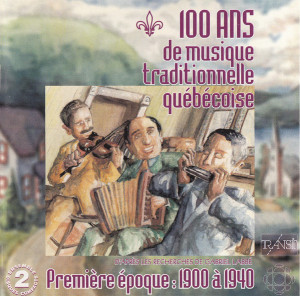 I have to be upfront about this. I am a sucker for a box set! Just looking at anthologies excites me! 100 Ans de Musique Traditionnelle Quebecoise is just what it promises to be, on four double CDs, all packed together in a wooden box. That's right! Eight discs of the music of Quebec. Wow! And no Celine Dion! Just fiddle tunes, jigs and reels, accordions and harmonicas. That's it. The real music of the Quebecois, who are the French speaking inhabitants of la belle province.
Quebec is a beautiful place, and as soon as you cross the border you are transported. It's not just the French road signs.It's the whole ambience. You are in a different place. Last summer I attended a conference in Sherbrooke. One night we drove a half hour into the countryside to a small restaurant. They had laid on a musician for the evening, to entertain our group. As we sampled the fine cuisine, drank the local brew and gazed out at the lush woods surrounding the still lake…we might have been thousands of miles away. The music transported us. This collection accomplishes the same thing, and acts as well as a storehouse for a century of tradition and history. In the same way American labels like Rounder and Folkways have archived the music of the Appalachians or the Ozarks, now a Canadian company has seen fit to rescue this cache of fine performances. Assistance was received for the project from the National Library of Canada, the Biblioteque Nationale du Quebec and support from Radio-Canada-FM.
Divided into four double disc sets, this project got underway in 1997, and was completed this year (2003). Each double set covers an era. Premiere Epoque: 1900 a 1940 begins with the first known recording of traditional Quebecois music. "Reel Medley (part 2)" by the Quebec City fiddler Jean-Baptiste Roy was recorded in November of 1922. He made only one other recording but he is shown to be a fit fiddler indeed. The sound of these archival recordings has been digitized and tweaked to provide the best audio fidelity. Gabriel Labbe, a harmonica player who appears on some of the later discs, served as editor for the set; he has been collecting this music for thirty years, published two books on the subject and has sought to give this music "a new lease on life with the latest technology."
Listening to the first disc with the volume turned down, you can hear a slightly compressed albeit clear reproduction. As the volume is increased the hiss follows suit. There are few discernible pops, and all things considered the old recordings sound good. I am not a sonic fuss-budget; I am more interested in the performance, the feel and the music. I once took a recording to a friend's house. He was an audiophile with the latest reproduction equipment available. His setup uncovered flaws in the recording that I couldn't hear on my home system. He then played his new LP, which was a direct-to-disc vinyl album. The music was absolutely dreadful, but there was no hiss, no pops, and my friend sat looking pleased. I said, "Well, if you'd rather listen to this crap than good music with a little noise, it's up to you." 100 Ans … has done the best job they can with these old 78s, and they've provided darn good music to boot!
The first volume also includes a "Medley of Irish Jigs" by Romueld Gagnier, "Canadian Set (Part 1)" by J. Alex Donato, one of the first calls recorded on a 78 rpm, in French! Fiddlers Antonio Gauthier, Isadore Soucy, Willie Ringuette, Fortunat Malouin and others are represented with a cut or two. There are waltzes, cotillions, galops, and reels all stunningly played by these folk musicians. The liner notes are, as you might expect, first presented in French, but are also repeated in English in the second half of the booklet. There are notes on each song crediting the player, a very short biographical tag, and the label and date of the original recording.
Disc one is divided almost evenly between fiddlers and accordionists, with the fiddlers winning out in the 20s, the squeezeboxes picking up speed in the 30s. Some of these musicians were self-taught lumberjacks, others classically trained violinists, all of them skilled and respected in their day. Accordionists appearing on the first disc include Alfred Montmarquette, probably the greatest accordion player of his era. His "Babies' Waltz" is a highlight, accompanied by piano and bones. "Clog Waltz" presents Joseph Latour who after learning the instrument as a child, worked 36 different professions before devoting himself to music at age 40. The second disc of Premiere Epoque continues the format (and after all…this is the format for eight discs) with the introduction of some playful and entirely entertaining harmonica solos. After a couple more accordion tunes (a polka and a march) from Alfred Montmarquette, Henri Lacroix plays a jaunty "Greengrocer's March" accompanied by his brothers Georges on piano and Paul-Henri on guitar. Adelard Saint-Louis follows with two tunes, the bouncing "Swedish Waltz" (ably abetted by Baromie Bernaquez's piano, and an unnamed whistler) and "Broadway March." Then clog dances, waltzes, reels and quadrilles, fiddles and accordions and a set of tunes that just reek of the Quebec countryside.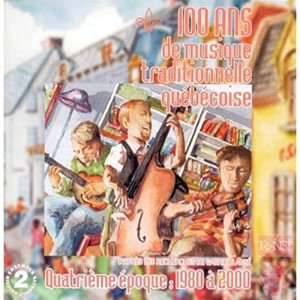 There remain six discs to audit. Set two, Deuxieme Epoque: 1940 a 1960, carries on chronologically and shows the development of the traditional music performer from solo artist to instrumental ensemble. The musical forms are the same – reels and various dances – but the sound is fuller and obviously better recorded. During this era the solo fiddler or accordionist surrounded himself with a small band – piano, Jew's harp, guitar. Omar Dumas and his Minstrels, the Pigeon Trio, Tommy Duschene and his Cavaliers and the Rosaire Girard Trio took the place of the individual performers of the earlier years. The music continued to be folky, and there's that Jew's harp again; it's filled with perky, bouncy tunes, just right for dancing. The second disc of this volume moves through the fifties and features artists like Isidore Soucy, Joseph-Oliva La Madeleine, and Ti-Blanc Richard.
Troisieme Epoque: 1960 a 1980 moves into the modern era and displays a modern problem. Several well known musicians are not represented, and the reason is that the labels they recorded for would not license their recordings for this set! So there is nothing from Louis "Pitou" Boudreault or Jules Verret, among others. But there are 37 tracks on two discs to represent this era. The music of the 60s and 70s is a bit slicker and better recorded. Each era is using newer, more sophisticated equipment, and catering to a more sophisticated audience as well. Some of these recordings echo the early jigs and reels of the first disc, with improved sonic quality; other examples are simply different! For instance, Fernando Soucy's "Quadrille Canadien" sounds like it might have been played in the '20s, but Andre Dejarlis' "La valse Westphalia" has a continental sound. Listen to The Feux-Follets, the Lizotte Brothers, and Jean Carignan & Philippe Bruneau! Marvelous performances!
Quatrieme Epoque: 1980 a 2000 brings the set up to date. Again, the recording techniques changed with the times. The performances remain, for the most part, faithful to the traditions and techniques of the century before. We are treated to the appearance of the set's compiler Gabriel Labbe, a wonderful harmonica player, who manages to push and pull an amazing sound from his mouth organ! Philippe Bruneau's "Hommage a John Kimmel" is a standout piece. Other highlights include Carmen Guerard's "Hommage a Yvan Brault." Even at the end of the last millenium, it was still accordions, fiddles, and the odd harmonica that drove the Quebecois traditional music.
This extraordinary archive of incredible depth is a definitive resource for anyone interested in Canadian folk music and history. The whole thing is capped off by a handmade wooden box with room for all four double disc sets. It stands proudly at the top of my collection. Perhaps eight discs of folk music is too much for the average listener, and, truth to tell, there is a sameness to jigs and reels, fiddle tunes and accordion solos…but Labbe and Transit need to be congratulated for the amazing labour of love that is 100 Ans de Musique Traditionnelle Quebecoise.
(Transit Productions, 1997-2003)