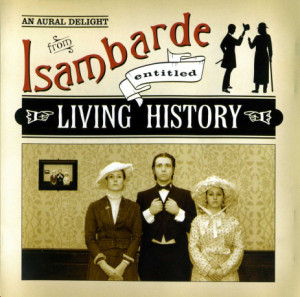 This is the third release from Isambarde – or 'the Bardys', as they have affectionately come to be known. When the album came up for review I jumped at the chance, for I was fortunate enough to get my grubby little mitts on Barnstorming their previous album. I expected Living History to be good, but not in my wildest imagination for it to be as good as it is! The Bardys have matured nicely.
I have seen Isambarde live several times, and to be fair in front of an audience is when they are at their best. It's hard for the cheeky charm of the band's stage act to come across on a CD. However, they have at least partially bridged this gap with the creative album cover and liner notes. It is set out as music hall program notes with a sepia photo of members Chris Green, Emily Saunders and Jude Rees in Victorian costumes. I had to smile at the liner notes, which read:
Mr Chris Green: 'The missing Link' who manages to sing, play guitar, bouzouki, piano, bass guitar, accordion, and harpsichord (with all of his seven limbs simultaneously!)
Miss Emily Sanders: 'The fair rose of Cannock' who sings and plays the violin and penny whistle (and furthermore, is the only rose with no prick!).
Miss Jude Rees: 'The littlest oboe' who sings and plays the oboe, shawm, piccolo, and flute (and sundry other long-defunct tubular devices larger and weightier than herself without the aid of a safety net!).
They are ably assisted in this endeavour by guest musicians Duncan Arrow on drums and percussion, Rupert Dejonghe, double bass, Dawn Ward on trumpet and flugelhorn, and David Morgan on trombone.
So, what's the music like? In short, bloody marvellous! Isambarde have re-worked and breathed fresh life into another collection of mainly traditional songs such as 'The Outlandish Knight', 'Ye Mariners All', 'The Maid On The Shore', 'Just As The Tide Was Flowing' and 'Annan Waters', to name but a few. The songs are spiced up with some brilliant arrangements and pinned by some tunes that complement. I liked the way the solos are tossed back and forth between the violin and the oboe. Special mention must be made for 'My Thing Is My Own', a cheeky little music hall number sung by Emily, about a young lady protecting her chastity until she is wed. (But it raises the question of how she knew the clockmaker's pendulum was too small for her clock if she was still a virgin?) My favourite track has to be 'Private Green'. Written by Chris Green, it has superb lyrics (and tune) in which he chronicles the history of his great-grandfather in the First World War. Interestingly, his great-grandfather's name was Doran, but as Chris points out it is hard to find words to rhyme with Doran, so the name was changed through poetic licence. After this big production number, the album ends on a quiet note with a instrumental piece taken from Playfords' English Dancing Master called 'Laddie Lie Near Me'.
All in all I enjoyed this album immensely and I am sure you will too.
(Whirly Whorl, 2008)