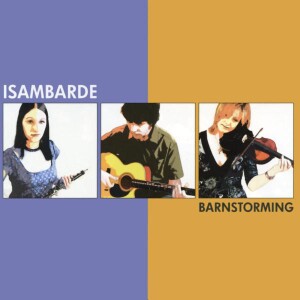 If ever an album had a good title, 'Barnstorming' is it! This is only the second album from Isambarde and it can only serve to put them up amongst the cream of the acoustic folk bands in the world – there, I've said it!
Isambarde are Chris Green, vocals, acoustic guitar, bouzouki and bass; Jude Rees, vocals and oboe; and Emily Saunders, vocals, fiddle and viola. All three are brilliant musicians whose arrangements bring a freshness to English folk song that is long overdue. Chris backs the songs with a bright solid rhythm on his guitar, while Emily and Jude weave in and out with riffs and tunes on the fiddle and oboe to compliment the songs. The enthusiasm and the innovation they bring to the songs are never in question. The result is something that has to be heard. It is hard to believe that the band only really got together in 2003-04, for they gel together with an experience normally only found in bands that have been playing for much longer. I've seen them live on stage four times now, and each time they have blown me away with their performance and stagecraft. Festival and club organisers take note; you might want to book them while they are still relatively inexpensive. This band is on the way up!
So what makes the album so good? In a nutshell: simplicity, plus a good ear for a song. The result is an ideal choice of material. If you think about it, when you visit a folk club or festival, which are the songs that lodge themselves in your consciousness? Likely you find yourself humming or whistling the tune on the way home. It has been said that all the revivalist singers in the '50s and '60s had a field day rooting out the very best of the traditional songs for their repertoire, and left the rest! Traditional bands these days go to extraordinary lengths to find material that hasn't been done. But what's wrong with the old songs the revivalists unearthed? Nothing at all.
So it is young bands like Isambarde, who were born in the '70s and '80s, are left to pick up the thread. Simple you might think, but it's the refreshing treatment Isambarde gives to the songs that makes them extremely 'listenable' all over again.
Traditional songs like 'The Bold Fusilier', 'High Germany', 'I Wish', 'The Wounded Hussar (tune)', A Miners Lifeguard', 'Hard Times of Old England', command your attention and are sensitively complemented by more contemporary standards such as 'Farewell to the Gold', 'Lilly of Barbary', 'Farewell Farewell', and 'Old Bones'. It's the arrangements that make these Isambarde's own.
Although the album runs for over 43 minutes, it's a pity there are only 10 tracks on offer, for Barnstorming truly leaves you wanting to hear more. If ever there are two bands deserving of world wide recognition, one is Isambarde; the other is Show of Hands. So it is no surprise that Phil Beer of S.O.H. appears on the album as a guest musician playing fiddle and quarto on two tracks, as do the brilliant Vicki Swan and Jonny Dyer on bass and piano accordion on three of the tracks.
Should you need your enthusiasm revived, or you just want to hear the very best in English traditional music and song, you seriously need to buy this album, even if you buy nothing else this year!
The next generation of folk bands is here! And with the likes of Isambarde, it's in good hands, I am pleased to say.
(Whirly Whorl Records, 2006)