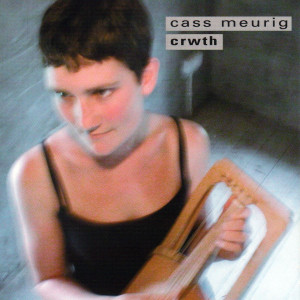 Until this CD showed up in the post, I had no idea that a crwth even existed. Even the members of the Welsh folk punk band, Ymyl Danheddog (Serrated Edge), had no idea what it was, though one of them remembered that he heard one quite some time ago at a Solstice celebration and thought it sounded bloody good.
So I headed off to ask our Archivist if she had anything in our reference section about this instrument. Indeed he did, to wit. He started to quote a Web site in Welsh ('un o offerynnau traddodiadol mwyaf lliwgar cymru ydy'r crwth, sef offeryn llinynnol canoloesol sydd yn cael ei chwarae gyda bwa. mae ganddi chwech o dannau: dyma'u henwau a'u tiwniad arferol: y crasdant a'i fwrdwn (d", d'), y cywirdant a'i fwrdwn (c', c) a'r llorfdant a'i fwrdwn (g, g'). mae'r bont a'r byseddfwrdd yn wastad, felly gellir chwarau y chwe thant ar yr un pryd.') when I pointed out to him that I did not speak Welsh that well, so he switched over to Our King's Tongue: 'the crwth is a medieval bowed lyre and ranks as one of Wales' most exotic traditional instruments. It has six strings tuned g g' c' c d' d" and a flat bridge and fingerboard. The gut strings produce a soft purring sound, earthy but tender. The melody is played on four of the six strings, with the other two acting as plucked or bowed drones and the octave doublings producing a constant chordal accompaniment.' OK, fine enough, but I noted to him that one of the Ymyl Danheddog members swore on Merlin's grave that the crwth was actually a fiddle.
The answer is that indeed the crwth is both a lyre and a fiddle as it's played with both fingers bare, like a lyre, and with a bow, like a traditional fiddle as noted above. What that means to you, dear reader, is that it really is as the carnyx in how it sounds. (The carnyx is a very early Celtic war horn that often has the head of wild boar with its tongue moving and its blazing as its head piece.) Now what you get on Cass Meurig's debut album Crwth is much more than just a crwth being played, as Cass Meurig has assembled a tasty little trio of Nigel Eaton playing hurdy-gurdy and Bob Evans playing a second crwth (!). So what we have here is two ancient Celtic stringed instrument played either plucked or with a bow, and a hurdy gurdy, probably one of the oddest instruments ever created. Nigel alone can make enough racket to keep a Solstice celebration going long into the morning light! Though classically trained on piano and 'cello Nigel moved to the hurdy-gurdy when his father, Christopher Eaton, started to make them in 1981. Evans help pioneered the revival of the crwth, and Meurig is a both an acclaimed fiddle and crwth player, being a member of Fernhill and Pigyn Clust, two bands specialising in traditional Welsh music. Cass is one of the few players of the crwth which might suggest the revival wasn't all that successful – less perhaps than that of the carnyx which has been championed by the likes of Kathryn Tickell!
So how does it sound? Rather lovely in a medieval-ish sort of way. Not a stuffy, 'this is Church music' sort of way, but something quite a bit more paganish. The closest group to this is Sinfonye, of which I said, 'this is dance music doubling as concert music, but not, as I will stress again, something that well dressed farts would play in a stuffy recital hall! Well, they'd possibly play it, but it would be the antithesis of the way Sinfonye plays, as this is lively, intelligent music making. This is folk music that will appeal to both the lover of classical music and all aficionados of Anglo-French dance music.' Same applies here as long as you keep in mind that this is not classical music as it's normally thought of.
My favourites here? Well, 'ffarwel ned puw (ned puw's farewell)' is a seventeenth-century Welsh tune popular for singing Christmas carols, and has survived to now, according to Cass' online notes (the CD has no liner notes to speak of!), in the plygain carol tradition. There are at least nine different tunes called 'Ffarwel Ned Puw' including cut twelve on Crwth! Also quite tasty is 'sbonc bogel / y crythor pengoch (pepper's black / half hannikin)' According (again) to the online notes, 'Both tunes were printed in Playford's Dancing Master (1651). 'pepr is blac' is listed amongst the tunes possibly associated with the music for the Christmas festivities at Lleweni, Denbighshire c. 1595. It was used as a dance tune in the Welsh anterliwtia and was recorded by John Thomas in 1752; the Welsh name 'sbonc bogel' which means 'belly jerk' may have referred to a dance performed to the tune.' Some of you will no doubt be aware that Jon Swayne of Blowzabella fame did an album called The Half Hannikin Variations which Green Man has a copy of but which, to my knowledge, was never released commercially. Contrasting the two riffs off the Half(e) Hannikin theme was interesting!
If you like traditional instrumental medieval Welsh music played with skill, grace, and a lot of energy, you'll love this CD. If you like traditional instrumental Celtic music of most any sort that has fiddles in it, give it a try too. I've played it a half dozen or so times in the past few months – it's that good!
(Fflach, 2004)