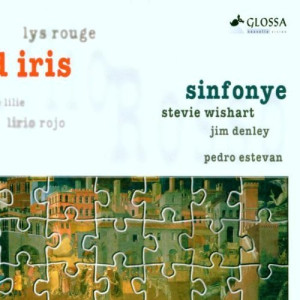 There's no doubt that Green Man gets a wide range of music to review – sometimes wider than one might expect! These two CDs are a good example of that, as I don't expect that well played Medieval music that doesn't sound like everyone's sitting quietly listening to a bonnie bunch of old well dressed farts play it in a stuffy recital hall is all that common an affair. This is equal to what the Turtle Island or Kronos quartets did with classical music in that it brings the music of that period to life. So grab a cuppa and we'll look at these two albums.
Both of these albums are centered on Stevie Wishart, a remarkable musician whose online bio says that 'Stevie Wishart developed her musical studies at the University of York, the Guildhall School of Music and Drama, and, with a Vicente Canada Blanch Fellowship, at New College, Oxford, where she is completing a Ph.D. on medieval bowed instruments.' Her group, Sinfonye, created in 1987, was, according to her, 'conceived as an ensemble combining improvisation skills derived from traditional music with performance practices recreated from historical research, with a particular interest in repertories sung, inspired or composed by women.' Be that as it may, red iris has not one vocal on it! Not that that's a problem as red iris is a splendid affair. As a superb composer and accomplished performer on hurdy-gurdy, violin, voice and contemporary electronics, Wishart's music fuses traditional Medieval music with a refreshing belief that, as I noted before, it needn't be stuffy music.
On this version of Sinfonye, they play as a trio – Stevie Wishart (medieval fiddle, hurdy-gurdy) with Jim Denley and Pedro Estevan, both on percussion. All compositions are traditional as transcribed and arranged by Wishart. Right now, I've got the first cut, 'Trotto', playing as I write this commentary. It's a short piece, not even one and a half minutes, but it nicely sets the tone for red iris, which is that of a small group of musical performers providing music at fairs or other, more formal functions, say a wedding. Now please note that this is not the Blowzabella-style music that showed up in the wedding scene in Raggedy Rawney, but something more refined, more delicate in its touch.
Stevie plays a Medieval fiddle created by Bruno Guastaidi after Jacapo de Castentino's St. Bartholomew violin, and her hurdy-gurdy (or symphony as she refers to it in the liner notes, after its Medieval French name, symphonia) is by the master hurdy-gurdy maker Christopher Eaton, father of Nigel Eaton who is a member of Blowzabella. Christopher created it after thirteenth century Castillian carvings and contemporary Galician instruments. The percussionists are playing a variety of instruments including the panderio, a bendir, stick drums, clappers, and I'd swear some strings of very small bells as well.
OK, Stevie has a long and well-thought out explanation in the liner notes of just what these pieces, which are called instampite, are. Suffice it to say that are non-vocal monophonic tunes datings from the 1300s. It's dance music doubling as concert music, but not, as I will stress again, something that well dressed farts would play in a stuffy recital hall! Well, they'd possibly play it, but it would be the antithesis of the way Sinfonye plays as this is lively, intelligent music making. This is folk music that will appeal to both the lover of classical music and all aficionados of Anglo-French dance music.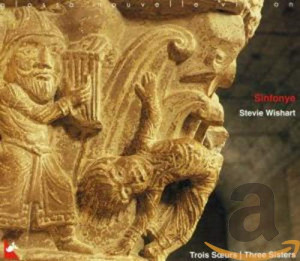 Sinfonye's 1995 album Three Sisters/Trois Sœurs, has been remastered and reissued by the French company Glossa Music. On this version of Sinfonye, we again have a trio of musicians, but the percussionists are gone, to be replaced with two vocalists, Vivien Ellis and Jocelyn West. Does this make a difference? Bloody right it does! If you've heard the Medieval Baebes play, you have a feel for the stunning impact of Medieval music sung by female voices with the only accompaniment being, in this case, the hurdy-gurdy and fiddle. Bliss! Not surprisingly, Three Sisters/Trois Sœurs was recorded in a sacred space – St. Andrew's Church, Toddington, England, one of those ancient stone churches where the acoustics are so good that one feels truly blessed. Most of the material here is French trad., like 'Bele Aelis par matin/Haro, haro!/ Flos filius, motet' with a few pieces composed in a traditional manner by Wishart herself. The extensive liner notes – in French – give all of the details for these compositions, but all I need to note is this CD and red iris will be getting heavy play here in our household.
Now I'm off to see if I can find her other recordings as one source says she has seven in total, and I want them all!
(Glossa Music, 1997)
(Glossa Music, 2001)