Michael Jerome Browne's Michael Jerome Browne
Ruthie Foster's Runaway Soul
Various artists' Shout, Sister, Shout!: A Tribute to Sister Rosetta Tharpe
There are a lot of people out there just like Michael Jerome Browne. White guys with funk in their soul who play the blues. They're usually very good at it. Very convincing guitar players who have all the licks down and choose their repertoire from the history of recorded blues archived in their record collections. John Hammond Jr. was for a long time the main practitioner of this genre but then these guys showed up in ever increasing numbers. Green Man Review has reviewed several albums like this. Spencer Bohrens, Michael Pickett, Steve James … and Michael Jerome Browne.
I don't have anything against these albums. Sometimes I really enjoy them. Heaven knows I've done the same thing myself many times; sit down with my Dobro tuned to G, sing a favourite blues tune with my authentic Mississippi blues voice. I'm really good at it right now, I've got a cold. Michael Jerome Browne is pretty good at it too.
He has excellent taste in old blues tunes. "Country Breakdown" by Charlie Hicks, Jesse Fuller's "You Can't Keep a Good Man Down," Blind Lemon Jefferson's "Wartime Blues," and "Manic Depression" by Jimi Hendrix! Jimi Hendrix! King of the blues! And yet Browne truly "bloozifies" Hendrix's song. There's no doubt about it, Mr. Browne can play those stringed instruments. He has a nice collection lined up against the wall in the insert booklet. Tenor guitar, banjo, electric lap steel, National, mandolin and fiddle. He plays them all very well. And he has brought along a few friends to flesh out sound on the odd tune.
Vann "Piano Man" Walls adds the 88s to "Gambling Blues" and to Brownie McGhee's "Walk On." Jordan Officer adds lead guitar to the Browne original "You're For Me" and fiddle to the cajun "Les Plats Tous Mis sur la Table." For another change of pace Browne turns Talking Heads' "This Must Be the Place" into a traditional acoustic song. Very interesting.
I have mixed emotions about albums like this. I would much rather listen to the original blues artists than to modern recreations of their songs. But there is enough invention and creativity in these interpretations to bring me back to them, if only to hear the acoustic Hendrix again.
Now something you don't hear every day is a new blues album by a woman. There are lots of them out there too, but you don't hear 'em.
In the recent PBS series The Blues women blues singers received pretty short coverage. There should have been a whole film about them, at least … and I can think of a few female directors who probably would've loved the opportunity to make that film! But if you're looking for a swinging album to groove to, pick up Runaway Soul by Ruthie Foster. It's a mellow and melodic collection of mostly original songs that are rooted in traditional forms but echo the needs and life of contemporary America. "Runaway Soul," "Smalltown Blues," and "Joy" celebrate life without ignoring the sorrow.
Sometimes it's hard to say I'm sorry
so easy to be cruel
I'm a long way from right
I've been breaking all the rules
I believe my soul's found a happy home… ("Runaway Soul")
I've got the low-dirty-livin' in a smalltown blues
and I'm runnin' out of things to do
I don't need no pity, just drop me in a city
I've got to feel the rhythm runnin' down in my shoes… ("Smalltown Blues")
There's joy over there…
There's joy on the other side… ("Joy")
Mixed with a few well chosen blues and gospel classics, Foster presents an intelligent and contagious collection of her own songs. The theme is uplifting, and the gentle guitar-based sound makes it easy to listen to. But there's a depth to this album beyond Mr. Browne's virtuosity. Ms. Foster believes what she's singing … she's not just a talented fan. Compare her heartfelt "Walk On" with Browne's photocopy. There's a difference like night and day. And special mention to Cyd Casson (percussion), Lloyd Maines (fretted instruments), Glenn Fukunaga (basses), Gary Primich (harmonica) and Riley Osborn on Hammond and Wurlitzer organs.
The proximity of the blues to gospel was never so clearly shown as on the recordings of the great Sister Rosetta Tharpe.
This description, from the liner notes of the next CD under consideration, will give the reader a sense of the excitement she could generate.
In 1951, at the height of her commercial popularity, Tharpe … attract[ed] upwards of 20,000 paying 'guests' – the majority women – to a combined gospel concert/wedding at Washington, DC's Griffith Stadium, a venue that normally played host to the Washington Senators baseball team. Then, the bride, an extroverted performer known for pushing amplifiers to their ear-splitting limits, regaled her fans by playing a steel-bodied electric guitar from second base. She was still in her wedding dress.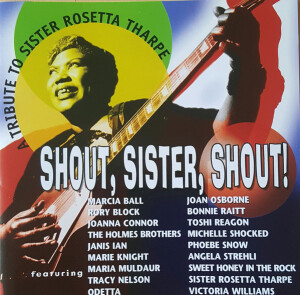 Certainly the clips shown in the recent PBS anthology The Blues show Sister Rosetta as a thrilling performer, a powerful singer and a talented guitarist. This album pays tribute to these gifts.
Shout, Sister, Shout! is just what it purports to be … A Tribute to Sister Rosetta Tharpe. It features appearances by the cream of today's female blues and gospel artists. Joan Osborne (with the Holmes Brothers) continues to impress with her potent rendition of "Nobody's Fault But Mine." Maria Muldaur does "My Journey to the Sky," accompanied by Bonnie Raitt on guitar. One of the great features of Sister Rosetta's legacy is her guitar playing, and this album includes plenty of solid fretwork. Toshi Reagon, Odetta, Michelle Shocked, Phoebe Snow, Rory Block, Tracy Nelson. All appear either solo, or in duets or small groups to honour Sister Rosetta. There is not a weak song on the album. Even Victoria Williams, who (to these ears, at least) is an acquired taste, chose such a perfect song in "My Lord and I," that she comes off triumphant! Each tribute both tips the hat to the originator, and attempts (almost always successfully) to lay a little personal claim to the song. This is a strong, fun, collection.
The album is completed by a bonus computer only track. It's a video of a performance of Ms. Tharpe herself, playing electric guitar and singing "Down By the Riverside." She fronts a choir, and totally owns the stage. It's an invigorating, exhausting performance – well worth seeing.
Three CDs, each coming from that part of our musical geography known as the blues. The fan, the next generation, the descendents, the originator. Only three chords … but stir in a heaping helping of soul and you've really got something. Take your pick: there's something worthwhile on each of these CDs.
(Les DisquesBros, 1998)
(Blue Corn Music, 2002)
(M.C. Records, 2003)