And so the juggernaut that is Martin Scorsese Presents the Blues continues. First it appeared as a PBS television event; then a book; the television films were released on DVD; and now Green Man Review looks at a small part of the vast CD release that accompanied the series. Each episode was accompanied by its own soundtrack album, a dozen or so special artists were awarded new compilation albums which were footprinted with the Scorsese logo, and a five-disc boxed set was issued which has received reviews proclaiming it "the best blues album in the world…ever!" (Uncut, January 2004) Wow! Ever?!?!
Unfortunately we don't have that one to review. What we do have is a cross section of the soundtrack albums and a couple of the individual artist sets. And, as you might imagine, they're a mixed bag.
The first film shown was the one directed by Martin Scorsese himself. Feel Like Going Home looked at African influences and sources for the blues, and featured some fascinating footage of blues-fife player Otha Turner, and wonderful scenes in Mali with Corey Harris meeting Ali Farka Toure and Salif Keita. The soundtrack features some rather obvious blues tracks; Robert Johnson's "Traveling Riverside Blues," and "Hellhound on My Trail," a trio of Muddy Waters' tunes, some Son House, Charley Patton, John Lee Hooker. Obvious, but glorious. These are the guys! The originators.
It also adds some second- and third-generational input with Johnny Shines' "Dynaflow Blues," and Taj Mahal's "Celebrated Walkin' Blues." One track each feature Toure and Seita, putting a Malian claim on originating the blues, and the whole thing is capped off with three tracks featuring Otha Turner. He is a revelation in three different formats. He plays fife with Corey Harris on acoustic guitar as they do "Lay My Burden Down;" he appears with Napoleon Strickland & the Como Drum Band on "Oh Baby;" and leads his own Rising Star Fife and Drum Band in "My Babe."
The themes and form of the film are reproduced quite faithfully in this collection.
Wim Wenders' film was entitled The Soul of a Man and the soundtrack for this one is almost entirely new material Wenders commissioned for the film. There's an old John Mayall track, "The Death of J.B. Lenoir," which echoes an important event in the film; a track by Lenoir himself ("Alabama"), which is critical to your understanding of Wenders' passion; Skip James singing "Crow Jane" and Blind Willie Johnson's recording of "Soul of a Man." All four of these archival recordings are crucial to Wenders' premise and assist the listener in assessing the new recordings.
The new stuff is not simply contemporary blues singers redoing the classics, they are brave, even bold reinterpretations of the songs. They don't always work. A couple of them have offended friends of mine so dramatically that they refuse to listen to my explanation of why they're important. Cassandra Wilson's "Vietnam Blues," and "Slow Down" are marvelous, sexy, smouldering songs. No argument, they're tops. T Bone Burnett ("Don't Dog Your Woman"), Los Lobos ("Voodoo Music"), Bonnie Raitt ("Devil Got My Woman"), Garland Jeffreys ("Washington DC Hospital Center Blues") and Shemekia Copeland ("God's Word") are all pretty straightforward renditions, good sound, good playing.
BUT, my friends wonder, "Why would you ask Lou Reed (LOU REED?) to play the blues?" His versions of "Look Down the Road" and "See That My Grave is Kept Clean" are so perfunctory — I mean, HE READS THE LYRICS OFF A MUSIC STAND! — and the music is standard Reed fare. I can't explain this. I don't like it either.
Beck's bizarro rendition of Skip James's classic "I'm So Glad" is abstract, tuneless, broken-rhythmed and odd. Lucinda Williams does "Hard Time Killing Floor Blues" like a Lucinda Williams song. Well, she's been covering old blues for her whole career. Nick Cave and the Bad Seeds murder "I Feel So Good" and the Jon Spencer Blues Explosion … well, explode "Special Rider Blues." And then there's Marc Ribot, whose entire oeuvre is an acquired taste, who takes the beautiful "Dark Was the Night, Cold Was the Ground" and turns it inside-out, upside-down. Ry Cooder fans HATE Ribot's version.
This is where it gets tricky. I hated many of these new interpretations when I saw the programme, but I went out and bought THIS soundtrack the next day. It's the only one I bought. I listened to it in the car for almost two weeks straight. And I can't explain it, I don't know why, but jeez I like these recordings. They take chances, they make you think, they provide a visceral musical experience. And isn't that what it's all about? Lou, Lucinda, Nick and especially Marc capture, for this listener, the excitement of musical creativity. But, don't take my word for it. Listen for yourself.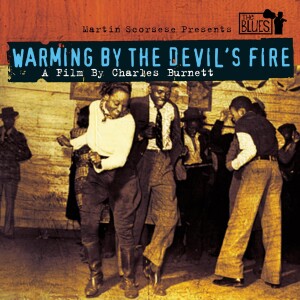 Warming By The Devil's Fire was a semi-autobiographical, semi-fictional story film which sought to portray the impact the blues might have on two generations of men in the Deep South. A young man visits his uncle to prepare for his confirmation in the church. The wrong uncle picks him up, and this one has a different idea about how he should be prepared. The blues plays a major role. The songs included on this soundtrack represent the development of their relationship. Jelly Roll Morton's "Turtle Twist" offers slinky clarinet over Morton's steady piano. Ma Rainey injects great dollops of sex into her "See See Rider." Son House's "Death Letter" presents some rolling bottleneck blues. Billie Holiday shows the sophistication of the urban blues with a sultry "I'm a Fool to Want You."
This album displays such a vast and varied selection of styles that the listener will wonder if it is possible for three chords and twelve bars to sound so many different ways, to express so many different feelings. From Mississippi John Hurt's delicate finger-picking, to the deep blues of Robert Johnson and Charley Patton; from WC Handy's "Beale Street Blues" to Muddy Water's electric Chicago sound; from Elmore James's screaming slide to Sister Rosetta Tharpe's rocking gospel, Warming By The Devil's Fire proves to be a recommended "starter" album for someone seeking to understand the depth of the blues.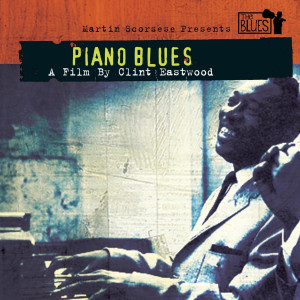 The broad variety of that album is contrasted by the sharp focus of the next. Clint Eastwood's film was called Piano Blues and he sought to demonstrate the appeal of old rocket 88. Clint is quoted as saying, "The piano player sits down, plays, tells his story, and then gets up and leaves, letting the music speak for itself." Jimmie Yancey, The Boogie Woogie Boys, Count Basie, Fats Domino, these are the famous and the infamous. Each performer has a true gift they bring to the wood, wire, felt and ivory of their instrument. Duke Ellington, Otis Spann, Art Tatum, Dave Brubeck, Thelonius Monk all appear, and display the variety of styles which can be applied to the piano…and still be called blues. Elegant mastery. Downhome boogie. N'Orleans funk. Dr. John, Pinetop Perkins, Jay McShann, and Ray Charles. They're all here…and yet there are so many missing. This is a super collection of Piano Blues that holds a spot in my play list.
The second series of CDs released under Scorsese's trademark comprises a dozen anthologies by individual artists (whose catalogues are controlled by Columbia/Legacy). The Allman Brothers Band, Eric Clapton, Jimi Hendrix, Robert Johnson, BB King, JB Lenoir, Taj Mahal, Bessie Smith, Stevie Ray Vaughan and Muddy Waters each have a volume in this set. We will look at the other two albums.
Son House presents fourteen of the most intense, blues-drenched recordings you will hear. Son House was one of the innovators. He predated Robert Johnson. Johnson studied at House's knee and you can hear how House influenced Johnson immediately. Son House's voice is a bit deeper, gruffer, his guitar playing raw and yet precise, the bottleneck singing as his fingers also maintain the powerful rhythm that drives his blues.
The selections on this album begin with tracks from 1930, the Paramount recordings scratchy, low fidelity but high energy. Throughout, House accompanies himself on guitar, and is joined on some tracks (like "Levee Camp Blues") by Leroy Williams on harmonica, Willie Brown on second guitar, and Fiddlin' Joe Martin on mandolin. The songs included here range from those first recordings, through some 1941 and 1942 sessions, and seven tracks from his 1965 session. The audio quality is improved in the later years, but the feel is just as authentic all through. Son House is a fine introduction to this remarkable artist.
Skip ahead to the newest generation of bluesmen for the next CD. Keb' Mo' has probably been heard by more people than most, as he wrote and performs the theme to Martha Stewart's television show! It's a nifty little tune, but it has very little to do with the music on Keb' Mo'. This is a sampler from a half-dozen Keb' Mo' solo albums from the past 10 years. Whether rethinking a classic (Robert Johnson's "Come On In My Kitchen") or performing his own compositions, Kevin Moore is an agile and sensitive guitarist, with a warm, husky voice. He's more commercially minded than someone like Taj Mahal, who has been doing this "up-dated blues thang" since the '60s, but that's not to say he isn't worth listening to.
As I said, his guitar playing is wonderful, and his own compositions take blues tradition and stretch it or bend it into a modern format. "Perpetual Blues Machine" recycles some classic riffs in a song that may be his biggest hit. "Don't Try To Explain" is a piano based gospel number. Tommy Eyre provides the funky piano. "I'm On Your Side" is a jazzy shuffle, with some organ (again played by Eyre) and electric guitar fills by Keb' Mo'. Some slippery slide guitar (I'm guessing that it's played by guest Colin Linden) opens the churchy blues ballad "Henry." Moore is an accomplished songwriter. He also covers choice traditional material. Robert Johnson's "Love In Vain," and Elmore James' "It Hurts Me Too" are somewhat obvious choices, but Moore's take on them is different enough to breathe new life into them.
There you have it. As I said, the Scorsese juggernaut rolls on. Before the deluge, a lot of this material was obscure and hard to get. Some of it didn't exist at all. If Martin Scorsese Presents The Blues introduces blues to a new generation, if it causes people to reconsider this powerful American music, then it's done what many before couldn't do. Bravo to Columbia/Legacy, and to Martin Scorsese for for their efforts in this worthy cause.
(Columbia/Legacy, 2003)