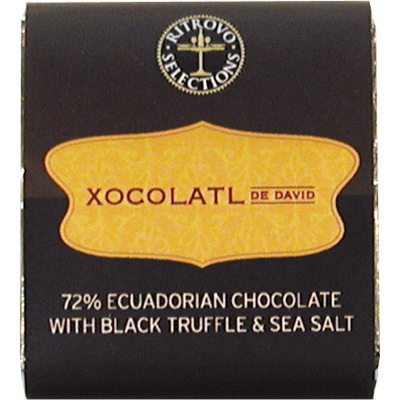 By the register little chocolate squares beckoned. Labeled, somewhat exotically, 'Xocolatl de David', there were three sorts, but the one that caught my eye read "72% Ecuadorian Chocolate with Black Truffles and Sea Salt." Not a chocolate truffle, mind you, but the kind of truffle pigs sniff out of the woods in Italy and France. I surrendered to impulse and bought one.
This Ecuadorian chocolate had its own sweetness with no trace of bitter, although there is no sweetener listed on the package. It melted across my tongue like it had somewhere to go, leaving a velvety trail. The truffle flavor kicked in with a surprising animalistic quality and, instead of blending with the chocolate to create a unique flavor, its heavy accent contrasted with the chocolaty smoothness on my tongue, lasting just long enough for me to wonder whether this was quite proper before the sea salt captured my attention, leading me back again to marvel at the smoothness of the chocolate. And that sweetness!
David Briggs, owner of Xocolatl de David, isn't afraid to go out on a very thin branch to stretch notions of what flavors can be combined with chocolate. He's passionate about pushing boundaries, and that passion results in gutsy flavor combinations. "Initially I wanted to make things I would enjoy, and I still do," he says, "That's still number one on my list." His own palate has a low threshold for sweet, so he deliberately pulls from his extensive culinary background in his creative process.
He was at the forefront of the bacon and chocolate trend some years ago, so it shouldn't come as a surprise that he has an entire line of chocolates incorporating the bits of animals many people avoid. Case in point are his seasonal Pigs Blood Chocolate and the Chicharrón, which he describes on his blog "as a Nestlé Crunch bar but with fried pork skins. Chocolatey, crunchy, porky, salty, spicy deliciousness."
If all this sounds too weird for you, start with The Raleigh Bar. Pecan-chocolate nougat and salted caramel coated in 72% chocolate combine to deliver a salty-sweet treat balanced on an ever-so-slightly bitter edge that is incredibly addictive. An aggressive sweet note backs up the other flavors in a way that reminds me of a burly henchman with a bat standing behind the fuller flavor profile of his irresistible boss. You can check out the boss' picture on the wrapper, too; the name is an homage to the capital of North Carolina, which in turn is named after Sir Walter Raleigh. For you food and wine pairing aficionados out there, The Raleigh Bar goes extraordinarily well with white wine.
I asked David which product he was most proud of and he said, "That's easy. Rhubarb." He's paired it with chocolate in a sauce used just as you would any jam. Spread it on buttered toast, spoon it on granola or yogurt, and use it as a chutney to brighten up spicy Indian food. Breakfast will never be the same!
I must confess that my favorite Xocolatl de David by far is the Almond Pimentón bar – dark chocolate infused with smoked Spanish paprika and Marcona almonds fried in olive oil. This bar makes me silly. I have to be careful not to close my eyes when eating it or I end up day-dreaming about fictional memories — wandering through multi-colored Arab markets, languorously bathing in a Turkish hammam, fires of sunset and beach bonfires and fire dancers rolled into one glorious night; all mirages rising on plumes of smoke captured by paprika permeating the most wonderful substance on earth and anchored by the nut that sustained travellers on the famed Silk Road. (See what I mean? Silly.)
I could go on and on about this guy's chocolate. I love his unconventional approach to my favorite food substance. The only problem with these chocolates is that their luxury item price tag. The part of me that thinks this is appalling and shakes its head, while the part that is enamored sneaks off to spend the egg money at the fancy shop down the street. I'm working my way through his repertoire as fast as I can find them (and faster than I can afford them) because the eye-opening experience they invariably provide delights me beyond reason.
See what David Briggs is up to at www.xocolatldedavid.com.