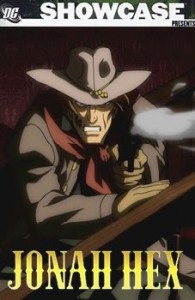 This is a spoiler rich review. If you're offended by this, go read something else!
I think most fans of Jonah Hex as portrayed in the Jonah Hex film will agree that the film did a lousy job of capturing him.  Fortunately DC did a brilliant job of doing so in a short animated film.
For those not familiar with this character, Hex is a Civil War veteran turned bounty hunter whose right hand side of his face was horribly scarred. Josh Brolin played him in the film, but wasn't really all that scary.
Hex is very similar to the Walking Man in Simon R. Green's multiverse:  a man who walks in straight lines to do vengeance as he sees fit. Though he claims to be a bounty hunter, it's clear that he's truly a instrument of vengeance, and in this story written by Joe Lansdale, a master of both horror and western genres who also wrote an episode of Batman: The Animated Series in which figured Jonah Hex prominently, he falls into that yet again.
As usual, he walks into a bar in the archetypal small Western town looking for someone wanted for heinous crimes that has a bounty on his head. Clear enough, right? Except that this town has a Sweeney Todd style enterprise: travellers are given a girl for the pleasure of a man who then gets killed by vile henchman with the body thrown down an abandoned mine shaft. Cash, clothes, and even the boots are stripped from the dead as we watch.
Hex senses something is in the room and dispatches the henchmen rather violently and when the Madame tries to kill him, he takes her derringer quickly. Two more gunfights (one downstairs in the bar  and one on the way to the mine shaft, both of which Hex easily wins. At the site, He discovers a shaft full of dead men. He sends her down to verify his bounty which she does and she sends the body up to Hex.. Now remember that I said Hex was an instrument of vengeance? So his last act is to toss the rope down on which he lowered her so, as he says, she'll have plenty of company.
Superb animation, crack voice acting and dialogue writing, music that Serge Leone would approve of,and all in just over twenty minutes. The serials of the Thirties through the Forties are gone, but shorts from DC are just as good!
Thomas Jane who played another toughie on film, Frank Castle aka as The Punisher, gave voice to Hex, Linda Hamilton was the voice of Madame Lorraine, and Michelle Trachtenberg played the bar girls ith heart of a heart of gold, and James Marsden voiced several characters including the Bartender. Several roles go uncredited including that of the fat Sheriff who suffers a deserved fate.
It'd be nice to see an animated feature length Jonah Hex film some day! It's currently only available as part of the DC Showcase on HBO Max.
(Warner Animation, 2010)