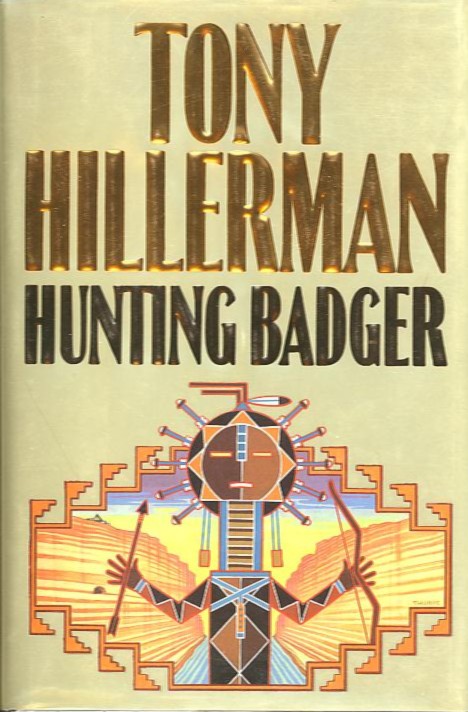 Steven E. McDonald penned this review.
Tony Hillerman's Hunting Badger was inspired by a real 1998 case that resulted in the murder of a police officer. The author refers to the case repeatedly but doesn't offer any clues to its solution. Instead, he uses it as the springboard for a story that plays on Navajo history and mythology, with the "Badger" of the title turning out to be both a legendary Ute warrior and his son, the former having been thought of as a witch by mystified Navajos and the latter perhaps taking advantage of his father's tricks following a murderous raid on a casino.
While the FBI is front and center in the investigation and manhunt, the story focuses on Navajo Tribal Police officer Jim Chee (now once again a Sergeant and single) and former NTP Lieutenant Joe Leaphorn (now suffering the annoyances of retirement, though tempering it somewhat with his relationship with Professor Louisa Bourbonette.) Both men have unpleasant memories of the 1998 case, which saw everything being mishandled, but Chee has an inquisitive nature that pushes him beyond the rules and Leaphorn is responding to a request for a favor from an old acquaintance. Both find more than they expected, along with a variety of surprises and frustrations — including the shift in the relationship between Chee and rookie NTP officer Bernadette Manuelito (which plays out further in 2002's The Wailing Wind and 2003's The Sinister Pig.) Indeed, the story is as much about the relationships between certain of the characters as it is about the central mystery. Leaphorn is trying to figure out his relationship with Bourbonette, Chee is still trying to balance his relationship with the Legendary Lieutenant, and now it seems obvious that Bernie Manuelito is beginning to seem like something more than a colleague to Chee, even though Chee opts as much as possible for denial on this point. Throughout there is an emphasis on relationships within the Navajo — the concept of hozho (harmony) informs Chee's work as a police officer, despite his failure to become a hataali (medicine singer) as he had originally intended.
Leaphorn finds his way to answers in the case, even as Chee struggles towards his own discoveries (both men more or less ignoring the FBI lead.) Rude awakenings, however, await both before the story comes to a close.
Hillerman's stories tend to be less about the mechanics of mystery story-telling than about the atmosphere and character — if the Navajo elements were stripped away from the novel, not much would remain. This is far from a negative aspect — Hillerman's Navajo mysteries really should be read for the characters and the settings, rather than the plots, moving beyond the mechanics of things into the spiritual and emotional interconnections. Indeed, there are many elements in these books that should stick with the reader beyond the end of the story, inspiring further exploration, whether it's into the history of the various interconnected tribes or the complexities of curing ceremonials. Hunting Badger is a relatively typical entry in this series — not the most compelling, and sometimes a bit labored, but still engaging and definitely not overwritten (like Ed McBain, Hillerman eschews padding.)
(HarperCollins, 2000)