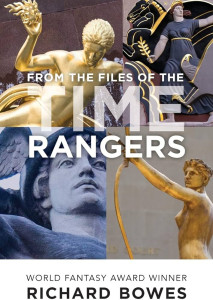 I really like a well-written time travel adventure. Unfortunately, they are, in my opinion, quite rare. Exemplars of this genre include Kage Baker's sprawling The Company series and Fritz Leiber's Change Wars series, which, alas, consists only of a short novella, The Big Time, and a collection of twenty tales, The Change Wars; Robert Heinlein's The Cat Who Walked Though Walls; Charles Dickinson's Shortcut in Time and Connie Willis's Doomsday Book. The very best of that group is by far The Company series, so it's fitting that Kage provides the introduction to this novel. Much like Kage's latest work The Children of the Company, just out from Tor as I write this review, From the Files of the Time Rangers is a mosaic novel that is a fix-up of previously published material (Bending the Landscape and Black Gate) from the soon-to-be defunct Scifiction Web site F&SF.  Now you really don't care that some of the material here was previously published elsewhere as it's likely that you, like me, never saw those pieces. All you care about is how good it is in the present form.
This work involves, as the Golden Gryphon Web site notes:
… time travel, alternate worlds, gods, cops, and the making of a president. The story spans the Twentieth Century, from the gritty waterfronts of Manhattan to the exclusive New England resorts of the rich and famous, culminating in a U.S. presidential election a bit like, yet absolutely different from, the one we experienced in 2004.
I should note that the review copy of From the Files of the Time Rangers is the usual well-crafted, high-quality hardcover edition for which Golden Gryphon is known far and wide. And inexpensive too, with an amazingly affordable list price. The point is that Golden Gryphon published works of fantastic literature at a very affordable prices, and From the Files of the Time Rangers is no exception. As Kage said when I asked her what she thought of Time Rangers, "It's a grand book, brilliantly written by a man who knows more about the gods, untrustworthy bastards that they are, than anyone else I have ever met. Considering that I was immured in a convent school around the time Rick was haunting Hell's Kitchen, it's unsettling how often I read his stuff and get the uncanny feeling we have shared some time in the waiting rooms and hatcheck booths of Olympus."
From the cover illustration, which for me evoked memories of Sky Captain and the World of Tomorrow in the way it depicts a neo-Gernsbackian era that never was, to the use of Olympus as a living, real space, this is one very fun novel. No, not in the comic sense of a Pratchett or some of Gaiman's work, such as Anansi Boys, but as a reading experience. Indeed I can understand why Kage was so enthusiastic about it as it has the same sense of over-the-top humor that forms an important aspect of The Company series. Kage has dapper immortals getting drunk on chocolate; Richard has a member of the Sidhe wrecking serious havoc upon a time-line. Sidhe in a time travel novel? Why not? Infinite realities, infinite probabilities of Really Weird Things happening. And they do.
The bare bones plot is that the Gods and our intrepid time travelers groom a modern prince, hoping he will save the Earth from total destruction. The Time Rangers are overseen by Apollo Himself! As in Kage's series, humans – specifically human children – are the servants of the gods. I know that in Kage's series The Masters are apparently human, but they are effectively Gods. Again, like Kage where the children are plucked from fates worse than Death itself, the humans in Time Rangers are rescued from realities where history has gone terribly wrong, so that these children can be trained as Rangers and even Oracles, and, perhaps most horrifyingly, as agents of Death – Death being a very real being here.
I will not describe the plot in any more detail beyond what I've said already in this review, as it'd spoil your fun in discovering what this tale has to tell. Let me just say that I hope Bowes plans on a series at least as long as Baker's, as there's a lot of territory that can be covered here. Do I have any complaints? No, I will not echo the common complaint of reviewers that grumbled that this is a stitched together novel, as I cannot see the stitches. Aren't all tales stitched together from bits of colorful fabric as the writer takes an interesting piece of cloth from over there, a silvery thread from that basket, and a bit of ornamentation from that box? Bowes succeeds where, alas I must admit, Heinlein tended to fail in his later novels – the tale must have interesting characters involved in fantastic but still believable situations.
Bowes' From the Files of the Time Rangers is on my personal list of the best novels of 2005. And maybe, just maybe, there will be a few more stories of the Time Rangers as Bowes said, when asked if there would be more, that "None are planned but just being asked the question makes me wonder if there might not be a few more of them around." I really do hope he does more!
(Golden Gryphon, 2005)