Lady Rosamund and the Plague of Suitors is the third in Monajem's charming series of Regency mysteries featuring Lady Rosamund, a young, beautiful, seriously uptight young English widow, and a popular-yet-anonymous Scots caricaturist and … private detective? government agent? We haven't yet learned what McBrae's brief really is, but we know he is much taken with Lady Rosamund, who wades fearlessly into morasses of dangerous mystery, often in an attempt to prove to McBrae that she isn't a snob.
Which she is. Lady Rosamund's blindness to the unfairness of her privileges, and her prejudices against those less fortunate are, in the beginning of this series, two very annoying features that just beg for correction. McBrae has fallen hard for her, yet he constantly calls Rosie on her bullshit. And she's falling for him completely against all her training and inclination, so his criticisms make her try to do better.
Brazen class warrior that I am, I adore this process.
Plus, Rosie has another thing in common with this don't-call-me-Karen white chick from the suburbs: she has a batshit crazy mother. Rosie's is determined to put her daughter away in an institution. And Rosie is vulnerable. She has a real secret – no, two secrets – make that three secrets: 1) she's still a virgin because 2) her late husband's mistress was and still is her best friend, so her late husband never took his own wife to bed. Oh, and 3), Rosie has an obsessive-compulsive disorder, which her mother has amplified into proof that Rosie is a step and a half away from outright madness.
I reviewed the first of these Regency mysteries here.
In this episode, Rosie rescues a young woman fleeing villains on a country road. The fugitive is none other than her own brother's mistress, who is being pursued for immoral purposes. Rosie spirits away this really quite respectable female, apart from her unfortunately left-hand relationship with the otherwise very starchy brother, to her own home, and then must rescue the brother himself from murder and from prosecution for murder.
Meanwhile, an unusual number of nobles and gentlemen begin persecuting Lady Rosamund with their good intentions. She has her hands full, fending them off in a ladylike way, ducking her vindictive mother, and thrusting herself (genteelly but firmly) into McBrae's investigation of the mystery.
I rather fancy McBrae myself. But I've always been a sucker for a Scots accent.
Preorder Lady Rosamund and the Plague of Suitors. Coming November 29, 2022.
(Level Best Books)
________________________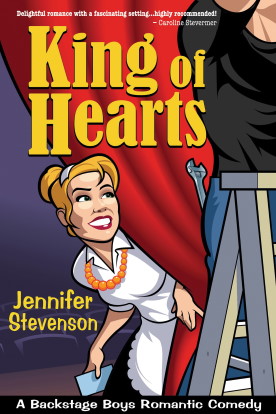 Not many people consider that any closed environment can exhibit the charms and frustrations of the English Regency romance novel universe. In Backstage Boys, you'll meet an elite group whose aristocracy are all related to one another, who have their own language, fashions, social mores and social catastrophes, and an exclusive world of glamor, fame, and glitter. These are the union stagehands of Chicago. They experience the glories of show business in the most intimate possible way – from behind the curtain.
Their love lives can be terribly tangled.
Try King of Hearts, a hilarious duel of wills and wits between a small-town preacher's daughter and a blue-collar prince of the blood.