The Peculiarities by David Liss is a strong steampunk story about Victorian magicians, featuring Aleister Crowley and other lights of the era.
Thomas Thresher, a formerly well-heeled idler now enslaved in his family's bank, has a lot of problems. His brother oppresses him intensely, not omitting to force him toward an arranged marriage with a wealthy and homely Jewess. He is increasingly afflicted with symptoms of the epidemic of magical transformations that London is looking hard away from. He is surrounded by his brother's spies. He is being herded toward more than marriage: Somehow he finds himself enrolling in the Hermetic Order of the Golden Dawn, and finds the work absorbing, his progress hampered by staider members and accelerated in secret by the irrepressible Crowley, who acts as Puck and goad when Thomas's Victorian lethargy of character threatens to immobilize him.
Evil forces are at work. Thomas's heritage will be revealed, along with its dreadful purpose. His loves and loyalties will suffer change. Marvels assail the world. Reality is in danger. Et cetera.
My first concern, walking into The Peculiarities, was to see how ceremonial magic was portrayed. I was pleased to find that the author's take did not clash wildly with mine. (Every magician has Views about how magic works, or should work, particularly in fiction, and every one of us is right. My View is that it's all right in its place, which is in the hands of the moneyed, the educated, and the idle.)
I hadn't expected the treatment of class issues to please me so much. Far too many neo-Victorian novels are loftily uninterested in matters of class, particularly those novels taking a romantic approach to magic. Liss's hero has the myopia of his class, but in time, his eyes are opened. Good enough.
This book threw me for a loop in how it dealt with tense, however. I'm sure the author has a system. It's written in present tense, except when it isn't – in flashback only, perhaps? – and except in dialogue, where persons naturally are able to talk about the past in the normal way. I got used to it after a while. Also, I'm assuming that the oddities of formatting in my review copy indicate the locations of illustrations that will be forthcoming in the final ebook and print editions, so presumably there are further visual treats in store for the reader. That said.
I think the reader will be pleased with this ripping yarn, written faithfully in period voice, full of adventure, familial betrayals, glorious special effects, and some deeply existential thrashing in the correct manner of a first-person Victorian novel.
(The Peculiarities, Tachyon Publications, 2021)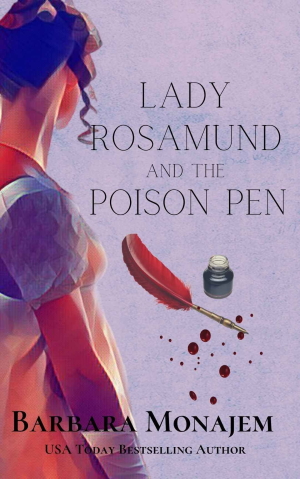 Barbara Monajem's Lady Rosamund and the Poison Pen (a Rosie and McBrae Regency Mystery) is the first book in a series that is now up to three volumes. (The latest, Lady Rosamund and the Horned God, looks juicy!) I thought I'd better begin at the beginning,
This is written much more in the voice of a readable version of an Austen novel, rather than the more lax language of Georgette Heyer's Regencies, and even farther from the voices of Heyer's modernized imitators and costume-Regency successors. I was completely won over by the narrator's pervasive anxieties that her mental aberration will become known and that her sadistic mother will imprison her in an attic or asylum. Fictional sadistic mothers, especially the inflexibly hypocritical kind, are catnip to me.
Lady Rosamund is married to a politician whose mistress is her best friend. The two ladies have no issue with the ill-concealed secret of their shared male: Lady Rosamund is shudderingly uninterested in marital relations; her best friend and her husband carry on their amours off-premises; and her affectionate husband doesn't interfere with his wife's independence, provided it doesn't threaten his career in any way. Enter Corvus, a satirist who publishes killingly accurate caricatures of prominent socialites in scandalous situations. Also enter a series of anonymous letters aimed, it seems, directly at oversetting Lady Rosamund's composure and driving her toward suicide.
This is the pilot adventure of the series, so the reader can see certain developments coming long before Lady Rosamund sees them.
As with David Liss's hero, Lady Rosamund's class prejudices are offset by her good heart, and her eyes are opened. She has a long way to go before she can call herself enlightened. She is brave, resourceful, strong-minded, and remarkably clear-headed in circumstances arranged by her enemies to undo her. I suspect that more revelations about those enemies are in store. Fortunately, it looks as though I will have the pleasure of reading two more of these adventures before the supply, hopefully only temporarily, runs out.
I couldn't put Lady Rosamund and the Poison Pen down. (Goodness, I haven't said that since Carla Kelly's A Summer Campaign.)
(Lady Rosamund and the Poison Pen, Level Best Books, 2020)
________________________________________
Jennifer Stevenson has dabbled in short historical fiction but hasn't the research library to really commit. Look for "A Princess of Wittgenstein" and "Perfect for her Setting" in The Ladies Who Got Away, four historical stories about extraordinary heroines.