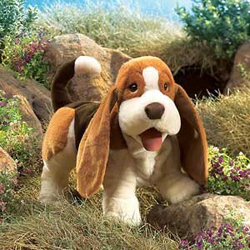 Basset hounds seem to generate the kind of passion normally reserved for sports teams, and looking at Folkmanis' Basset Hound puppet, it's easy to see why.
This little guy (well, not so little — 14 inches from nose to rump) comes with long floppy ears and a soulful look that can't help but win your heart. Actually, that soulful look can be a little unsettling: the eyes are quite deep-set, and seem to follow you as you move.
The workings are a little complicated. The Basset Hound is constructed so that the south half rests along your arm when you put your hand into the opening, which is just behind the front legs. Your thumb and little finger fit into the front legs, while it seems to work best if you put your middle finder into the lower part of the mouth and the remaining two fingers into the upper part. While the mobility of the legs is limited — depending on how flexible your thumb and little finger are — that does give you a lot of maneuverability in the mouth — which comes complete with long pink tongue — and face.
The workmanship, as we have come to expect, is of a very high order. The body is covered in a short plush in brown, tan and white, while the long floppy ears — and I mean "long" — are lined in brown flannel with a short nap; the flannel is pink for the tongue and inside the mouth, and gray-beige for the soles of the feet. Also note that those feet are carefully stitched to mark the toes. All the stitching on my puppet is tight, with no loose threads.
The label, as usual, has some interesting facts about basset hounds (those long ears have a purpose, but you'll have to read the label to find out what it is) and a story of how those ears came to be that long.
Now to think of a story about a basset hound.