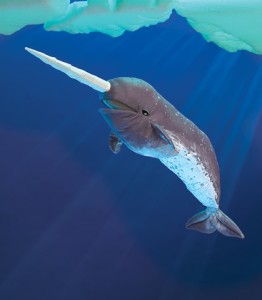 Sea creatures are wonderful.  I absolutely love anything having to do with the sea, except for cleaning fish.  But that's a tale for another time; right now I've got a puppet with an actual tail; the Narwhal puppet from Folkmanis. And boy his he a beauty.
This puppet is up to the usual high quality standards of Folkmanis, with gorgeous velvety fabric making up the Narwhal's body, a faux-suede doing duty for his mouth, and a gorgeous shimmery white and gold fabric that makes up his horn.  This narwhal is a delight to touch, and I found myself making any excuse for stroking his soft "hide". I don't know about regular narwhals, but I'm betting that while their skin may be soft, they might not be velvety. Too much of a problem with getting waterlogged, I'd bet.
Narwhal is easy to manipulate, with a "pocket" for your hand that opens around his belly-button. This puppet faces out when you manipulate him, and it's his mouth that opens and closes, as if to sing a song of his people. I soon had him tootlin' around while I sang "Octopus's Garden".  He seemed to be the type that'd like that song.
There's a smaller pocket set in the opposite direction, at the base of his ventral side.  I'm betting that'd be a great way to get him to "splash" an audience, as you can get quite a bit of fun movement from his tail when you operate from that end.
As with all Folkmanis puppets, Narwhal comes with a card attached that has information about the animal, and a cute little story. This story's about how the narwhal got his horn.  Kids will love that story, and it's got just enough info on the animal that they'll probably want to research more about this lovely creature.