Pretend you've had a Very Rough Year. Pretend you've faced some challenges like never before. Pretend your health and wits have decided to take a sharp veer toward a figurative cliff, your plans (dreams, hopes, aspirations) all continuing in one direction and your body (overworked fragile meat shell that is is) deciding to head another.
That's okay; there's a remedy for this! It's called vacation.
I mean real vacation.  Like, go someplace where someone's willing to go to unprecedented lengths to accommodate your suddenly bizarre restrictive dietary needs. Someplace without the pressures of the city (which you love) or deadlines (which you weirdly also love) or even your loved ones (whom you love, natch). Someplace where you can soak all day in alternating cool and warm hot tubs, or curl up in front of a fire to read that Jack Reacher thriller your neighbour the priest recommended, as well as the latest ridiculous Bridget Jones installment and finally finish that intriguing Scandinavian gothic historical suspense novel you've been toting around but haven't been able to concentrate on.
Someplace with no fewer than three different saunas you have practically all to yourself, where they bend over backward to arrange that deep tissue massage, and where you can eat breakfast each morning with soft Canadian sunshine streaming in through restored century-old stained glass church windows, lovely enough to move the spirit of even a lifelong atheist like yourself. . .
Okay, that last bit might be just me. But the rest is fully attainable if you give Donna and Cam a visit at the adorable little restored heritage church that's become Circa 1894 B&B in Lanark, Ontario.
Lanark? you ask. Yes, Circa 1894 is isolated. If you live in the area (it took me exactly one hour to drive straight west from Ottawa) it operates as a day spa too. But the place accurately bills itself as a getaway. And with three guest rooms and delightfully accommodating hosts, my (much-needed) getaway lasted just over a week.
Highlights:
The infra-red sauna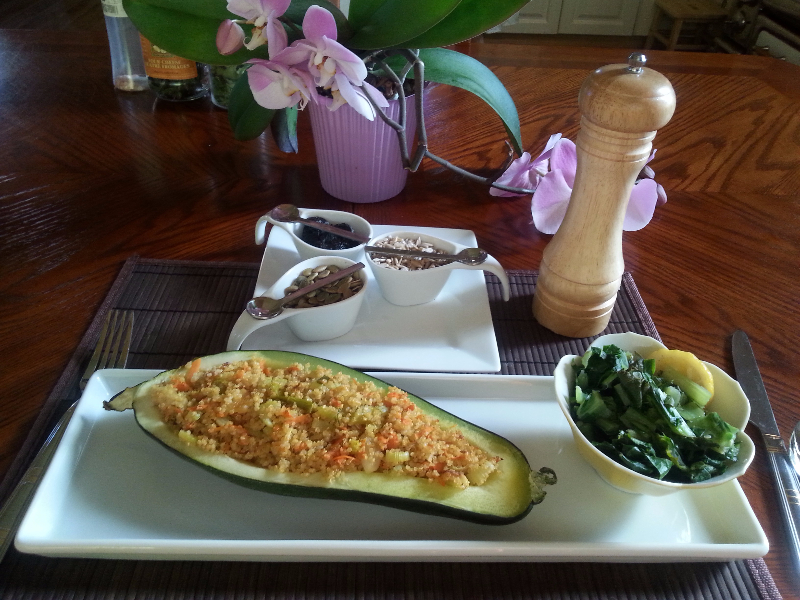 I've heard the buzz about infra-red, and my week at Circa 1894 allowed me to experiment with duration, temperature, even light-color therapy – all totally customizable and experienced under the low-key monitoring of my host Donna. Donna had my wellbeing and my safety at heart every step of the way, for which I'm truly grateful.
Three soaking tubs
I adored the clean water free of harsh chemicals or chlorine (they change the water regularly). Each of the three tubs has a totally different character and offers a different experience and – crucially, for me – different health benefit. You don't have to alternate in the cold tub, but I'm so glad I worked my way up to it.
The breakfasts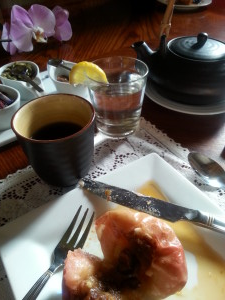 Donna was an incredible breakfast host, serving me fresh mint or nettle tea from her own garden (hey – it's a detox thing). Her breakfasts each morning were an astounding feat in imagination, presentation, and healthful variety.
This place won't be for everyone: if you enjoy the sort of nameless, carefully bland accommodations and whatever glutinous pablum is presented as breakfast at any number of countless motels and hotels along any interstate highway from Austin to Akron, this review wasn't for you. Carry on, sleep well in an airless room, and enjoy your stay. But if you like genuine healthy breakfast fare, clean Canadian air, and brisk morning walks to a heritage cemetery where you can peruse 19th century tombstones and spook the local wild turkeys into ungainly flight, then give Circa 1894 a look. I'm certainly glad I did.