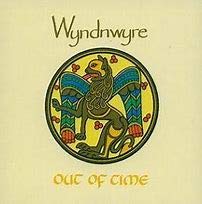 I first ran across the Houston band Wyndnwyre at the Texas Renaissance Festival around 1993, and was impressed with their clean, professional sound even amidst the chaos that is so prevalent at ren fairs. A big reason for that is the band members' versatility. Bill Klecka plays hammered dulcimer, guitar, mandolin and bozouki; Mark Johnson handles Irish flutes and whistles as well as guitar, bodhran, doumbek and other assorted percussion; Corby Klecka plays mandolin, keyboards, finger zeals, guitar; Gregory Rose on Celtic harp and keyboards … well, you get the idea. There's not much in the way of medieval music these folks can't handle. And what they handle, they handle well. That sound has made them a popular headliner at various Houston pubs and the charming "Dickens on the Strand" held on Galveston Island each December. In the controlled atmosphere of a recording studio, that talent shines all the more brightly.
That said, it's puzzling why Wyndnwyre hasn't put out more music than it has. Over a two-year period, fans were treated to a flurry of releases: Wyndnwyre (1992), Out of Time (1993) and About Time (1993). They also managed to squeeze out a tape of Renaissance Christmas music around that same period. But, since 1993, there's been zip. Nada. That's a real shame, because all three discs were top-notch, with Out of Time the best of the bunch.
Unlike most traditional bands that lock into one style — Celtic being the most popular at the moment — Wyndnwyre spread itself out, choosing, from among the various Renaissance traditions, selections that best fit the groups' strengths. And what a selection they came up with on Out of Time. The elegant "Cantiga/La Rotta" opens the album with a gentle grace that is both engaging and relaxing. The interplay between the flute and dulcimer is simply enchanting — when someone mentions Renaissance music, this is what I think of. "Plaxty Irwin/Dalesman's Litany" begins as another slow piece, this time featuring harp and dulcimer, but picks up the pace a bit and introduces waltz elements that work quite nicely. "Planxty George Brabazon" is another enjoyable piece that showcases the harp with a layered, vibrant melody. "Nonesuch" injects a dose of urgency to the batch of instrumentals here, but it's not hurried. The energy is restrained, reigned in, and, as such, lightly touches on an ominous mood before pulling back to let Johnson show off a bit with his penny whistle.
As is often the case with traditional bands, the majority of the tunes included on the disc are instrumental; and for most bands, those are usually the strongest selections. Surprisingly, Wyndnwyre is an exception to the rule. The vocal songs here stand out above the rest — no small feat — and that's plainly due to the fact that Bill Klecka's and Mark Johnson's voices are so strong, clean and clear, just the right sort of sound for these tunes. The well-known "Foggy Dew" opens with a slow, deliberate build that conveys a pregnant anticipation. When the full arrangement kicks in, there's an intensity in the music that conjures images of horsemen riding intently across mist-shrouded moors. "Streets of London" comes across with a wistful sadness tinged with the promise of happiness. It's an odd mix, but one that's quite agreeable and undeniably appropriate for the mixed lyrics: "So how can you tell me that you're mourning/Say to me that your sun don't shine/Let me take you by the hand/And lead you the streets of London/I'll show you something that'll make you change your mind."
My favorite, though, is "Raggle Taggle Gypsies." There are quite a few versions of this floating around by different bands, but Wyndnwyre's is tough to beat. From the opening strains of the teasing mandolin intro, it's obvious this isn't just a run-of-the-mill rendition. There's a cocky attitude in this music, from the guitars and in-your-face mandolin right down to the tambourine that sparks an unmistakable gypsy flavor.
The vocals are arranged as a duet, but instead of singing in harmony, Klecka and Johnson sing in unison, which creates a feeling of spontaneity that adds admirably to the overall effect.
With a mere 10 tracks and a scant running time of only 31:57, the biggest flaw Out of Time suffers from is brevity. It's just over too quickly — the CD could easily hold twice as much music and still have room to spare. But with so many bands putting out 74-minute discs containing 30 minutes or more of mediocre filler, I suppose that can be taken as much a compliment as a criticism.
(Wyndnwyre, 1993)