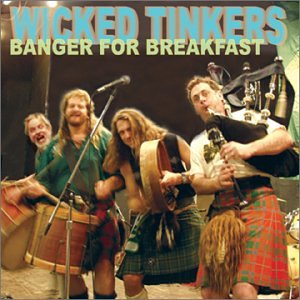 Recently I attended a Wicked Tinkers show at the Portland Scottish Highland Games. As I said in my review of the show, "The Wicked Tinkers are crazy in the way that only very, very good performers can be, with a nuttiness that is enticing rather than intimidating." Banger for Breakfast: Live & Raw, is their most recent CD — and it admirably demonstrates my point.
The liner notes explain "[Banger] originally started out with 60 hours of music recorded live across the country. We whittled it down to a couple hours of our greatest hits. This first of two CDs is a bunch of favorites snatched from our three previous releases, with ten new tunes thrown in to boot." In fact, all of the Tinkers' previous albums have been reviewed by GMR. Of Wicked Tinkers, Editor-in-Chief Cat Eldridge said "Wicked Tinkers is one of the best albums I've ever heard — and after hearing literally thousands of Celtic CDs in the past twenty years, I'm more than a bit jaded. From the opening set of jigs titled "The Bird Set" ("The Hen's March/The Seagull/The Geese in the Bog") to the "Wallop The Cat" jig ("We do not advocate cruelty to cats, hares or any other creatures, for that matter. In fact, we hope this tune is about a cat named Wallop…") with its gratuitous silly sound effects to the closing jig/hornpipe combo of "The Man From Skye/The Judge's Dilemma," this is a damn near perfect album." Of Loud, reviewer Peter Massey enthused, "You might say the hairs on the back of my neck stood on end and I found myself reaching for my Claymore, just to kill off a few more sassenachs. For make no mistake about it, this is real sterling music!" And of course they're both right — the Wicked Tinkers are my new favorite band, and Banger for Breakfast has been played dozens of times since we picked it up at the Games last month.
As mentioned, this CD is made up of live recordings, and they didn't just include music. Bits of their hilarious stage patter are interspersed with the tunes — all of this comes across well except the comparison of Wayne's hair to Aaron's sporran, which really needs the visual for full impact.
The recording is really well done for what must have been almost entirely outdoor, open air shows. Wayne Belger's didgeridoo on "Those Marching O'Neill's" from Hammered rumbles through the speakers like doom … you'll want to turn up your bass when you listen to the Tinkers as their music is an incredibly visceral experience. Warren Casey and Keith Jones add to the windy cliffs and smoky mead hall feeling with energetic drumming, and Aaron Shaw is, frankly, the best piper I've ever heard, at least in the context of a band. His rendition of "Danny Boy" is plaintive, but arranged at just the right tempo to avoid becoming maudlin. "Atholl Highlanders" has not appeared on their previous CDs, and Aaron leads the tune with a frenetic but never rushed piece of perfect piping.
A particular favorite on this CD is a jam with the Men of Worth on "Sleepy Maggie/The Sugar Merchant/Bratach Brana." Hornpipes always make me wish I knew how to dance properly, and the Harry's Hornpipes set ("Jake Warren/With Drummers in Mind" by Harry S. McNulty) has the usual affect. "Wallop the Cat" from Wicked Tinkers is probably one of the Tinkers' most popular tunes, but I much prefer the closing piece, "Bog," which utilizes the Bronze Age Celtic horn and makes the hair on the back of my neck stand up.
Banger for Breakfast is a fun and exciting CD and I look forward to the second half of this project. At 63 minutes this is a solid chunk of fine entertainment, and I think they've got yet another damn near perfect album here.
(Thistle Pricks, 2003)