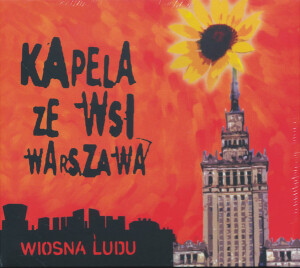 As could probably be guessed by the band's name, the Warsaw Village Band hails from Poland's capital city, but plays the folk music that developed in its homeland's villages. What might surprise people, though, is how this group of six young Poles generally prefers to play these old songs and tunes. Fiddlers Katarzyna Szurman, Sylwia Świątkowska, and Wojciech Krzak; bassist Maja Kleszcz; and drummers Piotr Gliński and Maciej Szajkowski describe their style as "hardcore folk" and perform with an aggression and lack of subtlety typical of punk bands. Granted, there are a few slower pieces on People's Spring, but it doesn't take more than one playing of this CD to figure out the speed at which this band prefers to operate.
People's Spring begins with a hammered dulcimer providing an ominous introduction into the wedding song "To You Kasiunia." After a minute and a half of buildup, the drums start pounding and the fiddles and a trumpet kick in. From that point, the song alternates between frenetic instrumental breaks and slower verses. The singing is in Polish and, as is true for most of the album, in unison. The vocal style the band incorporates, called "white voice," is adapted from the singing traditions of Polish shepherds. "Chassidic Dance," the first instrumental on the CD, reflects the Chassidic Jewish tradition of using energetic music and dancing in a religious context. A sad waltz called "At My Mother's" follows, with a rare moment of vocal harmonization in the chorus. The dark hint in the music continues with "I Had a Lover," the lyrics of which recount a tragic love story. Kleszcz keeps bowing the same note on the bass and the percussion steadily magnifies. At one point, the rapid "da-da-da-da-dum, da-da-da-da-dum" of the drums almost seems to evoke the climax of the Metallica song "One." The band follows this with "A Red Apple," yet another dark song in 3/4 time, which, at over six minutes, stretches on a bit too long.
At this point, the Warsaw Village Band picks the tempo up again and starts to get creative with the arrangements. On the simply titled "Traditional Rural Polka," aggressive, multi-string bowing on the upright bass complements the drumming particularly well. The singer in "Who Is Getting Married" asks why she should get married when there is more than enough music and dancing to keep her happy. An even more hyper polka than the previous track, this song features a great primal instrumental break near the end with only Jew's harps and drums. On the following track, "Clear Water," the bass is bowed in such a way that it drones like a didgeridoo. And then the tempo really accelerates. The singing on "What Have You Been Doing, Kasia," is accompanied only by heavy, pounding drums. This song is followed by an instrumental called "Polka Folkisdead," which the band plays well above the legal speed limit.
The band then slows down a bit for the steady but insistent "The Rain Is Falling," a lament to lost love. Despite clocking in at nearly nine minutes, this tune manages to slowly build up in intensity without becoming overly repetitive. "Cranes" is described in the liner notes as an "anarchistic protest song" and I can almost picture young Poles moshing to it. The somber "Maydów" tells of a boy's attempt to rendez-vous with his fiancée in the Polish village which gives the song its title. People's Spring finishes with two remixes. The first is a psychedelic, Indian take on "At My Mother's," the second an electronic club mix of "I Had a Lover." Neither really adds anything to the original versions, although both do reflect the band's willingness to expand its appeal beyond traditional folk audiences.
Perhaps one could argue that Warsaw Village Band's sound is a little too one-dimensional; People's Spring will most likely not appeal to those who like to take their folk music sitting down. Conversely, any fan of particularly energetic fiddling should regard this album as essential. It is a work of six undeniably proficient musicians, motivated by a strong sense of purpose. For all its youthful energy and militant attitude, the band really does put a great deal of care into researching its music and the traditions behind it and honors those traditions in its own way. I look forward to hearing how the music develops as the band matures and will not have to wait long for the initial returns. Warsaw Village Band has a brand new album slated for release in October 2004 and will be promoting it with an American tour starting on September 16.
(World Village, 2001; U.S. release, 2003)