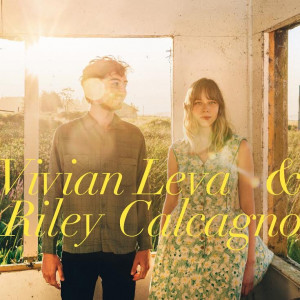 Vivian Leva grew up in rural Appalachia outside Lexington, Virginia, but now the daughter of celebrated old-time musicians lives in Portland, Oregon, where she and her partner Riley Calcagno now live and make music. I predicted greater things coming on the strength of Leva's 2018 debut Time is Everything, and she has more than delivered with Vivian Leva & Riley Calcagno.
Leva and Calcagno (Cal-KAG-No) were working on these songs well before COVID hit in early 2020 — writing and co-writing songs by long distance while attending different universities, she in the Northwest, he in Ohio. But they honed them during the long pandemic year, with demonstrations in the streets near their home and wildfires raging not far away, and then recorded them with Grammy-winning Cajun roots heavyweight Joel Savoy at his Louisiana studio.
What they ended up with is a strong album of country music filled with poignant vocal duets on love songs that are hopeful, sad, and every mood in between.
The two of them spent some of their formative years hanging out at old-time, bluegrass and roots music festivals across the country (in fact, they met at one such, Centrum's Fiddle Tunes in Port Townsend, Wash.), where they definitely honed their chops. They're both quite good pickers, Vivian of guitar mainly and Riley on banjo, mandolin, and more. The first thing you hear when you start up this album is some lovely picking on the poignant, confessional "Will You?" It's a great beginning, the acoustic guitar, mandolin, fiddle, a bit of subtle steel guitar whining in the background forming a comfy bed for Vivian's warm alto and Riley's homey tenor. Those voices twine and soar into bluegrass territory on the chorus, "Will you still love me when I tear your heart away?"
The contributing musicians – Trey Boudreaux on bass, Matty Meyer on drums, Chris Stafford, pedal steel, and Sam Fribush, piano – are a perfect fit for this music. Whether it's the chiming plucked guitars, pedal steel and tinkling Wurlitzer behind the beautifully sung vocal duet (with Riley on lead) on "Love And Chains," or the mandolin, banjo, fiddle, and acoustic bass on the sprightly old-time squaredance tune of the very next track, "On Account Of You," or the country shuffles and waltzes that predominate, the arrangements are spot-on and the playing appropriate but not flashy.
But it's the songwriting that really stands out, mature beyond the years of this duo. They wrote or co-wrote every song except "Love And Chains," which they wrote with Sam Bailey. It's a touching little song about living in the moment and not making too many plans.
The very same trying conditions of being in love and writing songs together while going to separate universities thousands of miles apart gave them lots of fodder for emotion-laden country songs, also must have made the whole process quite challenging. They address the situation fairly directly on several songs, including "Leaving On Our Minds," a bouncy honky-tonk shuffle about a loving couple trying to make a long-distance relationship work — which could just as easily be about a not-so-loving couple trying to pretend that they're more committed than they really are. Or the sad waltz "Hollowed Hearts," in which one side of a couple question's the other's commitment. Or "On The Line," an upbeat tune with perky banjo and acoustic guitar strums, whose subject matter of trying to convey deep emotions over the phone is more somber than the music would suggest — unless you pay attention to the woeful pedal steel fills that are quiet and subtle but speak volumes. The sweet honky-tonk love song "Biding All My Time" has beautiful vocal harmonies as the two sing hopefully of an upcoming reunion — but the blue chord progressions seem to hint that not all is well, or maybe they just reflect the sad reality of living apart in between those brief times together.
Most young people spend a certain amount of time second-guessing themselves and wondering of they're on the right path. Vivian Leva seems no different, at least when she's singing "Red Hen," a clear-eyed waltz with some lovely guitar picking and some sweetly sad piano, the shuffling rhythm scratched out on brushed snares. "I'm walking by with my head held high," she sings, as the young woman in the song faces the consequences of unspoken decisions she's made in her short lifetime, those consequences crowding around her doorway like a bunch of chickens come home to roost.
I'm really drawn to the final two tracks and wonder if they point toward future directions. "You Don't See Me" has a droning folk arrangement (wouldn't be out of place on an early Fairport Convention LP!) and Vivian singing solo. It's the kind of song that highlights the genetic connections between English and Appalachian folk music, but it also has a strongly contemporary feel to it somehow. And the final piece, "Good And Gone," is just a straight country shuffle, a feel good country song highlighted by the sounds of pedal steel, acoustic guitar and electric piano, plus a full drum kit, played with sticks not brushes, and those sweet harmony vocals on the choruses.
Vivian Leva and Riley Calcagno are on Facebook and they have a website together. http://vivandriley.com/wp/
(Free Dirt, 2021)