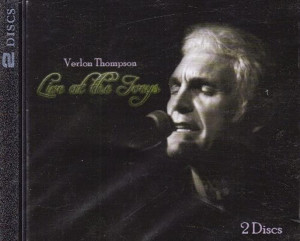 Verlon Thompson is perhaps best known as the guy who stands next to Guy. Clark, that is. They're partners. They write songs together, tour together, and when they play guitars together, it's extraordinary. But Verlon — and I think it's OK for me to call him Verlon, I'm sure he'd prefer that to Mr. Thompson; he'd prolly say, "Mr. Thompson? Is my Dad here?" — but Verlon is one of the finest guitar pickers you're ever going to hear. His first solo album was released in 1977, and has become something of a collectible. His next album was on Capitol Records in 1990. Starting bids on eBay are $30! But all along the way he and Guy were working together like a finely tuned machine. The Okie and the Texan have worked together on all of Clark's albums since Old Friends in '87. In 2003 he released an album that we loved here at GMR, Everywhere … Yet. Now it's time for a live album.
Verlon doesn't just do a standard live album, though. No way. He releases Live at the Iveys. Now the Iveys is not a club somewhere in Nashville, no way. It's the living room of his friends Randy and Barbara Ivey in South Carolina. And it's every bit as relaxed and fun as you might think it would be. Verlon takes the stage (or the couch?), and welcomes everyone, because he needs to talk. It's always good to have some folks to talk to. And talk he does, in between songs that provide a history lesson in country music. As I said, Verlon knows his way around a fretboard, and he also has a pleasant tenor quite unlike Guy Clark's growl. And he can hold your attention for quite a while, that's for sure, whether talking about his mama, "Darwettia Thompson from Greasy Bend Oklahoma!" or about how Johnny Cash nearly recorded Verlon's song "Lucky Dog." But he also holds you with his songs, playing, singing.
Whether doing a classic like "Satisfied Mind" or covering James Taylor's "Carolina In My Mind" he adds his own stamp. Part of it's the Okie dialect, but a bigger part is his picking. Whew! Check out "Darwettia's Mandolin" or "Joe Walker's Mare." His own songs usually have a unique point of view, such as his list of the places he and Guy have played … lots of towns, but they ain't been "Everywhere … Yet!" He covers Guy Clark too, doing "The Cape" (one of my favourites) and "Randall Knife" to great effect.
This is a two-disc set, each representing one of the two sets he played that night in the Iveys' living room. Verlon says on the notes that he hears the "missed guitar licks … the weakness in (his) voice … the incorrect lyrics," but all I hear is a great time had by all. The liner notes go on to say, "It's like a Tupperware Party … with music." Now I've never been to a Tupperware Party … but if they're anything like the good time to be found on these two CDs … then I'm looking forward to my first. But it definitely has to have the music. And … by Verlon Thompson, if you don't mind!
(Verlon Thompson, 2008)