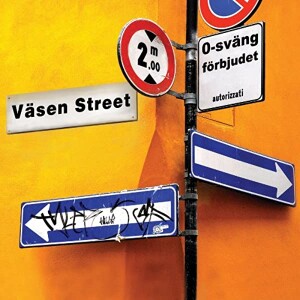 Over the past fifteen years, no band has epitomized new Swedish folk music more than Väsen. A superior live act with an unsurpassed sense of instrumental interplay, Olav Johansson (nyckelharpa), Mikael Marin (viola), and Roger Tallroth (guitar) have built up enough of a following internationally that the organizers of the Lotus World Music & Arts Festival have started lobbying the town of Bloomington, Indiana to name a street after them. Whether their efforts come to fruition or not, Väsen Street can be enjoyed by anybody for the price of a typical CD.
Mikael Marin has been busy on another front as well. Recently, he married Mia Gustafsson, fiddler for the band [ni:d]. (Editor's note: Yes, that's the band's name, although it's sometimes printed as NID.) Naturally they have taken to performing together as well, and their first album together is titled Mot Hagsätra, in reference to a Stockholm subway line.
On Väsen Street, Väsen provide the usual assortment of self-composed and traditional polskas, schottishes, and waltzes. The schottishes — bouncy tunes in 3/4 or 2/4 time — get a bit more emphasis than usual, and "Garageschottis" is my favorite track on the CD.
There are a couple of twists on the album as well. "Absolute Swedish" veers off in a bluegrass direction about halfway through, with the assistance of American musicians Mike Marshall (mandolin) and Darol Anger (fiddle). "Hagsatra Brudmarsch" was originally composed by Johansson for Marin's wedding and played by a wedding orchestra. Mia joins Väsen for this recording, along with Emma Reid on fiddle and frequently recurring fourth member Andre Ferrari on percussion.
Otherwise, anybody familiar with Väsen will know exactly what to expect. This is something of a mixed blessing, as dependability often goes hand in hand with predictability. And their recorded output, good though it is, still doesn't match their phenomenal live shows. Still, with Väsen Street the band continues to meet the high standard of musicianship they've set for themselves.
Mot Hagsätra is a collection of duets. A handful of the tunes are traditional, and the tune "Cajunvals" was composed by Antti Järvelä of Frigg, but most of the pieces were composed by one of the two performers. Predictably, Mot Hagsätra's biggest strength is the playing. Gustafsson is a fine fiddler who more than holds her own playing next to her husband and handling a wide variety of melodies. Marin, as he does in Väsen, supplies creative harmonies and countermelodies. There is no driving guitar or percussion on this album, so the listener can focus fully on the interplay between the two stringed instruments.
The album contains a typical assortment of polskas, along with a few waltzes and one schottisch and reel apiece. In contrast to what you might expect from a Väsen recording, the arrangements are quite easy on prospective dancers. Waltzes appear to be the duo's strongest suit. The opening tune "Hjärtklappen" sets the tone for the CD perfectly, and their joyous version of "Cajunvals" is my favorite track on the CD. The Swedish reel "Kung Harts," composed by Gustafsson for Marin's birthday and performed with the usual melody/harmony roles reversed, is another particularly strong track.
If Mot Hagsätra has a weakness, it's its length. Eighteen tunes running nearly an hour is a bit much, especially when most of the best performances are placed in the first half of the album. Still, Mikael Marin and Mia Gustafsson give solid performances throughout, and the album on the whole is at least as good as Väsen Street. Fans of Väsen who are in the mood for something with a more purely traditional feel will like this recording a lot.
(NorthSide, 2009)
(dimma Sweden, 2008)