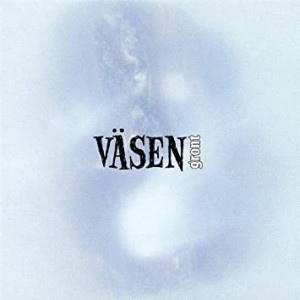 Väsen's roots delve deep – back two full decades, when then teenaged Olov Johansson (nyckelharpa – a type of Swedish keyed fiddle) and Mikael Marin (viola) first met and began to play together. The band gelled a full nine years later with the addition of guitarist Roger Tallroth, and produced their first album, Väsen . Seven years and three albums later, the band added its fourth and final member, percussionist Andre Ferrari. Gront, the band's fifth studio release (disregarding re-releases, live albums and compilations), sees that lineup intact.
Twelve original tunes make up Gront, several of which ("Stappen / The Steppe," "Trana / Crane," "Ekorrn / Squirrel," "Grontmannen / The Gront Man") appear to have been inspired by a snippet of poetry – "The Gront Man," by Karl Erson Bousard – quoted in the liner notes. Regrettably, I could find neither the poem in its entirety nor anything describing its titular Gront man. Nor do the liner notes offer any illumination. Thus, it is the music itself that must speak for him.
These tunes paint a lovely picture indeed, full of verve and beauty that truly needs no words to be understood. Anchored by Ferrari's tasteful, subtle percussion and Marin's haunting viola playing, Johansson and Tallroth (who adds bouzouki and mandolin beyond his usual 12-string guitar) are free to play, to experiment, which they definitely take advantage of. Johansson was named a master musician at a young age, and his talent is apparent throughout the CD. His band mates match him step for step.
Many of the tunes on Gront are a wild, wonderful ride. Not because they're played fast and furious, but because of the many mood and tempo changes which the band springs on their unwary listeners. Take, for example, "Squirrel," which begins at a nice clip, with more prominent percussion than the other songs, then slows dramatically in the middle to a quiet interlude, only to speed up again (in keeping, perhaps, with the bit of poetry that reads: "I could see a squirrel that changed immediately into a crane"). "The Pikeman" is similar, a slow and mournful beginning yielding to a more upbeat tempo and feel.
"M. Nykaen" is a stellar track which contrasts a dark undercurrent of percussion and viola with an almost frantic, frightened fiddle. Highly intriguing and effective. "Vantans Vals / The Waiting Waltz" is another superb tune, its elegant, stately sound due to the gentle touch of tambourine, guitar and fiddle, with the viola haunting the background. "JTT" also stands out, a sweet rolling gem of a tune, just perfect for dancing to.
Do I know any better who the Gront man is after listening to the CD? I would posit that he is a creature of wild beauty, yet gentle and playful when the mood strikes him. I would also posit that Väsen is a musically superlative band, and that Gront is a fine introduction to their style of music.
(Northside, 1999)