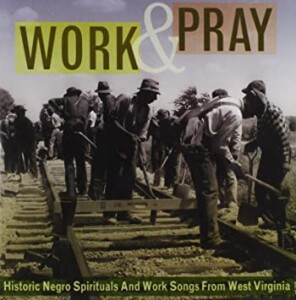 John D. Benninghouse wrote this review.
This album is the fruit of the labors of Cortez Reece, who recorded these performances from 1949-53 as part of his doctoral thesis, "A Study of Selected Folk Songs Collected Mainly in Southern West Virginia." It collects most of the religious pieces and songs sung by black workers as they laid railroad track. Aside from any academic trappings, the 38 tracks here stand on their own as wonderfully evocative performances.
A note of caution: these songs were recorded in the field over 50 years ago so the sound quality is not what many of us are used to. However, what the recordings lack in fidelity, they more than make up in performance. The vast majority of songs here are a cappella and the set begins with a couple "lining track" songs which were sung by gangs of men laying railroad track.
The lack of instrumentation only adds to the power of these songs. It's hard not to hear the longing and hope in Esther Johnson's voice as it bleeds through the hiss and crackles on "In That Morning." The notes say that Rev. R.L. Pollard refused to sing any secular songs and his religious convictions shine through on the three songs by him here. And no accompaniment is needed to feel the weariness of the unknown individual who sings "Prepare Me O Lord" – it sits right in front of you in his voice.
The liner notes are excerpts from Reece's dissertation and give brief bios of the singers and some background on the performances. Though not very extensive, they do make connections among various songs on the album and other folk pieces. For example, Reece notes the lyrical similarities of Waldo Dickason's "Drinking of the Wine" and the well-known "Swing Low, Sweet Chariot." In addition, there are multiple variants of several songs. Susan White accompanies herself on guitar for "John Henry" while Nelson Harmon and P.R. Higginbotham do their own versions as "This Old Hammer." Not only does this illustrate how folk music is passed down but also how it changes as people put their own stamp on the songs they perform.
Because of the recording quality and the fact that many of the tracks are fragments of songs – several weigh in at under a minute – this set is oriented towards those who are already familiar with this type of music. Still, Work and Pray is filled with beautiful and sometimes haunting songs that can be appreciated by anyone with an open ear.
(West Virginia University Press, 2003)