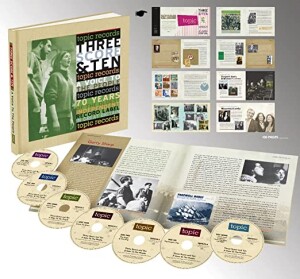 I worked in a record store in the early 70s – quite a progressive record store, actually. Although it was part of a local chain, our manager assigned each of her staff to focus on a style of music with which they were particularly enthused. So even though you had your regular job (at that time, I was the shipper/receiver), you were also responsible for the ordering and maintaining of your particular section in the store.
We all had a good general knowledge of music (you had to if you were going to get and keep a job in a music store in those days), but then we also had experts who dealt with bluegrass/folk/blues, reggae, dance, pop/rock, classical, international (this was before the "World" designation), and my section, which was focused on Celtic and British folk.
It was a smart move on her part because not only did we have the expertise in our particular fields, we also had the enthusiasm to hand-sell the music. Though we played whatever was currently popular during the busy lunch hour, the rest of the time all you'd hear in our store was a range of music that would put the most eclectic radio station to shame. Contrary to what the recording industry thinks (and they weren't a whole lot different back then), if you give people access to unfamiliar but good music, they'll buy it.
One day I got called up to the front of the store to meet the sales rep for a new distribution company out of Montreal. My manager thought I should talk to him since he specialized mostly in international music and she thought he might have some albums for my section.
I bring all of this up because that was when I was first introduced to the Topic Records catalogue.
In those days one of the perks of the job was getting play copies of new releases. Ostensibly they were for the store, but in many cases, once we'd played them a few times, we got to take them home. The sales rep must have been a little psychic because he gave me a whole stack of records. A.L Lloyd. The Stewart Family. Willie Clancy. The Folk Songs of Britain series. Anne Briggs. The Watersons. The Exiles.
I was in heaven.
Naturally, I'd already heard of some of these artists before, but they were hard to impossible to get in Canada. The wealth of material being offered to me now made my section of the store balloon. I was ordering fives and tens of titles of which the sales rep would have been lucky to sell one. My section did well, I got what felt like a university degree in terms of my education in traditional music, and I developed a life-long love for the Topic record label.
I'm sure there are others out there with similar stories. The details will differ, but the joy of discovering the artists recorded on Topic Records will be the same.
Now it's almost forty years later and I still add Topic releases to my collection, though these days they're CDs. The most recent addition is this book/collection combination, which is easily one of the best packages I've come across in years, and that includes Rhino and Bear Family releases.
The book – a nice solid hardcover with slick pages – details the seventy-year history of the label and is profusely illustrated with album and EP covers and vintage photographs of the artists. The music is spread out over seven themed CDs and you know what? The tracks sound as good today as they did when they were first released. This is timeless music that will undoubtedly sound just as good and relevant in another seventy years.
Completing the package is a comprehensive catalogue of every release from the label's beginnings in 1939 to the publication of this set in 2009, which I had fun going through ticking off the ones I have. And of course a track-by-track listing that features complete production details and who played what.
In terms of Irish music, labels like Irish Polydor, Tara, Mulligan, et al, might have had slicker productions, but Topic provided the historical context with albums such as Paddy in the Smoke and the many terrific releases from The McPeake Family, Frank Harte, Seamus Ennis, Margaret Barry and the like. Scotland was well represented on the label as well with Dick Gaughan, Belle Stewart, Jock Tamson's Bairns, The Fisher Family, The Battlefield Band, etc. But the heart and soul of the label has always been British music, from traditional artists such as The Copper Family through to those that blend the old with their own compositions like Ewan McColl and Eliza Carthy.
I can't think of a better introduction to the music of the British Isles than this collection. The only down side I see is that, if you don't already have the original albums from which these sample tracks were culled, you're going to want to go out and track down many of the full albums. And that will hurt your wallet.
But your ears and your heart, they will thank you for it.
My favourite thing? Finally getting to hear the very first release that Topic produced: Paddy Ryan's 1939 single "The Man That Waters the Workers' Beer" which, like everything else in this collection, still holds up, and sadly, is still relevant.
Highly recommended.
(Topic Records, 2009)