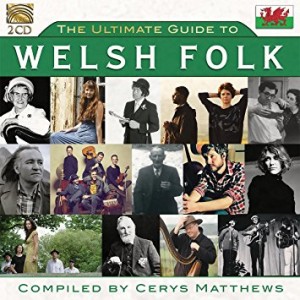 When talking Celtic music we often think Irish or Scottish, or maybe music from Britanny. But remember Wales also claims Celtic roots, though their language is not from the same branch of Celtic languages as the Gaelic of Scotland and Ireland. In fact is so different you would probably not consider them part of the same group of languages.
Wales has always been strong on the musical side. Remember artists and groups like Tom Jones, Shirley Bassey, Duffy, Bonnie Tyler, Love Sculpture, Catatonia and Manic Street Preachers all come from Wales, as well as a line of classical singers like Bryn Terfel and Alec Jones. But somewhere along the way we forgot about their folk music.
So here is the record to put the matter straight. Cerys Matthews of Catatonia fame, and also an author and a radio presenter, has tackled the task of giving us an overview of Welsh folk music and I must say she has done a brilliant job. Two CDs packed with music, in total 48 tracks with 48 different acts, clocking in at two hours and 36 minutes, complete with extensive liner notes presenting every artist or group taking part. The oldest recording are from the 1940s, the newest from 2015.
As expected, the music is varied. You have solo singers with guitars, groups bordering on folk rock or folk jazz, slow instrumental pieces and lively ones, and everything in between, and the absolute majority of the tracks are traditional.
The harp may be considered as Welsh national instrument. So it is no surprise that the package starts off with a solo harp piece, recorded in the 1950s by "The Queen of the Harp" by Nansi Richards. She was about 70 years old when recording it.
There are more solo harp pieces on the album, most notably Robin Huw Bowen's medley of "Gypsy Waltzes," and quite a few songs where the harp is the main backing instrument, and a number of groups that feature the instrument.
Wales is sometimes called "The Land of Song" and it boasts a fine male choir tradition. It is represented here by Rhos Male Voice Choir singing "Tydi a roddaist." And more than half of the tracks on the album are songs, all sung in Welsh. The only English featured is an introduction to a song and a spoken piece from one of the source singers. And both Max Boyce and Siân James sing a verse or two in English in their songs. Siân's "Ei di'r deryn du?" is one of the top tracks for me, slow and moving, just harp and the voice.
The only well-known star you get, apart from Cerys Matthews who has included a track recorded by herself, is Mary Hopkin, who rose to fame in the late 1960s when discovered by Paul McCartney. She sings one of many beautiful Welsh love songs "A deryn pur" on a live recording from the Royal Albert Hall in 1972.
So, full marks for this one, a must for anyone with the slightest interest in Celtic music and an aspiration to learn more and widen their musical taste. At the same time it is something of an encyclopedia and a record to listen to repeatedly.
(Arc Music, 2017)