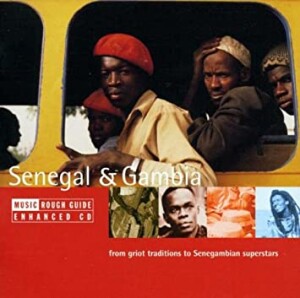 Big Earl Sellar wrote this review.
I always find it a tad embarrassing to listen to Rough Guides releases. I mean, I should really just get off my butt and track down the original releases, instead of relying on these compilations. They are generally quite well done, though, and in our convenience-oriented society, they unfortunately fit the bill quite nicely. Here's a trio of recently released African compilations, all of which are excellent.
The first up is Senegal & Gambia. The Afro-pop of Senegal is quite well known on the World stage now, largely thanks to Youssou N'Dour (who's included on this disc). An up-tempo, quite pop-influenced musical style, the musicians from this region often eschew traditional instruments for the instruments of the West. Percussion tracks are often more limited than in other African styles, with a conventional drum kit often replacing them altogether. It's easy music to get into, not really sounding too "Worldly" for general consumption (and, therefore, it's popularity), but it does lack some of the grittiness that the pop music of musicians located further east (in Cameroon or Mali, for example) have. Baaba Maal shows up here, with the track "Loodo" from the legendary Djam Leelil album (Ryko) he recorded with Mansour Seck in the early 1980s. Although a beautiful song, it sounds more like a song from France, but with Puular lyrics. "Mouhamadou Bamba" by Orchestra Baobab, to take another example, has strong Latin influences (almost a marachi/reggae track). But this is not to deride the strength of the music, for Senegal & Gambia is a treasure trove of fantastic music. I was especially struck by the balafon (wood xylophone) in "Diamano Bifoula/Hal Ma Ti Wouna" by Malang Mane, by far the most traditional song on the disc, with it's rivetting vocals. The slinky "Aminatta" by Gambian pop-prince Mass Lowe is equally wonderful, despite the synths. Senegal & Gambia is a great introduction to those trying to wet their ears in African styles: nothing too raw is presented, and the whole disc grooves mightily.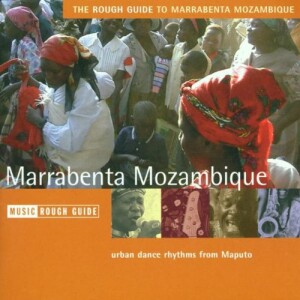 Marrabenta Mozambique presents music from the other side of the continent. Marrabenta refers to a rhythmic style from the south of the country. It's a repetitive, driving rhythm, akin to a train moving at a steady pace. Here, percussion rules, with minimalist guitar (sometimes with high-lifey elements) and very few keyboards. Right from the grin-making opener "Maria Teresa" by Dilon Djindji, this disc makes the listener want to smile; this is happy, celebratory music. "Anghrna Bava Mula" by Alberto Mula consists of two chords and a limited melody, but it's an infectious dance number. These artists prove that complexity in music is often an over-rated goal, and even when the band is super-sized, as on "Elisa Gomara Saia" by Orchestra Marrabenta Star De Moçambique (with a full horn section), nothing extraneous is added to the mix. The simplicity of the music may leave some wanting, but I loved this disc; it's my favourite of the lot. Although a fully modern sound (with electric guitars and bass, few traditional stringed instruments), the style sounds more regional, without the Western influences that exist in many other African styles. A fine dance disc.
Unwired: Africa is the oddball in this Rough Guide trilogy. Ostensibly presented as an acoustic disc, it is a real jumble of styles, often with electric instruments included. No matter, it's still a great compilation. Unfettered by the regional confines of the previously mentioned discs, it provides a broader overview of what's happening musically in Africa. Mali's Oumou Sangare gets in the kora (harp) based "Kayini Wura," with spell-binding vocals; "Retany" by Tarika (Madagascar) presents a great pop ballad from that island nation.
The Arabic influence is well represented, too, as on "Hassaniya Song For Dancing" by Khalifa Ould Eide & Dimi Mint Abba (Mauritania). As a result of its cross-border presentation, it isn't the most cohesive disc of the lot (some better track-sequencing would give the disc more definition); the included straight jazz of Abdullah Ibrahim lends an especially confusing end note to this disc.
Rough Guides always include thorough, if sometimes brief, liner notes on the artists. The somewhat annoying ads for other Rough Guides and the World Music Network cheapen the packaging somewhat. As per all Rough Guides, recording qualities vary greatly between tracks, but since these are out-sourced compilations (taken from releases that at times date back to the late 1970s), this is obviously not the company's fault. I will give that the more recent Rough Guides have better overall level mastering than previous releases. The Senegal & Gambia disc also includes some Enhanced CD background notes, which oddly (and annoyingly) automatically spin on all platforms, causing the disc to spin into CD-ROM mode mid-track.
Although I'd really like to spend the $300-400 to simply buy the best albums these discs are taken from, I suppose, in the name of economy, these will do. The Rough Guide series are an easy stepping-stone into almost every aspect of World Music, and any of these discs are great introductions to the varied music of the continent.
(World Music Network, 2000)
(World Music Network, 2001)
(World Music Network, 2000)