As befits its size, history and incredibly diverse populations, Africa produces an amazing variety of music. These three discs give just a glimpse of the scope of that diversity, from traditional music created on gourd instruments, to Cuban, Brazilian and North American-influenced jazz, to a blend of traditional griot songs with modern pop stylings.
The Mali & Guinea disc has plenty of variety, with 13 tracks about evenly divided between the two countries, which have similar musical traditions. The centerpiece comprises four tracks from Mali: a protoblues from the world-renowned Ali Farka Toure; a stunning acoustic-guitar and vocal number by Afel Bocoum, who has played guitar in Toure's band; the electrified pentatonic dance rhythms of Abdoulaye Diabate, and the rippling kora playing and powerful jeli-style vocals of Toumani Diabate backed by Taj Mahal's blues riffs.
There's lots more to like here, from the influential guitar work of the group Balla et ses Balladins to the garage-dance music of the Rail Band; and the jazzy glittering guitars and Cuban-style rhythms of the Guinean Bembeya Jazz National. Boubacar Traore plays an intriguing version of the Twist on guitar, accompanied by the marimba-like balafon, and Sekouba Bambino gives us a New Age-style ballad about the natural delights of his homeland. Throughout, the vocals are strong and emotive, in the tradition of the griots who sing moral lessons or praises of local figures.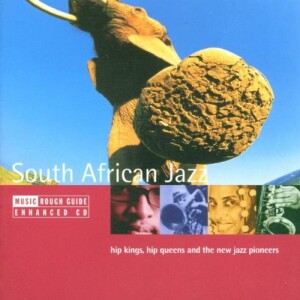 South African Jazz is a surprise and delight, mixing the township sound of prickly guitars and stuttering rhythms with jazz styles that run the gamut from big-band swing to bop to modern cool pop. The guitar is prominent, as you might expect, and so is the saxophone. Thelani Ajb plays an upbeat swing that could be the theme of a modern TV show, featuring three alto saxophonists. Of course there are early tracks by Miriam Makeba, singing trad jazz with the Skylarks, and Hugh Masakela on trumpet with the hot Jazz Epistles.
As a cultural melting pot, South Africa produces much variety in its jazz, from Sipho Mabuse's atmospheric piece featuring the otherworldly skronk of the lesiba, a shepherd's horn, to the Indian-influenced flute-and-kora of Deepak Ram's "Cabbage and Roti" in a swinging six-eight beat. This one is good listening all the way through.
I wish I could say the same about Master Fiddlers of Dagbon. This disc, recorded 10 years ago in Ghana by noted ethnomusicologist John Chernoff, presents 10 numbers by as many different groups. The instruments are a one-string gourd fiddle scraped by a curved bow, and shakers made from gourds, with group chanted vocals.
The music is intriguing, the fiddles scratchy but somehow also rich-sounding, the rhythms infectuous. But the recording is totally lacking in variety, each track sounding much like the next. It may just be too subtle for my ears, but I can't see much popular call for Master Fiddlers unless you're an ethnomusicologist yourself, or want an unusual recording with a steady rhythm for your daily workout.
(World Music Network, 2000)
(World Music Network, 2000)
(Rounder, 2001)