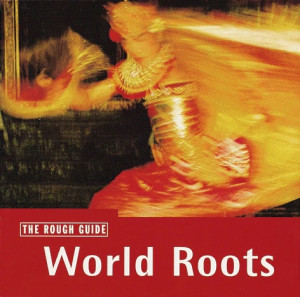 From lesser-known Asian countries to tropical provinces off the coast of South America, this Rough Guide offering provides a wide array of samples of music from places still in touch with their native roots. The recording especially explores the vocal talents of a number of outstanding female vocalists, but doesn't limit itself to that exclusively. Many exotic instruments are represented, from latinhas to doira to Italian bagpipes.
Opening with the sultry and exotic Uzbek singer Yulduz Usmanova singing an almost chant-like ballad, "Schoch Va Gado," the Rough Guide explores the slow and seductive side of World Music. This is followed by Natacha Atlas, of mixed ancestry, but definitely rooted in Arabic styles of music. Atlas gives the recording a move into more modern styles, with a bit of a techno edge to her dance music, which is based on traditional Arabic music. Her track, "Marifnaash," is catchy and upbeat.
Veteran performer Busi Mhlongo of South Africa presents a fascinating updated version of maskanda, traditional music of the Zulu, in her track "Yehlisan'umoya Ma-Afrika." Her emotional singing, along with strong percussion and echoed responses, make this track a stand-out on the album. She is followed by a new face in the world music scene, Fania, from Senegal. Her deep, unconstrained singing promises to develop into something truly great.
Track five provides a refreshing change. Switching from female voices to male, and from more modern interpretations to more traditional fare, Baaba Maal and Mansour Seck explore other aspects of West African music. The repetitive, almost percussive, strings back Maal's meandering vocals on this mesmerizing cut. This is followed by marimba dance music, complete with the call-and-response format, performed by Carmen González and Koral Y Esmeralda. This exciting group hails from Esmeraldas, a tropical island off the coast of Ecuador, and their sound succeeds at calling listeners to dance.
Next we have Afro-Cuban jazz, presented by the Afro-Cuban All Stars, led by Juan de Marcos González. From the vocals to the percussion, to the brass and piano, this represents the best in Cuban music, with a flash-back to the height of their expression in the Fifties. Following this ensemble is an unusual group, Daboa. What do two Californian musicians and one Venezuelan vocalist have in common? More than can be easily described without hearing it. The jazzy Latin sound begins with some spotty tones, building to a recognizable pattern. Vocalist Maria Marquez enters with a rich, smooth vocal over this exciting background, to create an effective montage.
The Brazilian Indians are hauntingly represented by vocalist Marlui Miranda, accompanied by Paulo Santos with a wonderful rain-like pattern on the Brazilian percussion instrument, latinhas. The vocals sound much like bird song erupting from the rainforest, which seems highly appropriate. This is followed by outstanding Cuban trumpeter Jésus Alemañy and his band ¡Cubanismo! We move from Cuban brass and vocals to Italian bagpipes with vocals, combined with double bass and other modern sounds. This is an eclectic and opulent concoction of sound.
Hungarian singer Márta Sebestyén is well known for her work on the soundtrack for "The English Patient" and her work with Deep Forest and Peter Gabriel. Here she teams up with another well-known Hungarian export, the group Muzikás, with whom she's worked a number of times. Sebestyén's soaring vocals mix beautifully with Muzsikås' nasal horns and percussive strings. She is followed by another unusual and outstanding vocalist, Indonesian star Detty Kurnia. Her track, "Duriran," has a distinctly Asian sound, with a thoroughly modern edge.
The recording ends with a spiritual track from the late Nusrat Fateh Ali Khan, singing the devotional music of the Sufi. Marked with great vocal embellishments and stylistic vocal changes, Nusrat brings a modern element to the music, while maintaining its spirituality. It is a fitting ending to this exploration of modern music with traditional roots from around the globe. The recording as a whole reminds us of how much native musics of many people can have in common, while shining through their diversity.
(World Music Network, 1999)