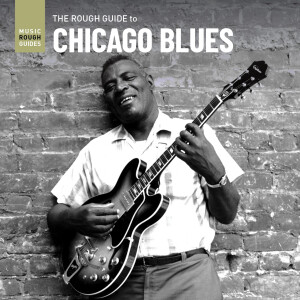 Maybe there is something in the city's soul, or possibly it's a simple question of money, but for whatever reason, for me, a naïve European, Chicago will always be the city of the second generation. When the USA began to move west from the places where the first European immigrants settled, Chicago developed as the "second city." When jazz moved out of its cradle in New Orleans, it made Chicago its second home before spreading out across the whole USA and then conquering the world. As for the blues, leaving aside its possible roots in West Africa, it was born and spent its childhood in the South, especially in the delta country of Mississippi, but when it grew into a restless adolescent, it set off to make its fortune in Chicago.
I grew up in that generation of British kids who, wide-eyed and even wider-eared, rejected the bland pop music that occupied the space occurring roughly between the death of Buddy Holly and the emergence of the Beatles, in favor of something gutsier and more real. We tried jazz, we tried calypso, we tried . . . blues. Suddenly there we were, white kids growing up in post-World War Two England, steeped in the music of Chicago's Southside, pestering record stores for obscure recordings by Black musicians destined initially for the North American "race" market; i.e., the relatively prosperous (anyway, prosperous enough to buy records) urban African Americans whose music this was, and many of whom lived in Chicago.
This was the music that British musicians such as John Mayall and Alexis Korner chose to perform in clubs and pubs, recruiting to their bands young British teenagers who had rejected their own musical traditions to adopt this alien but so accessible Black music. And having heard the music, some of us wanted to sing and play it. Later the Bonzo Dog Band would satirize the debate about the feasibility of this with the song "Can Blue Men Sing the Whites?" but one may be heartened by the opinions of Muddy Waters, an icon of Chicago blues, who said that until young English musicians started paying their tribute to his music, he was in a race records ghetto, from which these kids liberated him.
In due course, this movement produced the Yardbirds and the Rolling Stones, Them and (the original) Fleetwood Mac, Rory Gallagher and Eric Clapton: white adolescents and young adults singing in the accents and cadences of often elderly southern Black musicians who had followed the economic migrants north to Chicago. These former musicians had relied on the wages of workers there, and in other Midwestern cities such as Detroit and Cleveland, to support them and their bands and to buy the output of specialist blues record labels like Chess/Checker and Arhoolie.
When one thinks of the development of the blues, it is only proper to start with the image of a lone bluesman with a guitar. Catch him young enough and the instrument may even be home-made. Men (and the earliest were probably all men) such as Son House, Robert Johnson, Big Bill Broonzy, Blind Lemon Jefferson, Blind Willie McTell and Sleepy John Estes sometimes got together with other musicians to jam and even to record, but they made their reputations first as individuals, maybe standing on street corners with an upturned hat for nickels and dimes and then, when their talent was recognised, playing in bars, clubs and dance halls, or at parties.
When the music moved to Chicago and became more urban and urbane, particularly as it became more emphatically dance music, the sound was filled out with further instruments: additional guitars, bass, drums, harmonica and, of great importance, pianos. There are, in fact, three things that essentially distinguish the Chicago blues presented here from its country cousin. First of all, most of the tracks feature bands rather than solo performers. Second, the instruments are electrified, or at least amplified. In the third place, the piano is almost as often the lead instrument as the guitar, a much rarer occurrence in country blues. Indeed, the CD kicks off with the rocking blues piano of Roosevelt Sykes, nicknamed the Honeydripper, although his music is gutsy rather than mellifluous.
One of the presiding influences of this CD, although he does not appear on it, is another pianist, Big Maceo Merriweather, even if he actually spent more time in Detroit than in Chicago. The semi-paralyzing stroke that Big Maceo suffered in 1946 made him unable to benefit from the post-war vogue for his kind of music, but his heirs are all over this CD: the wonderful pianist Otis Spann appears twice in his own name, first performing his classic "It Must Have Been the Devil" with a youthful B. B. King on guitar, and then in a duet with the guitarist Robert Lockwood Junior, recorded by jazz critic Nat Hentoff for his short-lived Candid label. Spann was also a member of Muddy Waters (McKinley Morganfield)'s band at its height, and is presumably the pianist on Muddy's powerful version of Robert Johnson's "Walkin' Blues" included in this compilation. A little later, we encounter another of Maceo's pianist protégés, Johnny Jones, again in duo, this time with the guitarist Billy Boy Arnold, performing his mentor's classic "Worried Life Blues," a song performed by dozens of bluesmen (there is even a well-known version by Eric Clapton); Maceo himself actually borrowed the song from Sleepy John Estes.
Another instrument that came into its own in Chicago blues bands was the harmonica or "mouth-harp." This CD has an outstanding recording by Little Walter (Marion Walter Jacobs) of Muddy Waters's "Rollin' and Tumblin' " (another number that can be traced back to Sleepy John Estes), on which Waters himself plays, too. There is also some excellent harmonica-playing (and singing, too) from Junior Wells. Slightly odder are two cuts featuring white musicians: on one of them, Paul Butterfield, famous for being one of the few white Americans to take up Chicago blues when thousands of young Britons were doing it (and later responsible for Bob Dylan's first electric backing band), teams up with fellow harmonicist James Cotton (a frequent sidekick of Muddy Waters), guitarist Billy Boy Arnold and Elvin Bishop (from Butterfield's own band) to perform the instrumental "Three Harp Boogie." The other is by Charlie Musselwhite, a Memphis-born white harp player who devoted his life to playing the blues that he learned from Black musicians.
Nevertheless, even if this collection effectively shows how the blues successfully extended its range of styles and instrumentation in Chicago, it is dominated by guitarists: Elmore James, Robert Nighthawk, Buddy Guy, Billy Boy Arnold, Hound Dog Taylor, Muddy Walters, John Lee Hooker, Eddie Clearwater, Otis Rush and Magic Sam – some of them well-known names, others more obscure, often because of early death or disability. One by one they demonstrate the versatility of tone, mood and timbre that the electrified guitar can produce in different hands.
I have referred frequently in this review to bluesmen, and one certainly comes away with the feeling that it is essentially a man's music. Two women sing on this CD: Valerie Wellington belts out a hefty version of "Bad Avenue" that features some fine but unattributed guitar and harmonica; then Koko Taylor gives us her raunchy version of "Never Trust a Man." This track also has some terrific, but again anonymous, harmonica. It is interesting to think that the blues singing tradition in the jazz world seems to have been much more successful than in the field of blues. From Bessie Smith onwards, female singers were just as prominent on the jazz scene as men, probably even more so than men, but women have never really held their own in straight blues, despite a few outstanding performers.
It is always easy to gripe about compilations. Every listener probably imagines that he could have made a better job of selecting the artists and songs. Well, this reviewer will not disappoint you. For a start, the track by the obscure falsetto singer Nolan Struck should never have been included: the recording quality is awful and its inclusion would be justified only if it was essential to ensure that a really brilliant musician was included in the absence of anything better. Then there are the omissions: why is there nothing from Howlin' Wolf, from either of the two fine musicians who called themselves Sonny Boy Williamson, from the wonderful Willie Dixon or the sometimes sublime Jimmy Reed, men whose recordings haunted my adolescence? When it comes to pianists, I miss the mighty Memphis Slim (and although this is purportedly a Chicago collection, there are several musicians included from other cities, including Memphis). Pleased though I am to have discovered the talents of John Littlejohn and Robert Nighthawk, I would gladly accept their omission if it meant that better and more iconic Chicago blues musicians obtained a place on the CD.
One can also question the choice of material. There is so much wonderful original stuff available from John Lee Hooker's archives that it seems terribly perverse to represent him by his unremarkable performance of the Berry Gordy song "Money," originally recorded for Motown by Barrett Strong, but memorably covered by The Beatles. There is so much interesting material available by Elmore James that it seems once again perverse, for the opposite reason, to represent him only by "Dust My Broom," the one song by James that everyone is likely to have heard, and which already appears in numerous collections. I wonder, too, why Hound Dog Taylor had to be included, at least in this form, as his performance on slide guitar on "Ain't Got Nobody" is almost indistinguishable from that of Elmore James on "Dust My Broom."
While questioning selections, I wonder why the two tracks featuring white musicians had to be those particular ones: it might actually have been more appropriate to include, if copyright allowed, the Rolling Stones or one of the other British bands that adopted Chicago Blues, rather than the worthy but finally less epoch-making white Americans included here. Dammit, Bob Dylan has recorded some great white man's blues performances that would be just as interesting as Butterfield's or Musselwhite's contributions, and whose inclusion would give the whole exercise a more thoughtful and persuasive character — they could even have included one of his performances with Butterfield himself. And while I was at it, I would add a track each from the Chess catalogue by Chuck Berry and Bo Diddley. Their music may have ended up being considered not just rhythm and blues but actually rock 'n' roll, but they recorded a lot of good blues music that would not be out of place on this CD, and would actually demonstrate clearly how Chicago blues fed directly into rock 'n' roll.
(World Music Network, 2003)