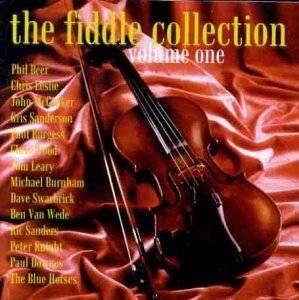 Richard Barnes wrote this review.
If you only buy one more CD this year (unlikely, I know!) and you love the sound of the fiddle, then this should be the one you choose.
It's been a labour of love for Phil Beer (who better to coordinate such a project, fiddler extraordinaire that he is himself?), and well worth the effort. The carefully considered running order has the whole thing hanging together like few compilation albums do. The packaging and insert notes are excellent, and with 16 tracks over a 74-minute running time, it's great value for money.
There are four tracks from Mr. Beer himself, one with Paul Downes and one, a beautiful duet "The Old Court Waltz," with Phil Beer Band partner Gareth Turner on melodeon. Phil also contributes guitar to the Tom Leary track "The Yearning Heart/The Monkey Tree," a real showcase for Tom's unique "bendy" style.
Chris Leslie's lovely "While You Sleep/The Willow Arch" brings back memories of an excellent performance at the Banbury Mill just before Christmas '98 when Chris (a current Fairport Convention member) and Maartin Allcock (ex-Fairporter himself) gave an all-too-short set in support of Midge Ure's all-too-long one.
There are vocals on just two of the tracks: Phil's often performed version of the "traditional Cajun sea shanty" "Yankee Clipper," and Chris Wood's "The Burning Babe."
There are also fine contributions from John McCusker (Battlefield Band), Gris Sanderson (Waulk Electric), Paul Burgess, Michael Burnham, and Ben Van Wede. The whole thing is rounded off beautifully with the last track, "The Old Conwy" from The Blue Horses in a rare "unplugged and contemplative mood," to quote the sleeve notes.
But – there are three layers of icing on this cake.
First is Dave Swarbrick's stunning "New South Wales," which was was a highlight of the Fairport Convention Symphony Hall Birmingham UK show on March 6. This show occurred shortly before Swarb's untimely "demise," (for those who missed it, the UK paper The Daily Telegraph mistakenly ran his obituary) and welcome resurrection as king of the fiddlers, and the recorded version here is equally wonderful with Kevin Dempsey's sublime guitar accompaniment and production work.
Second is Peter Knight's hypnotising "Gemini Cadenza," (from his album of the same name) – ten minutes and thirty-five seconds of sheer brilliance.
And, third, topping it off, currently my favorite track on the album, Ric Sander's (currently the senior of Fairport Convention's two fiddlers) "As Yet." To quote the sleeve notes yet again, "A wonderful mix of folk, rock, and jazz influence from one of Britain's great fiddlers." What more can I say?
So there you have it, sheer quality and an absolute must for every collection. volume two is already in the pipeline and will contain some equally inspiring stuff. Healthy sales of volume one will of course hasten the appearance of volume two, after which there is the possibility of "The Guitar Collection."
(Hands On Music, 1999)