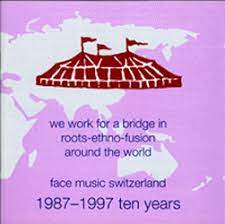 Big Earl Sellar wrote this review.
Face Music is a Swiss record label, specializing in World and World fusion styles. This compilation comes after the release of their 22nd album, no mean feat for an independent label with such an esoteric roster. Like most compilations, there are high and low points that will differ for every particular listener, but for me, this is more a "what could have been" disc.
Face's fusion vein, in particular, varies from interesting to abysmal. Mato Grosso, from Brazil, gets in a couple of interesting jazzy tracks, especially "For All," which blends soft jazz with Latin American pop in a fairly danceable manner. The remainder, from the extremely dated "I'm Here and You Are There" jazz-funk workout by Poland's Little Egoists to tracks from the previously reviewed 'yawners' by Asiaminor and Sharkiat, do little to interest the average listener. Most of the first eight tracks are fairly disposable; not a good way to start a compilation in any scenario.
The remainder illustrates Face's strength in finding wonderful little niches of world music. Luiz Carlos Borges contributes some beautiful accordion based gaucho music; his "Italiano," a slow waltz, is one of the disc's standout tracks. Susu Bilibi, from Togo, provides some decent Afro-pop with "Ole." And my personal little musical quirk, Mongolian, is well represented by "Maadal Kara," with beautiful guttural throat singing from the duo Bolot & Nohon. Four Georgian tracks are featured, featuring the wonderful ensemble singing of this part of Russia, with the haunting "La P'st'onepi" by Ensemble Mzetamze (sounding rather like a mediaeval chant) being particularly memorable.
But Ten Years is probably not the disc Face Music had intended to release. While it is an overview of what the label offers, it's not a particularly cohesive one. It starts weakly, ends slowly, and never really grabs the attention of the listener. Perhaps with the musical genres more interspersed with one another, or the selection of some shorter fusion tracks, this disc would have been more interesting. Thorough liner notes are included, although the translation is a tad awkward in places: the photos are strictly promotional shots, and thus vary accordingly.
With a broad range of talent in its stable, Face Music could have made a gripping various artists sampler. But Ten Years is rather stoic, rather bland, and rather a disappointment. Here's hoping that their next compilation fares better.
(Face Music, 1997)