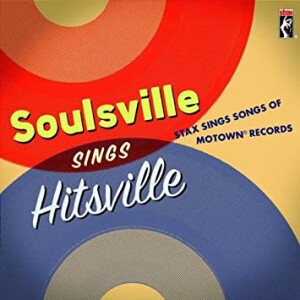 Stax Records was Motown's southern competition in the soul music race back in the '60s and '70s. Both companies had similar approaches to recording, featured singers backed by a house band, and sweetened with production values that proved to be the essence of each label's sound. In Detroit it was the Funk Brothers but at Stax it was the Bar-Kays, the Mar-Keys and Booker T and the MGs. And they provided plenty of their own funk. That funk oozes out of the tracks on these two recent compilations.
First up, the Stax take on Motown's hits. Right off the bat you know this is going to be a great trip. Margie Joseph stakes her own claim to "Stop! In the Name of Love." It's a bit slower than the Supremes version, with a more strings and things, but it's sexier than Diana Ross, that's for sure. David Porter does Stevie Wonder's "I Don't Know Why I Love You," The Staple Singers pull some blues out of Smokey Robinson's "You've Got To Earn It" and Calvin Scott takes charge of "Can I Get A Witness" (a song I just love!). The Mar-Keys do a psychedelic soul version of "Reach Out and I'll Be There" and Isaac Hayes slows "Never Can Say Goodbye" way down … it's like sex on a CD.
Billy Eckstine's "My Cherie Amour" is a change of pace (a bit of a throwback, because jazz vocalist Eckstine did four albums at Stax), but things pick up again with the first drumbeat on Barbara Lewis's "Oh, Be My Love." The girl singers at Stax all have more grit than Motown's girl groups did. Booker T & the MGs take the Supremes right out of "I Hear a Symphony" and replace them with Booker T's organ and Steve Cropper's guitar. Just the way I like it! Mavis Staples shows you what I mean about those women singing at Stax when she tackles "Chained" head-on. Whew! And there's another half-dozen tracks. This is a fine archival release that makes some undiscovered and previously unreleased material available on CD for the first time. Thanks, Stax!
But it doesn't end there. Nosirree! Those Memphis magicians took on the four lads from Liverpool too! The cover of this one looks a bit like the Stax White Album, with Ringo's drum kit on it, with "The Beatles" replaced by "Stax"! Very cool. Things get going with a dandy up-tempo "Day Tripper" by Otis. Do I have to even mention his last name? Redding! He totally owns this tune. You'll think he must have done it first, it sounds so … damn … Otis! Then follow David Porter with "Help!", Booker T & the MGs with an instrumental take on "Got To Get You Into My Life" and Steve Cropper "With a Little Help From My Friends." This, I could listen to all day. Well, truth be told, I have those original records, and have been listening to them for years!
Carla Thomas steps up with a deeply felt live rendition of "Yesterday," maybe too deeply felt. Booker T and the boys return for "Eleanor Rigby," wah-wah pedal in hand — interesting, and moody. The Bar-Keys saxophonize "Let It Be" and Isaac Hayes does his 'thang' to "Something." That means he takes the framework of the song and builds it into a symphony. Very … Hayesy.
There are more offerings from Booker T & the MGs, more from the Bar-Kays, and a couple more. But this is The Beatles like you've never heard them. Funky, bluesy, soulful, "cookin' in the house of love" (as the late great Johnny L. would say). If you need a slice of southern soul and R&B, who doesn't, do yourself a favour and pick up one (or both) of these super collections.
(Stax, 2008)