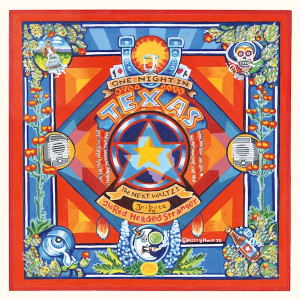 Willie Nelson marked his 90th birthday on April 29, 2023. Almost exactly a year before that, a big ol' crew of singers and players got together in Willie's backyard in Luck, Texas, and performed a bunch of songs in his honor. They were all backed by the house band of Bruce Robison's all-analog record label and studio known as The Next Waltz, and Robison had tape running. The result is a stellar recording that celebrates Willie's big milestone in the best way possible, with gritty, soulful renditions of some of the best songs associated with the Red Headed Stranger.
And this, the weekend of Willie's 90th, an album containing some of those performances is released for the rest of us to enjoy – those of us not lucky enough to be among the crowd of 5,000 or so who were there.
Robison is kind of a natural to put together this sort of soiree and recording. He's a singing, songwriting Texan just like Willie, and he's been around the business quite a while. He has a deep knowledge of all things country music and an obvious respect for classic and "outlaw" country. In the liner notes he says he wanted the evening in 2022 to feel special for Willie's 89th, which happened shortly after Nelson's sister Bobbie, who was his musical mentor and the band's piano player died. And musicians were just starting to be able to perform after a long Covid shutdown.
"The night just felt like some kind of celebration of life," Robison says. "When it was coming together I knew I had to try to record it. When I heard what was on tape it sounded like magic to me. It sounded like 1973. It is definitely the sound of people having fun. This was a great night in Texas."
The music and singing on these live recordings have a ragged but right sound. Everybody's not perfectly on key, so there probably wasn't any digital air-brushing back in the studio. I'm not sure who all is in Robison's house band except for probably Emily Gimble, granddaughter of Texas music legend Johnny Gimble, on piano. She rounds out Side 1 of the LP with a rollicking instrumental rendition of "Down Yonder," and it certainly sounds like her on other numbers that feature piano, including Nathaniel Ratelliff's beautiful cover of "Crazy" in the middle of Side 2. The crowd starts clapping and hooting as soon as that first three-note piano riff sounds, as if this was the most recognizable country song in the world or something! Rateliff also does a lovely emotive rendition of "Blue Eyes Crying in the Rain" in the middle of Side 1. The Colorado-based singer songwriter has a voice perfectly suited to these two ballads.
The pairing of singers with songs is pretty good throughout the date. Two of the best are Steve Earle's gruff take on "Pancho and Lefty" (which may be the only song here that Willie didn't write – but of course the cover of Townes Van Zandt's classic by Willie and Merle Haggard is the best known) and Ray Wylie Hubbard's "Whiskey River." I'll just leave this here.
Sheryl Crow gives a very soulful rendition of "Night Life," the house band backing her with a deep bluesy groove. (I've never been a fan of her singing, but she does a good job here.) Margo Price rocks out on "Shotgun Willie, for which she's a natural. The Nashville based singer and songwriter is a veteran of the country music scene and also a member of the board of directors for Farm Aid.
Vincent Neil Emerson, the young, upcoming Texas singer songwriter whose debut album was produced by Rodney Crowell on Thirty Tigers, gets to kick things off with "Bloody Mary Morning." Robison himself, being the label owner and all, gets two tracks. He knocks "Last Thing I Needed First Thing This Morning" out of the park and does a fine job on "(How Will I Know) I'm Falling In Love Again." Also getting two tracks is Shinyribs, which is the Austin supergroup fronted by former Gourds singer Kevin Russell. "I Gotta Get Drunk," which comes early on Side 1, is right up his alley, but his second, "My Heroes Have Always Been Cowboys" is the one track that doesn't seem to fit; it strikes me as a bit sappy due to the synth keyboard sounds.
"Pick Up The Tempo" gets a gloriously shambolic treatment from Robert Earl Keen, and Matthew Houck, the Nashville based singer-songwriter who performs as Phosphorescent (and who has paid homage to Willie throughout his career) closes things down with "The Party's Over."
Willie Nelson has had such a long and varied career that only something like Green Man's Infinite Playlist could do it justice. These fellow musicians who gathered to play and sing his songs a year ago were just doing it to honor the man and his music in the spirit with which he has always lived – humble, playful, and true to the music. I'd say they succeeded. Happy birthday, Willie!
(The Next Waltz, 2023)