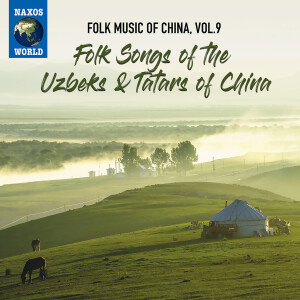 The Naxos World label is releasing a series of recordings documenting China's rich and diverse folk music. They've scheduled 15 albums in all, with eight released so far, each covering a different region of modern China's vast territory. Volume 9 Folk Songs of the Uzbeks & Tatars of China covers the music of the Uzbek and Tatar peoples who live in Xinjiang province and speak Turkic languages.
A previous volume had folk songs from the Tajik and Russian minorities of Xinjiang, who live in the province's western and northwestern areas. Most of the Uzbek and Tatar peoples who live in Xinjiang — about 10,000 Uzbeks and maybe 3,000 Tatars — are in the north and west.
This is a generous collection of music, with 20 tracks on the CD for about 65 minutes of listening. The tracks are roughly evenly divided between Uzbek and Tatar songs. They generally alternate from track to track, although sometimes there are two Tatar songs sandwiched between the Uzbeks. There could perhaps be a little more diversity to the music on this release. With a couple of very minor exceptions, all of the Uzbek songs included here are of solo male singers accompanied by dutar, a long-necked lute with two strings, plus a frame drum. Likewise, Tatar folk songs "the gemstone in Xinjiang's musical crown" according to the liner notes by Jasmine Zhou, often employs a brass jaw harp called the kubyz, and an end-blown flute called the qurai, but all of the songs here are accompanied only by accordion.
That said, the instrumental accompaniment is uniformly great and … interesting. The accordion, for example, sometimes wanders and meanders along a melody line in a jazzy way that calls to mind the great Ethopian player Hailu Mergia. Elsewhere it could be a great Balkan player or cumbia maestro.
This is a fascinating and entertaining collection of song in a beautiful and well designed package. Almost all of the song titles are listed by their English translation (and if this release is like others in the series, the generous booklet includes lyrics in both their original tongues and English).
Xinjiang is a huge province in the far northwest of China. How huge? If it were an independent nation, it would be the eighth largest in the world. It borders Mongolia, Russia, Kazakhstan, Kyrgyzstan, Tajikistan, Afghanistan, Pakistan and India. As one of the chief regions passed through by the old "Silk Road," it is culturally diverse and ethnically rich. The various folkways, from food, clothing and other lifestyles to art, music, and dance, have influenced and been influenced by all of these bordering countries and cultures including the Han Chinese.
Which of course explains some of the rich diversity found in these Uzbek and Tatar songs. Just for a few examples: On the melancholy Uzbek song "Ex-lover" the dutar sounds very much like an oud, played very low, on the verses, then rapidly strummed rather like an Appalachian dulcimer between the verses; the Tatar songs "A Lively Girl" and "Strawberries" (also lively) sound a lot like uptempo Balkan dance, the kind you hear arranged for multiple women's voices, though both are sung by solo women, the former soprano and the latter alto; the rhythm of the Tatar song "In Love With A Soulmate" sounds close to cumbia; and a couple of songs, the Uzbek "Qia Le Hai" and the lengthy Tatar "Sa Er Man" both have titles that could derive from Han dialects and employ pentatonic scales. That last one is also the only song here that employs a chorus of voices, an alto in the lead with three higher voices accompanying with harmony.
These aren't field recordings — as far as I can tell, none in the series are — but are professionally recorded in a studio or auditorium with a certain amount of lofty reverb in the vocals. All in all, Folk Songs of the Uzbeks & Tatars of China, as with the others in the series, is a valuable addition to the World music catalog.
The other titles so far in this Naxos World series are, in order, Folk Songs of Qinghai and Gansu, Folk Songs of Inner Mongolia and Heilongjiang, Folk Songs of Yunnan, Folk Songs of Guangxi, Aboriginal Folk Songs of Taiwan, Folk Songs of China's Tajik & Russian Minorities, Folk Songs of the Yi and Qiang tribes in Sichuan & Yunnan, and Folk Songs of the Kazakh and Kyrgyz tribes. At this writing, you can learn more about the first seven volumes at the Naxos World website and sample a track from each of those releases. If you're a subscriber of the Naxos World Music Library you can stream them all there, including Uzbeks & Tatars, and find out what other services they're streaming on.
(Naxos World, 2021)