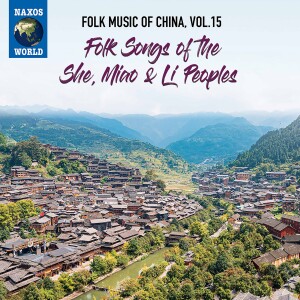 Volume 15 of the excellent Naxos World series of regional Chinese folk music continues the label's strong line of these releases. As we near the completion of the planned 20 volumes, each release continues to highlight the nearly unimaginable diversity of culture and folk arts in the sprawling land currently known as China.
Volume 15 covers the folk songs of three ethnic groups, the She, Miao and Li, from China's eastern and southeastern provinces. With 31 tracks this disc is roughly evenly divided among the three groups.
When I came to the final track of the section of songs by the Miao peoples, "A Duet Love Song of Basha," I immediately thought this tender duet sounded Vietnamese. There's a good reason for that: the Miao people, whose original designation in Chinese was more or less "barbarian" or non-Han, live in the far southeast of China as well as the bordering regions of Laos and Vietnam. Anyway, this particular song is a charming recording that devolves into the female partner's giggles.
Much of this volume has a slightly more informal feel than the others I've covered. In addition to that giggling we hear a rooster crowing twice during one song, other background noises, singers pausing to clear their throats – the sort of thing that reminds you these are field recordings, though with much higher production values than I usually associate with that genre. As with most of the others in the series, all of these songs are performed a capella, although each of these ethnic groups uses a number of unique instruments in their folk music.
The She songs are largely solos or duets between two women with low and high voices. Their titles indicate they're largely about relationships, whether between individuals or within the community: Being In Love, I Miss You, Song of Appointment, Birthday Congratulations for the Elderly, and others about wine and the four seasons.
Many of the Miao songs, which come next, feature female duets or women's or mixed vocal groups, which to me have a very pleasing aspect. And many of them feature downward vocal glissandos at the end of phrases, a technique that's harder to do than it sounds, especially in a duet. The songs here are largely love songs, with some about the mountains or villages mixed in. The song "Welcoming Guests" is sung by a women's group mostly in the alto range, a mix of semi-spoken and sung, with an overall effect that's very calming.
Most of the Li songs are quite short, between one and two minutes in length. They're a pleasant mix of men's and women's solo songs, plus some by women's choruses. My favorite on the disc is "Sing All the Songs You Can," performed by a solo male voice. I also really like "Rolling Dragon," a delightful male-female duet in a quick march time." The Li songs are quite different from those of the other two groups, perhaps due to the isolation of most of the Li people on Hainan Island off China's far southeast coast. The language's sound is distinctive, too, with swallowed "ng" diphthongs.
Lullabys, love songs, wine songs, delivered by a variety of solo and ensemble voices, all make this one of my favorites of this superb series. Listen to samples and find more information on the Naxos World website, and find links to the whole series here.
(Naxos World, 2021)