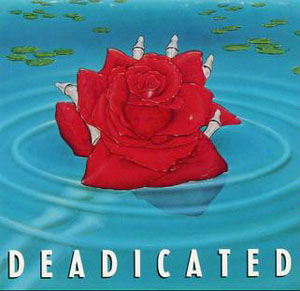 I find most tribute albums to be pure unadulterated shit. Some are so bad that defy any logic as to why they were even conceptualized, let alone made. An example to be avoided of this sort of tribute album is To Cry You a Song (A Collection of Tull Tales) which was a wretched attempt by Celtic rock band Tempest to cover Jethro Tull. I love almost everything that Tull has done down the years, and like most of what Tempest has done, but this was awful, just plain awful. It's 'nough to give me indigestion just thinking about how bad it was!
In me humble opinion, a tribute album should improve upon the original recorded material in a significant manner. Now given that the Grateful Dead at this point in their careers were considered by most fans and critics alike to be one of the best American folk rock bands ever, particularly on the strength of their extended jams. But as David Kidney noted in his review of Stolen Roses: Songs of the Grateful Dead, a later Dead tribute album, 'It's interesting to me that there are any albums which pay tribute to the songs of the Grateful Dead. The Dead were not known for songs. They were the band of the long, free form jam. Deadheads reveled in the invention and magic created during what critics called 'nodding'! Songs require structure and form. You might think that structure and form are concepts far outside the realm of improvisation, but the best improvisers require structure and form. It gives them something to hang their hat on. Whether in comedy or literature or music you require a solid base if you are planning on stretching beyond the limits.'
If you're a Dead fan, get ready to really hate me. I truly hate Jerry's singing as I think he had a weak voice with limited range. I much preferred the instrumentals to the songs because of this. Hell, the best vocalist the Grateful Dead ever had (I'm using their full name as the new version of them that formed this year is called simply the Dead which I suppose makes them something out of a Joyce novel) was Donna Godchaux, a woman whose voice was truly good. Jerry was a great guitarist, but a dreadful singer. What Deadicated does is correct that problem by having bands who have true vocalists sing songs that are classic Grateful Dead material.
Deadicated is a compilation celebrating the Grateful Dead's 25th anniversary. According to the liner notes, proceeds from this CD were to be given to organizations combating the devastation of the world's tropical rain forests, specifically Rainforest Action Network and Cultural Survival. The artwork in the liner notes reflects the rain forest including two skeletons merging with trees of a tropical nature! Cool!
So how good a job do the performers here do? Right now, the sound system is blasting, and I do mean blasting, 'U.S. Blues' as performed by The Harshed Mellows. The original version by the the band was anything but laid-back, but this version positively rocks out! The Harshed Mellows, which apparently only existed for this one song, was made up of Dan Baird and Mauro Magellan of the Georgia Satellites, a roots rock group; Mike Campbell, Benmont Tench and Stan Lynch of Tom Petty's Heartbreakers. It comes across as a celebration of good old fashioned American debauchery. Likewise, 'Casey Jones' as performed by Warren Zevon with David Lindley gets a much needed kick in the arse.
But not all here is rockish in nature. Lyle Lovett's tastefully restrained cover of 'Friend of the Devil' is a gem, as are both of Suzanne Vega's contributions, 'Cassidy' and 'China Doll'. The latter by Vega have not to me knowledge been collected elsewhere, so all Vega fans (as I am) will want Deadicated for these two cuts alone. (I know — you can go to one of the pirate peer-to-peers and download them, so why bother paying for them? Because it's the right thing to do, you bugger!) Almost everything is so cool that it's hard to believe — I mean who'd of thought of Dwight Yoakam doing a superb 'Truckin',' or the now defunct Midnight Oil with a chilling version of 'Wharf Rat'? Even Elvis Costello, not one of me favourite musicians as everything he does sounds alike, is quite fine on 'Ship of Fools'.
Let's not overlook the Indigo Girls playing their cover of 'Uncle John's Band.' It is an outstanding performance of my favorite Dead song by artists that I honestly had not heard much of before picking up this disc.
Do check out 'Jack Straw' which is done here by Bruce Hornsby and his band, The Range, who joined the Grateful Dead as a band member in 1990 and performed in the majority of shows until March 1992. (He oftimes sat in with the Dead both before and after this period. He is not on the official recorded band output; during this time they did not release any studio recordings). A little restrained perhaps for me liking, but good nonetheless.
There are other cuts here that I'll leave you to discover. All in all, this is an exceptional album that I have listened to more time than I can count. Not having heard Stolen Roses: Songs of the Grateful Dead, I must now seek it out!
(Arista, 1991)