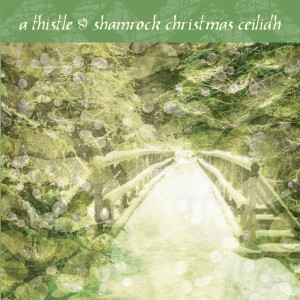 Chuck Lipsig penned this review.
Despite its title, I hesitate to call A Thistle & Shamrock Christmas Ceilidh a Christmas album. The liner notes describe a Christmas eve shindig, ending with the announcement that the local radio station would be playing a program of Celtic music, starting at midnight. The selections on the CD are supposedly that first radio broadcast. However, as most of the tracks on the CD are not Christmas or winter-related, this is, for all intents and purposes, a Green Linnet sampler, as chosen (I assume) by Fiona Ritchie.
Not that that's a bad thing. With tracks as recent as Lunasa's "Goodbye Miss Goodavich/Rosie's Reel" from 1999's Otherworld and as old as Tannahill Weavers "Auld Land Syne" from 1982's The Tannahill Weavers IV, there's a lot of good material for Ritchie to choose from. Several songs of the season are included. Besides the above-mentioned "Auld Land Syne," Altan's "The Snowy Path" (From Harvest Storm) and John Renbourn's "I Saw Three Ships" (from Christmas Guitars), fit the winter theme.
Outside of that, however, there's nothing but good music. Green Linnet samplers are infamous for making it hard to choose a few good songs. Nonetheless, I'll venture to select the title track from Andy M. Stewart & Manus Lunny's At It Again, a tale of a fellow who's just bad news; Touchstone's Breton set of "Garcon A Marier," "Orgies Nocturnes," and "Dans Fisel" from Jealousy; the twice aforementioned "Auld Lang Syne"; and Kips Bay's hot reel set, "The Moving Cloud" from Into the Light as my personal favorites .
For all that this is really a Christmas album in name only, it's the one of these three that would make the best present. After all, seasonal music given as a present is received just as the season is ending. There's not all that much time to enjoy it. But A Thistle and Shamrock Christmas Ceilidh is music for the whole year round — and a good intro for someone wanting a taste of a variety of Celtic music.