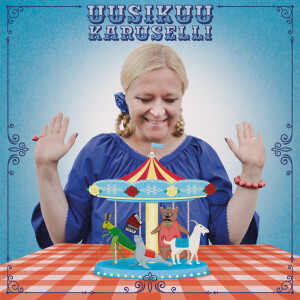 Life seems very serious these days, and a lot of music is very serious, too. But sometimes it's good to dive into some music that's just fun, and that's what the Nordic ensemble Uusikuu is handing out on a cake platter – their fifth album Karuselli.
The album is also a celebration of their 16 years as a musical group. Uusikuu (New Moon) was started in 2006 by Finnish singer Laura Ryhänen, violinist Mikko Kuisma, and German accordionist Norbert Bremes with some additional colleagues, with the goal of breathing new life into traditional Finnish tango. All these years later the three are still making music together, and the lineup now includes guitarist James Geier and Florian Dohrmann on double bass. Together they celebrate the traditional Nordic light music of the mid-20th century – they call it "vintage sounds of Finland." This time out they're emphasizing in particular the dance style jenkka, which is relatively unknown outside Finland.
I said this music is fun, and it is, but that doesn't mean it's frivolous. Uusikuu's music doesn't come off as parody or pastiche, no knowing nods or winks. They enjoy this music and hope you'll dance to it. As singer Ryhänen says, "We tell fairy tales for adults about the bizarreness of Nordic life." The general tone of the music is of a light melancholy tinged with wit, many of the songs featuring mildly sad themes set to bouncy, catchy tunes.
The program of 13 tracks comes in three main flavors: new interpretations of classics, rediscovered gems of Finnish dance music and new pieces "in the tradition," written by band members. I've listened to a certain amount of Finnish music, but mostly folk and modern jazz; I'm totally unfamiliar with jenkka and the Nordic light pop/jazz/swing music of the 1930s-60s. But it's a lot of fun to listen for various influences and familiar strains of music from that era.
They start up this "carousel" with a song that was apparently a huge Finnish pop jazz hit in 1961, "Suklaasydän (Chocolate Heart)" with its insanely catchy "Bumtsi-bum, Bumtsi-bum-bum" chorus that apparently is still quite familiar in Finland today.
Between that grin-inducing opener and the smiling through your tears waltz "Lasinen vuori (Glass lining)" that ends the program are sprightly dance numbers like "Joo vai ei? (Yes or no?)," the Django-esque "Jazz-tyttö (Jazz girl)" with one of the guys singing lead, "Kylmät huulet (Cold lips)," which sounds like a dance number from a lightly comic film noir soundtrack, and the jaunty gypsy jazz tune with cheesy '60s pop vocals, "Matka Timbuktuun (Journey to Timbuktu)."
For variety there's the gently swinging, lightly melancholic "Me rakastavaiset (We Lovers)," driven by Dohrmann's lovely double bass; the Sergio Mendes meets Weimar cabaret of "Juna kulkee (Train Goes)"; the fairy tale forest tango of "Sininen satu (A blue fairy tale)" and another tango, the mysterioius "Salattu maa (Encrypted country)." "Katoamistemppu (Vanishing trick)" is a musette style waltz with accordion taking the lead melodically, with another of the fellows singing; and "Sirkuksen valot (Circus lights)" is a lightly swinging love ballad, with a bit of a Finnish "King of the road" vibe to it and a strong bass line.
What makes it all work (for me) is the virtuosity of the musicians. This is a tight ensemble of players who love what they're doing, are having fun doing it, and are very good at it. Every musician gets numerous chances to step forward and they play their parts with cool expertise. Singer Laura Ryhänen sells every song entirely but doesn't oversell, as she leads Uusikuu in this winking homage that never slips into parody. Well done all around. Happy Sweet Sixteen to Uusikuu!
(Nordic Notes, 2022)
Uusikuu: Website | Bandcamp | YouTube | Facebook | Instagram